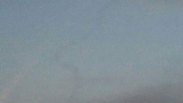 A Patriot anti-ballistic missile stationed in the north of the country intercepted an unmanned aerial vehicle that infiltrated Israel from Syria on Thursday evening.

IDF spokesperson confirms: "A Patriot anti-ballistic missile was launched a few minutes ago toward a target in the Golan Heights."

Thursday morning it was reported that Israel launched an overnight attack targeting a Hezbollah weapons depot in the Damascus International Airport. According to reports, the chain of explosions rocked the Syrian capital at about 3:20am.

The depot handles a significant amount of weapons that Tehran, a major regional ally of Syrian President Bashar Assad, sends regularly by air, the source said, without giving further details.

The source said the arms depot gets a major part of the weapons supplied to an array of Iranian backed militias, led by Hezbollah, which have thousands of fighters engaged in some of the toughest fronts against Syrian rebels.

Officials on both sides of the Syrian conflict—among opposition forces and among forces fighting alongside President Bashar Assad—attributed the attack to Israel.