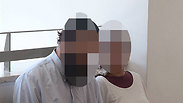 Parents of the arrested youth
Photo: Yogev Atias
Parents of arrested minor: 'We've no clue where our son is'
The parents of a minor whose remand was extended after being arrested last week for suspected nationalistically-motivated offences, decry conduct of security forces in depriving him legal counsel; 'My son has been taken for a full week. We don't know who by, where he is, who is taking care of him, what is happening to him or what they are doing to him.'
The parents of a minor arrested last week on suspicion of carrying out suspected nationalistically-motivated crimes claimed on Sunday that they have not been permitted to contact him since, nor have they been informed of his whereabouts or circumstances.

"We have no idea what our son is accused of. This is a Kafkaesque situation that has been forced on us. No one has shown us anything. We don't know anything," the suspect's distressed mother said during an interview with Ynet.

The minor was arrested last week, along with nine other Jewish teenagers from the Hilltop Youth, after local Judea and Samaria Police raided a so-called "home" for Jewish teens barred from entering the West Bank.

A gag order was placed on the entire investigation, including the suspicions against the teens.

Two of the Hilltop Youth arrested during a police raid Monday of a Jerusalem house hosting them are suspected of committing racist acts, while seven others were suspected of violating court orders barring them from meeting with certain people.

The seven were released under restrictions, while the court extended the remand of the other two suspects by three days.

"There is a law enforcement system and I respect it if there is something against my son. Let them say what it is and we will deal with it," said the minor's father. "The fact that they have prevented any meeting with a lawyer for a full week is not right. Even serious criminals are granted the right to speak to an attorney.

"I go to work every day all day and I am uncertain. I want to teach him to be a civilian who abides by the law but how can you be a law-abiding civilian when the state or its branches don't give a person basic rights that he deserves as a human being?," he continued.

"Even if the person has done something, he has rights … We are in a state of confusion," he lamented. "When they don't tell us what is happening with him for a full week it is an injustice and a crime."

The mother of the arrested individual told Ynet that "My son has been taken for a full week. We don't know who by, where he is, who is taking care of him, what is happening to him or what they are doing to him. The imagination can go far in situations like these."

Attorney Itamar Ben-Gvir slammed the conduct by the security forces in their handling of the matter.

"I think the conduct of the Shin Bet is disrespectful. In the middle of the night they take young men and it has become a consistent ritual to deprive them of meetings with a lawyer and of legitimate rights," he said. "Every common criminal, even rapists, murderers and drug dealers, receive the right to counsel and to speak with a lawyer...Even if there is a confession of some sort because of this conduct, what will it be worth?"

During the last month, the number of hate crimes have multiplied leading to an increase in the number of restraining orders ordering certain offenders to stay away from the West Bank. So far, six cases have been recorded involving hate crimes and since the beginning of June, the Shin Bet has issued more than 30 restraining order.