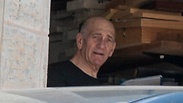 Ehud Olmert
Photo: Yoav Dudkevitch
Convicted former PM Olmert asks for early release
In an emotional speech, Ehud Olmert asks parole board to be released from prison nine months early, after serving 18 months for bribery charges; though Olmert had been expected to be granted early parole, last week the State Prosecutor's Office opposed this over suspicions that Olmert had leaked classified info to be included in his upcoming memoir.
Former Prime Minister Ehud Olmert will have to wait until Thursday, June 29, to find out whether he will get out of jail early after having served two-thirds of his 27 month sentence for corruption related charges.

Olmert appeared before the Israel Prison Services parole board Sunday morning, with his attorney Eli Zohar telling reporters that he had received a thorough, comprehensive and fair hearing and that his legal team hoped for a positive result.



The former prime minister entered jail in 2016 after being convicted on separate charges of accepting bribes, breach of trust and obstruction of justice.

Though Olmert had been expected to be granted parole, last week the State Prosecutor's Office opposed his early release in light of an investigation into the possible leak of classified information by the former prime minister, with Olmert being punished by preventing him from meeting with his attorneys.

The Prosecutor's Office said last Thursday that it had asked police to investigate whether Olmert had committed a criminal offense while incarcerated at Maasiyahu Prison in Ramle.

The investigation is related to an autobiography the former prime minister has been writing while jailed, parts of which touch on sensitive security issues. One of Olmert's attorneys was apprehended last month with a chapter of the book, dealing with a top secret security-related incident that the censor has banned in the past for publication.

Olmert spoke emotionally about his family on Sunday, as he asked that he sentenced be shortened. His lawyers added that "above all, we reject outright all the attempts of external and inappropriate influence that have been exerted on the committee in recent days in order to divert the opinion of its members.

"Anyone who knows Mr. Olmert's tremendous contribution to the strengthening and security of Israel over the decades—and there are thousands of those who have been his confidants and who are who and familiar with various parts of his work—fully understands that these claims are empty ones."

As part of an investigation into whether Olmert transferred classified information to unauthorized parties, police raided the Rishon LeZion offices of Yedioth Books, Olmert's publisher, in a search for classified documents related to the case.

A statement by the Prosecutor's Office said Olmert had received multiple warnings and added that the leak of classified information could cause serious damage to state security.

Olmert's attorney's said at the time however that the book had been submitted to the censor.

"The book in its entirety has been handed over to the censor and Mr. Olmert has no intention of publishing anything without the approval of the censor. Mr. Olmert has not released or published any other classified material beyond material for the book," his lawyers said.

"During his term of office, the applicant underwent an unusual process, that could even be classified as inhumane. The applicant has paid his debt to society several times over. The fact that he decided to resign before he was indicted and the way he conducted his trials until his behavior during the period of imprisonment fully matches the conditions that justify the removal of one-third of his sentence."

Olmert was sentenced to eight months in jail for accepting a NIS 60,000 bribe for his part of the Holyland affair, during his time as industry, trade and labor minister, as well as being found guilty in disrupting investigative procedures in the Holyland and Talansky affairs.

TPS contributed to this report.