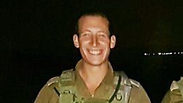 IDF officer Lt. David Golovenchich was killed Tuesday when a fellow soldier accidentally fired his rifle at the Gilbert Checkpoint in Hebron during a training exercise.

Golovenchich was serving in the Golani Brigade's 12th battalion, which is in charge of the Hebron sector.

Golovenchich, who was promoted to the rank of lieutenant posthumously, will be laid to rest at the military cemetery on Mount Herzl at 4pm Wednesday.

The incident occurred at around 8pm on Tuesday evening when Golovenchich's team was doing a routine drill at the checkpoint, which separates the Jewish settlement in Hebron and the Palestinian neighborhoods.

An initial investigation into the incident found the troops apparently did not disarm their IWI Tavor rifles. One of the soldiers accidentally cocked his weapon, shooting the young officer in the upper body at close range.

The officer, who was fatally injured, received emergency treatment at the scene and was rushed by helicopter to the Hadassah Medical Center in Jerusalem's Ein Karem, where he succumbed to his injuries an hour later.

The soldier who accidentally shot Golovenchich ran to his commander to try and provide him with medical assistance, but was removed from the scene shortly thereafter because he was too upset. He was also relieved of his weapon.

The Golani Brigade commander arrived at the Golovenchich family home on Tuesday night and told them what had happened.

IDF Chief of Staff Gadi Eisenkot ordered to halt training in the army following the accident and ordered commanders to reiterate safety instructions to their soldiers. The IDF chief will also hold a special General Staff meeting on the issue.

GOC Central Commander Maj. Gen. Roni Numa appointed a team led by to Col. Ronen Tamim to investigate the incident.
A special commander
Golovenchich, 22, grew up in Jerusalem, but moved to the settlement of Efrat in Gush Etzion with his family several years ago. He studied at the Bnei Zvi yeshiva in Beit El and later enlisted in the IDF and joined the Golani Brigade.

"It was clear to me from the start that I had a leader, a commander growing up in my class. It was obvious throughout his studies," said Rabbi Itamar Lieberman, who was Golovenchich's homeroom teacher.

"On the one hand, he was a mischievous child, and on the other hand he had good manners and wanted to contribute. The most noticeable thing about him is his smile... he always stood out in class for his desire to contribute."

Lieberman told a story that sheds light on Golovenchich's character. "Several years ago, an acquaintance told me he saw David wandering around Jerusalem at a very late hour. He suggested I kept an eye on him... I asked around and learned he and another guy went out every Thursday to buy food at the supermarket and then distributed it to the needy in the city. They'd finish distributing the food at a late hour. When they sat down to eat themselves, that acquaintance saw them. This is what David was like."

The head of the yeshiva, Rabbi Moshe Shmerling, said David was "a big, strong man. It was hard to ignore him. When he opened his mouth, that impression changed immediately. He was very pleasant and his smile just made you want to follow him. A special person."

His fellow soldiers were in shock following the tragic accident. "David was a special commander, always knew how to say a good word when needed, a strong and heroic man," one of them said.

A week and a half ago, a 19-year-old soldier on vacation was seriously injured in an apartment on Givat Ben Yehuda Street in Tel Aviv. The initial investigation raises the suspicion the man's friend, also a 19-year-old soldier on vacation, unintentionally shot him.

In April, Amit Popovitch, 23, was killed in his home in the settlement of Kedumim in Samaria, when his friend accidentally fired his weapon, critically injuring him.