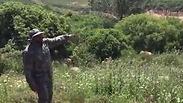 Hezbollah operatives on border
The IDF released a video Tuesday detailing Hezbollah operations in southern Lebanon in violation of UN Security Council Resolution 1701, which states that the Shiite terrorist organization must remain north of the Litani River.

The video was released ahead of a UN Security Council discussion on violations of the resolution, which is scheduled to be held on Thursday.

Hezbollah has established an intricate network of military infrastructure, which includes rocket launching sites aimed at Israel.

The video, published by the IDF Spokesperson's Unit, portrays how Hezbollah collects intelligence in southern Lebanon, beginning with two organization operatives who were observed gathering intelligence on Israel.

IDF video on Hezbollah border activities (צילום: דובר צה"ל)

The video also details a fictitious organization—"Green Without Borders"—established by Hezbollah and used as a cover for their illicit military activity in southern Lebanon. The organization ostensibly gathers ecological and agricultural information to be used to promote environmental protection in Lebanon.

The video even shows images of Hezbollah operatives, including Secretary General Hassan Nasrallah, participating in activities on behalf of the phony organization, with the true intention of causing harm to Israel.

Last month, Israel had provided the UN Security Council with intelligence that Hezbollah had established a network of observation posts along the border under the guise of an innocent organization.

Israeli Ambassador to the UN, Danny Danon, sent a letter to Security Council members detailing an incident in April when a group of civilians blocked a UNIFIL patrol force access to an observation post flying a "Green Without Borders" flag.

Brig. Gen. Rafi Milo, who was appointed commander of the Galilee Division on Tuesday, said, "Our preparedness for escalation is constantly sharp. We continue to monitor developments in the field and constantly improve our defensive response and our offensive capabilities. When necessary, we will use them with full force.

"We have not lost sight of the fact that Hezbollah systematically violates UN Resolution 1701 and, in total contradiction, maintains a military presence even if it is hidden in dozens of Shi'ite villages south of the Litani River. The Lebanese army turns a blind eye to Hezbollah activity, camouflages the terrorist organization's tours in southern Lebanon, and even allows it to use its infrastructure against the State of Israel. The peace and stability in the region are important to all of us."