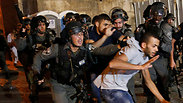 Clashes Tuesday night
Photo: Reuters
Jerusalem mosques to close Friday, prayer only on Temple Mount
The US calls on Israel and Palestinians to maintain restraint and reduce tensions, while Egypt issues statement condemning 'Israeli violence' on the Temple Mount; clashes sparked by Israel installing metal detectors at Temple Mount entrance.
The Jerusalem Islamic Waqf announced Wednesday that all of the mosques in the capital will be closed on Friday in an effort to encourage worshipers to come pray at the gates of the Temple Mount, a move that could lead to more violent clashes.
Earlier Wednesday, the Israel Police decided to close the Temple Mount to Jewish visitors after a group of Jews broke rules of visitation at the holy site.
Meanwhile, the international effort to find a solution to the standoff on the Temple Mount continues. The US government urged all parties to maintain restraint and reduce tensions on the Temple Mount as clashes continue between Muslim worshipers and police, an American official told London-based Arabic-language daily al-Hayat.
According to the official, the United States welcomes the commitment of all parties to abide by the understandings related to the Al-Aqsa Mosque and urges continued efforts to ensure security in the Temple Mount complex.
In addition to the United States, Egypt also issued a statement on Temple Mount tensions, demanding that Israel halt violence and respect freedom of worship in Jerusalem's holy places.
Police and rioters clash near Temple Mount (צילום: גיל יוחנן)
The Egyptians further demanded that Israel ensure the right of Palestinians to worship freely and in security.
Egypt also warned of the dangerous consequences of Israeli security escalation in regards to the Al Aqsa Mosque, which the Egyptians claim put the life of former Grand Mufti Ekrima Sa'id Sabri in danger.
The unrest has been fueled by the installation of metal detectors at the entrance to the Temple Mount, which has led to PA President Mahmoud Abbas' Fatah movement calling for a "day of rage" in east Jerusalem and the West Bank in response.
In addition to calls for a "day of rage," Fatah also declared that Friday prayers would be held in the main squares of major Palestinian cities and sermons would be dedicated to the Al Aqsa Mosque and rallying against Israeli security measures.
Hamas is also preparing for a deterioration in the security situation, calling on the Palestinians to join the planned protest marches in the West Bank, Gaza and east Jerusalem on Friday after noon prayers.
In clashes outside the Temple Mount on Tuesday night, rocks and Molotov cocktails were thrown at police, lightly injuring two officers.
In response to the violence, police issued a statement saying, "During the dispersal of rioters, two officers were lightly injured and treated at the scene. In the neighborhood of Ras al-Amud, stones were thrown at Border Police officers. Forces are currently searching for the suspects."