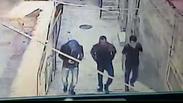 The three terrorists before the attack
High Court orders release of Temple Mount terrorists' bodies to families
While allowing the police to set restrictions for the funerals of the three Israeli Arabs who killed two Israeli policemen in a shooting attack at the Temple Mount, the High Court determines it cannot condition the return of the bodies in adhering to restrictions.
The High Court of Justice ordered Tuesday to return the bodies of the three Israeli Arab terrorists who carried out the attack on the Temple Mount to their families for burial.

The High Court ordered police to return the bodies in the next 30 hours and give the families a two-hour notice before doing so.

The funerals will be held at the Farouk Mosque in Umm al-Fahm, where the three terrorists are from.

The court allowed the Israel Police to set restrictions to the funerals to ensure public order and prevent clashes and violent rioting.

The police insisted the funerals be held in the middle of the night with a limited amount of participants, but the families refused to commit to those terms.

The judges noted, however, that "the state failed to point to the authority that allows it to hold the bodies and condition returning them in adhering to the restrictions."

The three attackers, Muhammad Ahmad Muhammad Jabarin, 29, Muhammad Hamed Abed al-Atif Jabarin, 19, and Muhammad Ahmad Mafdel Jabarin, 19, entered the Temple Mount complex with weapons, which they used to open fire at an Israeli police patrol, killing two officers.

The attack led Israel to set metal detectors at the entrance to the holy site to prevent future smuggling of weapons. The move incensed the Muslim world, leading to protests and violent rioting in which four Palestinians were killed.