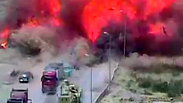 A quick-thinking Egyptian tank crew saved dozens of lives after crushing a vehicle packed with four suicide bombers and over 100 kilos of high explosives.
The four terrorists were attempting to carry out an attack in the northern Sinai before being stopped at a security checkpoint manned by the Egyptian army.
Egyptian tank pancakes terrorists
Before the armed men could exit their vehicle, the tank drove over the vehicle—with the terrorists still inside—and incapacitated it, giving dozens of civilians time to flee the scene before the explosives detonated.
The Egyptian Ministry of Defense released a video depicting the incident. Egyptian authorities claim that the tank driver's actions saved the lives of nearly 50 people.