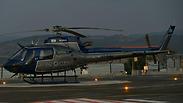 The Israel Police received four new Airbus H125 helicopters on Monday intended to improve crime fighting and law enforcement, counterterrorism operations and fire and rescue missions.
The police have ordered a total of six helicopters, the four single-engine H125 helicopters as well as two twin-engine H-145 helicopters, which will be delivered at a later date.
The helicopters were installed with special command and communication systems, according to the operational needs of the Israel Police.
All six are considered advanced helicopters in terms of operational capability—in their carrying capacity, strength, speed and weather handling—and are common in police units around the world.
In September 2012, the Ministry of Public Security decided to upgrade the Israel Police's helicopters fleet in light of existing operational limitations on the one hand and the need for helicopters for fire and rescue missions on the other.
The tender for the purchase of the helicopters was then done in an accelerated process of five years.
The Israel Police decided to also introduce twin-engine helicopters to its fleet in view of the challenges faced and their increasing operational need.
In addition to the assistance these helicopters will provide in crime fighting and counterterrorism, they will also be able to assist in firefighting and search and rescue missions.
Minister of Public Security Gilad Erdan, Police Commissioner Roni Alsheikh, senior officers, the president of Elbit Systems and and the general manager of Airbus attended their inauguration ceremony.
"I am happy to inaugurate the new Israel Police helicopters," said Minister Erdan. "The challenges (faced by the) Israel Police require advanced solutions and the helicopters are part of them.
"Now, the Israel Police has a domestic air force that enforces the law in the State of Israel. Our mission is to upgrade the capabilities of the internal security bodies and the police's air force, raising their capabilities to an entirely different level and improving the capabilities of our firefighting forces."
Commissioner Alsheikh added he has "no doubt these new helicopters, together with the tremendous commitment of their personnel, will upgrade the capabilities of the Israel Police Force in standing firm against the various challenges we face each and every day."