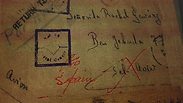 Lost WWII-era letter teen wrote to sister found in Spain
Twin sisters Rachel and Fanny Gewertz were separated during World War II, the former making Aliyah to Israel and latter surviving the Holocaust and then settling in Spain; a letter Fanny wrote her sister after war was never delivered and returned to sender, and only now been recovered in Spain.
A Holocaust-era missive a girl sent her twin sister—who made Aliyah and now resides in Israel—has only recently been recovered in Spain, decades later.

The events that led to the letter being written and eventually found begin in Germany during World War II, when the parents of Rachel and Fanny Gewertz—then teens—tried saving them from the clutches of the Third Reich. They were able to get Rachel a visa to Palestine, and she made Aliyah.

Fanny, however, was forced to stay in Germany. She survived the Holocaust and in 1944, only a year before Germany surrendered, escaped to Spain through the Pyrenees along with a group of 60 other Jews.

She settled down in Sort, a small village there, and only then did she find the time to write the letter to her sister, with whom she was forced to part because of the war.

The missive made its way through Portugal and Egypt—where it was examined by the country's censors—but was never delivered to Rachel upon reaching Israel for an unknown reason, and was thus returned to sender.

Meanwhile, Fanny moved to Barcelona but the letter was sent back to the inn where she lived with the other Jewish survivors, and the owner tucked it away in a storeroom.

A short time before Israel declared its independence in 1948, Fanny also made Aliyah, and was finally able to meet her long-lost sister Rachel.

The letter, however, gathered dust in the Spanish inn and only recently, when someone was tidying up, was it found and given to Spanish historian Joseph Calbet.

Calbet was somehow able to track down Rachel, who's now 93 and residing in Rishon Lezion. Her sister had already passed away, but the historian was able to find her son, who also lives in Israel, and share the find with him.

Israel's ambassador to Spain Daniel Kutner was also apprised of the letter's story, and was asked by the Spaniard to organize a ceremony in Israel finally delivering it to Rachel.