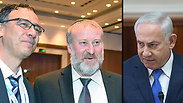 Nitzan, Mandelblit and Netanyahu
Photos: Yair Sagi, Alex Kolomoisky
Attorney general calls PM immunity bill 'absurd'
The so-called French bill 'creates a problem with equality before the law, and we don't want to be that kind of country,' Mandelblit says, adding that 'in a country governed by laws like Israel, there is a clear interest to have things cleared up and resolved.'
Attorney General Avichai Mandelblit took a firm stand on Monday evening against legislation seeking to shield a sitting prime minister from police investigations, calling it an "absurd" bill proposal.

"I'll provide an example to demonstrate the level of absurdity of this proposal," Mandelblit said during a Q&A session at an event in Tel Aviv.

"Let us assume there is a prime minister who theoretically received NIS 1 million into his bank account. Can this be investigated? Who should be investigated? Primarily, the briber. Now, you'd have to wait two terms. For eight years, you won't even be able to investigate," he elaborated.

"And let's say there was an investigation against the briber, and his conviction is peremptory. Now you have to wait for eight years while knowing there is a sitting prime minister who took bribes. Is this what we want? Because that is what such a law would mean," the attorney general continued.

"It creates a problem with equality before the law, and we don't want to be that kind of country," he explained. "I have no doubt this issue will be taken off the agenda. It's not right, not appropriate and not befitting a country such as ours."

While Mandelblit stressed he had no intention of disrupting the prime minister's work, he noted that when there are allegations concerning the prime minister's conduct, the issue must be investigated fully.

"Of course I want both the prime minister and the government to function in the best possible way, and I must help them do so. All of this is well and good so long as things are done lawfully," he said. "In a country governed by laws like Israel, there is a clear interest to have things cleared up and resolved."

Mandelblit also answered claims raised by protesters holding weekly demonstrations outside his home in Petah Tikvah that his conduct was slow and hesitant. "I do things with great caution, and at times suspicions are just being examined" rather than fully investigated, he said.

State Attorney Shai Nitzan, who was at the event as well, was also asked to address the contentious legislation proposal. "There's a serious issue concerning equality before the law if there can't be an investigation. Practically, I think the public figure would have a big problem walking around with a cloud over his head. If there are suspicions of bribery, it's not reasonable for a leader to have immunity for his entire time in office."

When asked about the two ongoing investigations against Prime Minister Benjamin Netanyahu, Nitzan said "There is no doubt these investigations are supposed to reach a conclusion in the coming year."

The contested legislation proposal, which was dubbed "the French Bill," was spearheaded by MK David Amsalem (Likud) as a means to extricate Prime Minister Benjamin Netanyahu from a web of corruption investigations at which he is the center.

The controversial bill has come under attack on numerous occasions from both the opposition and the coalition, with Finance Minister Moshe Kahlon (Kulanu) and Justice Minister Ayelet Shaked (Bayit Yehudi) expressing reservations concerning the legislation.