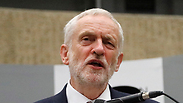 After Balfour centenary, UK Jewry should never vote for Corbyn
Op-ed: Based on Jeremy Corbyn's reaction to the celebrations marking 100 years since Balfour committed the UK to establishing a Jewish homeland in Palestine, it is clearer than ever that he sees Israel's creation as an immoral blot on British history. Any Jew who votes for him is betraying Israel.
When Prime Minister Benjamin Netanyahu flew to the UK last week to mark 100 years since Britain's foreign secretary issued the Balfour Declaration, one of the most predictable aspects of the trip was the Labour Party leader Jeremy Corbyn's silence in celebrating Britain's commitment to the establishment of a Jewish national home in Palestine.

As usual, since becoming leader of the Labour party, which has become rotten to the core with anti-Israel bias, Corbyn has made a series of statements on Israel which are notable for what they lack rather than what they contain.

Most recently, when talking about the Balfour Declaration, Corbyn highlighted the fact that the UK "promised to help establish a national home for the Jewish people in Palestine while pledging that nothing would be done to prejudice the rights of its 'existing non-Jewish communities.'"

Reflecting on what had been achieved in 100 years, Corbyn stressed that "the second part of Britain's pledge has still not been fulfilled and Britain's historic role means we have a special responsibility to the Palestinian people, who are still denied their basic rights."

As usual, what is clear about Corbyn's word selection is the complete absence of any praise whatsoever. At most, he bitterly acknowledges that his country is responsible for a document that served as a prelude to the rise of Israel. Here is the original sin that marks Israel's genesis.

Anyone who ever asks Corbyn whether Israel has the right to exist as a Jewish state, either in its current or expanded borders, will receive a laconic acknowledgement that "Israel exists." To anyone who asks him whether the Balfour Declaration is something to be celebrated, he will simply acknowledge it, and deflect the question by listing Israel's flaws and shifting focus to the plights and rights of the Palestinians.

See, for example, what Corbyn had to say about the Balfour Declaration this year.

"So let us mark the Balfour anniversary by recognizing Palestine as a step towards a genuine two-state solution of the Israel-Palestine conflict, increasing international pressure for an end to the 50-year occupation of the Palestinian territories, illegal settlement expansion and the blockade of Gaza."

Not a word about Israel's grievances. Not a word about Palestinian terror. Not a word about the innovation that has been developed by Israel. Not a word about the rights afforded to minorities who are subjected to terrible persecution in other Arab countries, about the humanitarian contributions made by Israel around the world, about the medical leaps that have ultimately sprung forth from the Balfour Declaration. Not a word about Israel's robust democracy. Not a word about the justice of the Balfour Declaration itself.

Corbyn's hatred of Israel is so clear that it is remarkable there are any Jews left in Britain who believe he is anything but an enemy of the Jewish people. It is however, unsurprising, albeit lamentable, that Jewish politicians such as Fabian Hamilton whom he can cite as his 'Jewish friends' still endorse him.

And he is an enemy of the Jewish people not because he openly welcomes anti-Semitism in his party. On the contrary, he publicly repudiates anti-Semitism and to the best of the author's knowledge, he is not on record saying anything overtly anti-Semitic, certainly not in its traditional form.

But he is an enemy of the Jewish people because although he claims, like his cronies George Galloway and Ken Livingstone, that Zionism and Jews should not be conflated, vehement opponents of Zionism treat it as an integral component of Judaism. And those people are indeed correct to do so. Zionism is a Jewish value and an expression of Jewish nationalism to establish a Jewish homeland in Palestine, as was articulated in the Balfour Declaration which Corbyn simply despises.

Whatever Corbyn and his "Jewish friends" say to the contrary, Zionism is an expression that flows directly from Judaism and most of Israel's enemies know this perfectly well. To admit it publicly is simply not politically prudent and would leave them vulnerable to accusations of anti-Semitism. They are also fully cognisant of this.

Corbyn is an enemy of the British Jewish community because his rhetoric, which is only being softened on account of his goal to enter 10 Downing Street, stimulates an atmosphere in which people identifiable as Jews, not anyone else, are subject to attack.

Naturally, Corbyn will condemn such attacks, but it means nothing for the Jew walking to synagogue and being abused with racial slurs, for Jewish students being branded dirty Zionists and worse.

If Corbyn were elected prime minister, he would, without a shadow of a doubt, personally see to it that Britain's historic pledge to assist Jews in creating their homeland in its rightful location is transformed into an episode of shame in the annals of British history. British Jews should be under no illusions that he would issue an official apology as he continues to wage his relentless smear campaign against Israel, as has been his wont throughout his long political life.

Jews of the UK, do not be fooled. A Corbyn premiership would have drastic consequences for Israel. If Israel is not a high priority for some of UK Jewry, that is regrettable but little can be done about it. If, however, Israel is important to enfranchised members of Anglo Jewry, then may they never vote for this rabid, unmasked enemy of Israel, who when asked whether Israel has the right to exist sourly responds: "Israel exists."

This is a man who has repeatedly tried to extricate his way out of what he really meant when he said Hamas and Hezbollah were his friends. He was simply trying to get a dialogue going, so he claims. But there was no mention of Israeli friends.

So potent is his hatred for Israel that he fails to comprehend his fall from favour with so many British Jews when he proclaims that unfairly fusing ISIS and the UK's Muslim population is akin to unjustly likening Anglo Jews to Netanyahu. He is so laughably out of touch with the UK Jewish community and the importance they place on Israel that he struggles to understand their concerns by such odious comparisons or by even refusing to mention the word Israel at conference about Israel.

The right to vote freely is of course sacred in any democracy. But any Jew who votes for Corbyn in future, should he run, by doing so should never again be free of the feeling of well deserved guilt for the injustice he has brought on against the Jewish people and their one and only state.