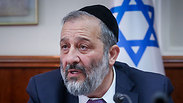 Interior Minister Deri
Photo: AFP
The Supermarkets Bill, which grants the Minister of the Interior the power to revoke municipal bylaws, effectively determining that supermarkets in city centers will remain closed on Shabbat, is expected to head for a second and third reading on Monday afternoon.

Earlier in the morning, the Internal Affairs and Environment Committee will discuss the final version of the bill.

As early as Saturday, the coalition began working to secure a majority for approval of the bill. Coalition members were ordered to remain close to the plenum on the day of the vote, and were barred from offsetting their vote with that of someone from the opposition.

Meanwhile, the opposition is planning to filibuster the vote.

Prime Minister Benjamin Netanyahu ordered that the bill be promoted as part of the package of Shabbat bills the coalition promised the ultra-Orthodox parties to mend the rift between them over the crisis surrounding Saturday construction works on the light rail, which they say desecrate Shabbat.

The bill was initiated at the request of the Minister of the Interior and Shas Chairman Aryeh Deri, and will force the government to consider Jewish tradition and heritage prior to the granting of a permit to work on Shabbat.

If the bill passes, Deri will be granted authority to nullify municipal bylaws with authorization to shut down supermarkets, mini local stores and convenience stores.

With the exception of Tel Aviv-Jaffa, the Minister may order the closure of supermarkets on Shabbat in every city nationwide.

With the latest legal opinion that gas station stores could fall within Deri's remit, Yisrael Beytenu has launched a campaign to apply pressure on local authorities to oppose the bill by circulating a letter slamming it and urging support against it.

According to the letter, the bill "dramatically alters the status quo that has existed for years and will harm the fabric of life of the secular residents in many localities across the State of Israel and to force them to live under forced religion."