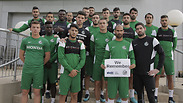 Maccabi Haifa's players joined the project
Israeli soccer makes Holocaust memorial project next goal
2-time champs Hapoel Be'er Sheva, Maccabi Haifa and Jerusalem's Hapoel Katamon joins World Jewish Congress's Holocaust memorial project; players photographed with signs saying '#WeRemember'; Hapoel Be'er Sheva owner Barkat: 'Preserving memory of Holocaust our duty as Jews and Israelis. Let's send a message of memory and education together so Holocaust can never happen again.'
The Israeli soccer world has agreed to pitch in to the World Jewish Congress's biggest ever Holocaust memorial initiative, with back-to-back reigning champions Hapoel Be'er Sheva, Maccabi Haifa and Hapoel Katamon of Jerusalem all joining the international project with their players photographed with the hashtag leading the project—#WeRemember.

The project is intended to honor and commemorate the memory of the Holocaust, while sending the message of "Never again."

During the next few weeks and up until International Holocaust Remembrance Day on January 27 millions of people will be joining the campaign as well, carrying signs with the aforementioned hashtag.

The goal is raising awareness of anti-Semitism, hatred and genocide all over the world by flooding social networks with the photos. From January 24 and until International Holocaust Remembrance Day, selected photos will be screened onto the walls of the Auschwitz concentration camp in Poland.

Last year, the year of the campaign's inauguration, more than 250 million people around the world were exposed to it and more than a million people took part, including heads of state, religious leaders and opinion shapers from across the globe.

The campaign's materials will be translated to dozens of languages and disseminated throughout January in the World Jewish Congress and its many partners' different media channels.

"Preserving the memory of the Holocaust is our duty as Jews and Israelis. Let's send a message of memory and education together so the Holocaust can never happen again," Hapoel Be'er Sheva owner Alona Barkat said.

"Anti-Semitism, Holocaust denial and xenophobia continue to rear their ugly heads today," said World Jewish Congress President Ronald Lauder. "We have to remember the Holocaust because the number of living survivors is ever decreasing, and in a few years' time they will all be gone.

"We have to remember that 'Never again' happens again and again. Now, it's the younger generation's responsibility to educate their friends on the horrors of hatred, and spread the message that never again truly means never again."