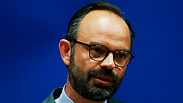 French Prime Minister Edouard Philippe
Photo: AFP
French PM: France is facing violent 'new form of anti-Semitism'
Edouard Philippe deplores assault on an eight-year-old boy wearing a Jewish skullcap in a Paris suburb earlier this week; President Emmanuel Macron says 'every time that a citizen is attacked because of their age, their appearance or their religion, it is an attack on the whole country.'
France is facing a "new form of anti-Semitism" marked by violence, French Prime Minister Edouard Philippe said Wednesday, deploring an assault this week in a Paris suburb on an eight-year-old boy wearing a Jewish skullcap.

President Emmanuel Macron has denounced the attack Monday in Sarcelles, a northern suburb with a large Jewish population, as "heinous."

Two teenagers beat the boy up in the northern Paris suburb of Sarcelles on Tuesday, in what prosecutors said appeared to be attack motivated by the child's religion.

It is the latest in a string of assaults that has worried France's large Jewish community, coming three weeks after a kosher supermarket in the Paris suburbs was gutted in a suspected arson attack.

Prosecutors said the two youths attacked the boy while he was on his way to after-school tutoring on Tuesday, pushing him to the ground and then beating him. Police were investigating but there have been no arrests.

Sarcelles, nicknamed "Little Jerusalem" due to its large Jewish population, was rocked by anti-Jewish violence during the 2014 war in Gaza.

Several shops were set on fire or vandalized, including a kosher grocery.

Speaking before lawmakers, Philippe noted the emergence of a new kind of anti-Semitism in France, which has the largest Jewish population in Western Europe.

To fight something, one must have "the courage to put a name on it ... to acknowledge that, yes, there is a new form of anti-Semitism, violent and brutal, emerging more and more openly in our land," Philippe said.

Interior Minister Gerard Collomb and Jewish leaders say the number of anti-Semitic acts in France has risen this month after a drop in previous years.

A record 7,900 French Jews emigrated to Israel in 2015 following the deadly jihadist shooting at a Parisian kosher supermarket two days after the attack on satirical magazine Charlie Hebdo.

That exodus has since slowed, but a spate of anti-Semitic attacks since have continued to frighten one of Europe's biggest Jewish communities, numbering an estimated half a million.

An annual national count of racist, anti-Semitic, anti-Muslim and anti-Christian acts—mainly threats—dipped in 2017 compared to the year before. However, the count, released Wednesday by the Interior Ministry, shows that violent racist acts in France increased overall, and notably anti-Semitic acts went up 20 percent, from 77 in 2016 to 97 last year.

Collomb told Jewish leaders last week that such acts are "an attack on the principles that unify our nation."

"An eight-year-old boy was attacked today in Sarcelles. Because he was wearing a kippa," Macron tweeted late Tuesday.

"Every time that a citizen is attacked because of their age, their appearance or their religion, it is an attack on the whole country," the president added.

"And it's the whole country that must rise up today alongside French Jews to fight with them against these disgusting attacks."

The Associated Press and AFP contributed to this report.