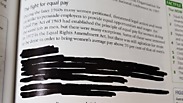 One of the redacted textbook
Photo: humanism.org.uk
UK Haredi seminary blasted for censoring textbooks
Official state textbooks used by London Yesodey Hatorah Senior Girls' School found to have removed references to homosexuality, abortions, edited 'indecent' photos of women to 'protect our girls from sexualization'; authorities say 'We will not hesitate to act where we have concerns that schools are failing to uphold fundamental British values.'
A Haredi seminary for girls in the United Kingdom has caused outrage after it redacted references to homosexuality and abortions from its textbooks, and censored imagery of women on the grounds that it was merely "shielding the girls from sexual content."

In Israel, Haredi textbooks are produced independently and their content is therefore supervised from the outset to meet the sector's standards. In England, however, the same textbooks are used across the country's school system, without deference to sectorial preferences.

British media, consequently, raised concern over the censorship on display in textbooks used by the Yesodey Hatorah Senior Girls' School in Stamford Hill, Hackney. Entire paragraphs were erased from textbooks with a black marker, according to reports and photos disseminated online, while some photos were covered up and others women were "dressed" using the same black marker.
References to abortions, alcohol removed
A history textbook in the seminary also censored portions discussing Nazi attitudes towards homosexuals as well as the persecution and discriminatory policies directed against them. References to women drinking alcohol in public or driving alongside men—part of a chapter called "Understanding the modern world" used for the UK's General Certificate of Secondary Education exams—were also censored.

Segments dealing with the United States Supreme Court's ruling on abortions were also stricken, as was a photo of Ginger Rogers dancing with Fred Astaire.

The British Guardian further reported that in a chapter on women's status in modern American society, references to women smoking, drinking alcohol, or driving with men were censored.

The Independent, meanwhile, reported that "concerned members of the community" made the textbooks public through the Humanists UK non-governmental organization, which described the ultra-Orthodox seminar as "censorious, homophobic and misogynistic."

However, the school—serving Haredi families in north London's Hackney borough—was rated by the Office for Standards in Education, Children's Services and Skills (Ofsted) as "good," which raised the ire of the British humanist organization even further.

Jay Harman, manager of education campaigns Humanists UK, said, "It is simply not acceptable for a state-funded school to take such a censorious, homophobic and misogynistic approach to education. Once again, the consequences of giving religion free reign over our education system are brought into sharp focus."

"Children deserve so much better than this, so we hope Ofsted will now investigate and take action immediately," Harman concluded.
British inspectors have already visited school
The latest incident was not the first time the school found itself facing allegations of censorship. News 18 reported that in 2014, questions regarding evolution were censored on a test given to the school's pupils, thereby preventing them from answering the questions—part of state-mandated exams.

Officials at the Yesodey Hatorah, for their part, were nonplussed by the allegations. A message put out by a school spokesperson said, "Old news. It's well known we redact our textbooks, as has been reported numerous times and documented by all relevant authorities.

"This policy has nothing to do homophobia or misogyny, but is to protect our girls from sexualization in line with our parents' wishes and religious beliefs," he said.

Ofsted, the agency responsible for supervising British schools, stated that, "Ofsted is clear that all schools have a duty to actively promote fundamental British values. This includes mutual respect and tolerance of those who hold values different from their own.

"We will not hesitate to act where we have concerns that schools are failing to uphold these values, and to ensure that pupils are properly prepared for life in modern Britain. Inspectors have recently visited the school and will publish their findings in due course."

A source with knowledge of the events told the Jewish Chronicle that supervisors pored over the school's textbooks exhaustively.