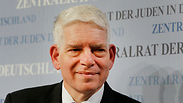 President of Germany's Central Council of Jews Josef Schuster
Photo: AP
Germany's Central Council of Jews says the attack on a kosher restaurant in Chemnitz by masked neo-Nazis shows problems in the region are deeper than simply concerns over new migrants.

Council president Josef Schuster said Sunday it's time to "call the problem by its name."

He says the events of the last two weeks show "how strongly rooted right-wing extremism is in the region," adding that "attempts at appeasement and a lack of distancing from the right-populists play exactly into the hands of these forces."

The attackers injured the owner of the Shalom restaurant, shouting "Jewish pig, get out of Germany," on the sidelines of an Aug. 27 far-right protest sparked by the killing of a 35-year-old German man.

The police arrested two asylum seekers from Syria and Iraq on suspicion of murdering the German man while conducting a search for the third suspect.

German media reported Saturday that German authorities are investigating the anti-Semitic attack on the Jewish-owned restaurant that took place in the eastern city of Chemnitz.

According to Die Welt newspaper's reports, on August 27, a mob of around a dozen people, wearing black with their faces covered, hurled rocks, bottles and a metal pipe at the restaurant, smashing one of its windows and vandalizing the entrance.

The masked demonstrators stormed the restaurant and shouted "Get out of Germany, Jewish pigs." Many chanted "We are the people," a slogan used by far-right supporters.

The restaurant's owner, Uwe Dziuballa, suffered an injury to the shoulder during the attack, the reports said.

"Schalom" restaurant, which opened in 2000, has been attacked several times before. A spokesman for the German Federal Ministry of the Interior confirmed that the reports are being investigated on suspicion of being motivated by anti-Semitism, but no clear conclusion has been drawn.

The Chemnitz attack is the latest in a series of violent crimes by refugees that have garnered massive media attention and stoked anger at German Chancellor Angela Merkel's decision to allow in more than one million migrants and refugees since 2015.