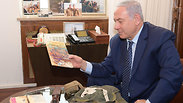 PM receiving Yoni's possesions
Photo: GPO
Prime Minister Benjamin Netanyahu was this week delivered of personal items claimed to belong to his brother Yonatan "Yoni" Netanyahu, who died rescuing hostages from Entebbe airport in July 1976. But closer inspection appeared to indicated that all was not as it seemed.

The prime minister received the personal possessions on Monday from Yosef Shemesh, an IDF driver for Yoni Netanyahu, which Shemesh said had been in his possession since 1975. Shemesh claimed that the items belonged to Yoni when he was commander of the 71st Battalion in the Armored Corps on the Golan Heights. Following the 1973 Yom Kippur War, Yoni did indeed volunteer as a tank commander in the Armored Corps, in order to assist with its rehabilitation after it suffered many losses in the war.

Shemesh met with Benjamin Netanyahu and his younger brother, Dr. Iddo Netanyahu, at the Prime Minister's Office in Jerusalem on Monday and handed over what he claimed were Yoni's IDF jumpsuit, a commando knife and a Passover Haggadah that is mentioned in the late soldier's diary, which was later turned into a book.

He also handed over some books, a shirt, a sleeping bag, gloves and a compass; it is unclear why Shemesh held onto the items for so long. The prime minister said he recognized the effects and that he and his brother were very excited at the prospect of owning Yoni's possessions.

"It is an emotional reminder of the past; I thank you greatly," the prime minister said.

However, it emerged after the meeting that Shemesh had previously tried to sell some of the items to two different auction houses but was turned down due to uncertainty over their authenticity. For example, the Haggadah ostensibly owned by Yoni was printed in 1980, four years after his death.

The auction houses said that Shemesh failed to provide proof that he was indeed Yoni's driver. They also claimed that Yoni's signature in the books did not seem genuine. Shemesh apparently asked for $20,000 for the items, before reducing his price to $10,000. "We suspected a scam," said a representative of Winner's Auctions Ltd.

A year ago, Shemesh told an acquaintance that he had Yoni's belongings in his possession, and was advised to give them to the prime minister. Shemesh said that he then tried to reach the Netanyahu's office via WhatsApp, with no success. Recently, however, he managed to arrange a meeting with the prime minister through an intermediary.

The Prime Minister's Office said that they had conducted an investigation with the IDF regarding Shemesh and verified that he did indeed know Yoni, but added that the items will now be examined more thoroughly. The office said that Shemesh did not ask for payment for the items.

Shemesh responded to a telephone enquiry by claiming he was not the person involved in the story. During a second phone conversation, however, he changed his story and said that he was forbidden from commenting. He then referred the reporter to his attorney, who failed to respond to queries.