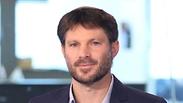 Transportation Minister Bezalel Smotrich
Photo: Avi Moalem
Transportation Minister Bezalel Smotrich apologized Monday evening for calling Prime Minister Benjamin Netanyahu "weak and with zero leadership" during a spat over gender-segregation at an ultra-Orthodox event in a public park in Afula, comments that reportely came close to getting him fired.
Sources close to Netanyahu said earlier Monday that he was considering removing the minister from his cabinet post after the latter doubled down on earlier comments, which he made after Nazareth District Court ruled that the segregated event could not be held in a public arena.
"I said things in an inappropriate manner," said Smotrich at the launch of the election campaign for the Yamina party, formerly known as the United Right.
Netanyahu had been considering firing the far-right lawmaker when he doubled down on his comments Monday, but decided against it after a meeting between the two.
According to the Israeli media, Netanyahu's Likud party said the prime minister would have fired Smotrich if he did not apologize, and warned him that "there would be no second chance."
A Likud source said earlier Monday that Netanyahu was convinced Smotrich had sided behind the scenes with the heads of the New Right party, Naftali Bennett and Ayelet Shaked, and "has been preparing the ground" for not recommending Netanyahu for prime minister after the September 17 elections.
Shaked is the head of the bloc of right-wing parties that form Yamina.
Netanyahu, however, was apparently concerned that dismissing Smotrich from the government "would damage Likud in the elections."
"Netanyahu is a weak prime minister with zero leadership skills," wrote Smotrich on his Twitter account on Sunday. "Deputy Attorney General Dina Zilber is the real prime minister."
The transportation minister doubled down on his statements in an interview with Ynet on Monday, saying he "doesn't regret" his decision to lash out against the prime minister.
"I am one of the most straightforward people. Even when Likud party friends were sticking knives into Netanyahu's back, I was there to defend him, when it was just and when it was appropriate," said Smotrich.
"The prime minister knows that I have great respect for him and he knows that our cooperation is outstanding. It's unacceptable to try to delegitimize a member of the government for making constructive criticism."