Today's wireless headphone market, AKA True Wireless Stereo, can be divided into two categories: Apple AirPods, and other manufacturers competing for the ears of Android users.
Being a part of the latter means getting lost in the crowd, which is a given for most. That makes Sony's ability to stand out all the more impressive, contending with an ocean of premium headphones that put an increasing emphasis on Active Noise Cancellation and sound quality.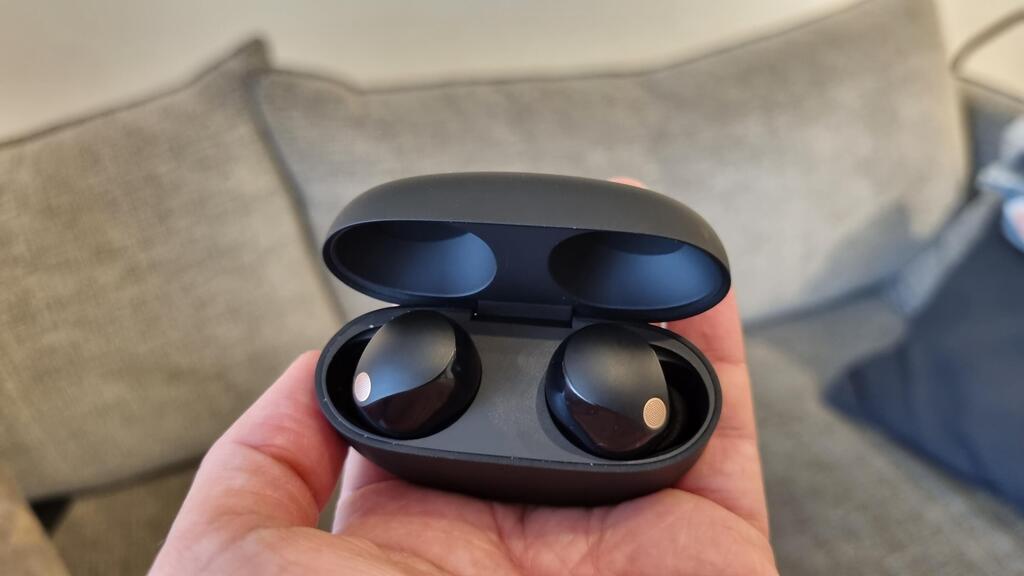 Enter the WF-1000xm5, Sony's latest offering, coming with a price tag equivalent to $335 in Israel, very much hoping to become synonymous with quality in the minds of Israeli Android enthusiasts. Let's see how it stacks up.
Packaging, design and comfort
The wireless headphones come in two colors – black and silver. It features a fairly standard packaging unit and makes little effort to appear distinguished right off the bat. While the outer appearance is anything but original, it is built of sturdy material.
The back offers a USB-C port (Looking at you, iPhone) and a round button to easily facilitate pairing the headphones with your phone or laptop. The box has a tiny charging cable as well as three different sizes of foamed ear tips, on top of the one already on the product itself.
The ear buds are safely nestled within the box, and Sony claims they're both 25% smaller in volume and 20% lighter than their previous generation flagship product. The buds have a shiny finish and a familiar look. As it stands, and in stark contrast to Apple's ostentatious AirPods design, Sony isn't looking to attract people to their offering on the basis of looks. A magnetic latch safeguards the little ones both during insertion and extraction, making sure they don't move around even if you are.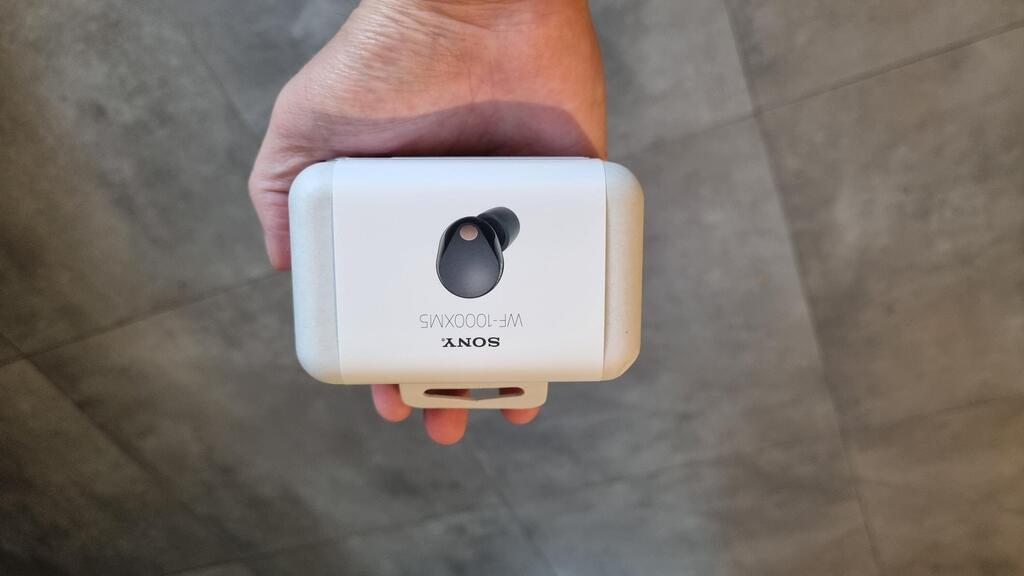 Yes, Sony really does need to come up with a catchier name than WF-1000xm5, but that does little to detract from the headphones' comfort, which do not overburden your ears and do not fly off just because you upped the speed from 3 to 7 on the treadmill. Their build ensures they "hug" your ears in a way that brilliantly insulates external sounds.
In fact, through its dedicated app (called Headphones Connect), you can customize the way sound is insulated, and it works quickly and effortlessly.
Sound quality and Active Noise Cancellation
Sound is detailed, pleasant and full of bass, to the extent that it could easily put other manufacturers to shame. But in order to reach the best quality, you will have to put in a little effort, as it does not necessarily offer that feature right out of the box. Sony has created a string of sound profiles that are easily changeable via the app, and you can customize the equalizer setting to truly make it your own.
The app also includes an in-house Sony feature called DSEE Extreme, enabling you to improve the quality of compressed music files using artificial intelligence. The way I see it, it does make a difference, but not a dramatic one.
Spatial audio is finally supported with this product, courtesy of Sony's Reality Audio 360 format, which poses direct competition to Dolby Atmos. The practical effect is that it makes the sound seem like it's coming from various directions around the room, as opposed to just left or right. That said, as long as this feature is unsupported on major sound streaming services like Spotify, it's neither here nor there.
A more prominent feature is the ever-important Active Noise Cancellation, or ANC. Sony says it filters 20% more sound than its previous iteration, utilizing a chip microprocessor and increasing the number of microphones dedicated for that purpose.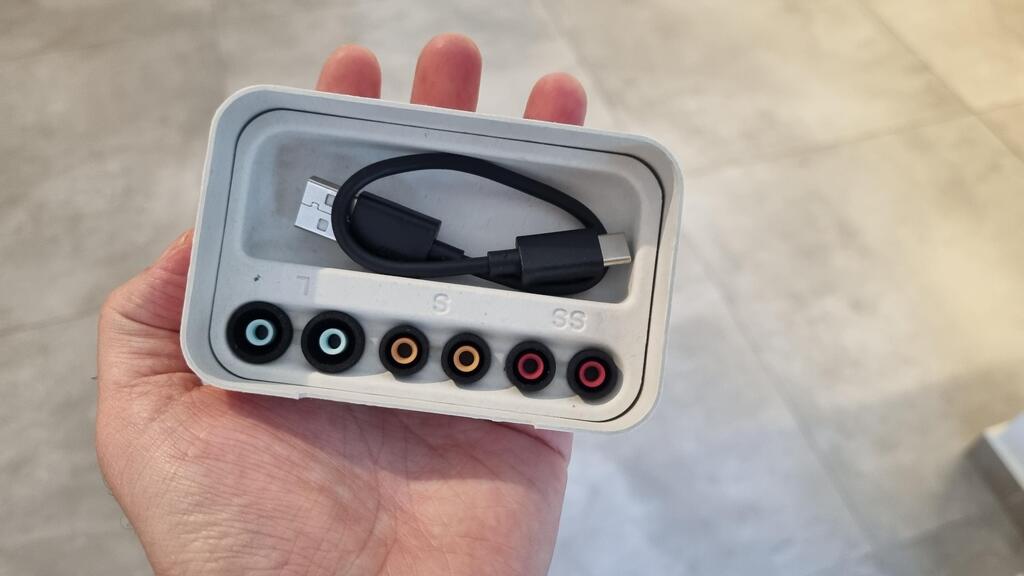 It boils down to one of the finest examples of noise cancellation I've heard in my life. Even a noisy AC unit, located right above my head, went unnoticed while using it, and even in a noisy street I almost felt like I was the star of "I Am Legend."
Should you wish to be immersed in external sounds while outside, you can enable that too by switching to a mode where the microphones intentionally pick up the sounds around you and convey them directly to your ear.
Unfortunately, no major shakeups or improvements seem to have occurred in the battery department. It still offers eight hours of use (with ANC on) on top of the 16 hours you get by charging inside the carrying case. Of course, wireless charging is still present and accounted for.
However, there is good news, since the charging time required to give yourself an hour of listening to music has decreased from 5 minutes to just 3. Perfect if you just want to go out for a short run and the battery is dead. Not bad, right?
The WF-1000xm5 is IPX4 certified, which indicates the device is water-resistant and can withstand exposure to water splashes without being damaged. This, however, does not extend to the carrying case.
Dedicated app and additional features
If you're willing to spend over $330 for this product, you might as well download its dedicated app, Headphones Connect, to familiarize yourself with its full potential. True, it's a bit cumbersome and the user experience could be more streamlined, but it truly unlocks vocal wonders, when properly used.
Adaptive Sound Control, for instance, recognizes whether you're sitting, standing, running or driving, and chooses whether to employ ANC or not. When you're running, external sounds will be more pronounced, under the assumption that it is a time that calls for increased spatial awareness.
Obviously, you can customize a sound profile that enables ANC while running, and also customize different sound and spatial features to turn on or off in specific scenarios, making it seem as if your headphones truly know you.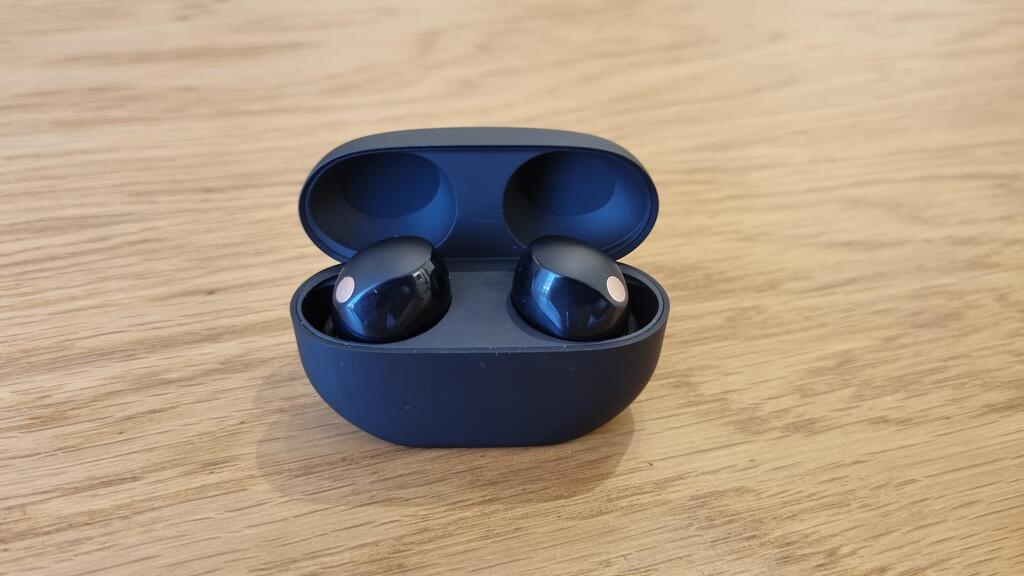 Another useful little gimmick is Speak to Chat, which makes the music pause the second you begin chatting with someone you just came across in the street. No need to reach out your hands and do it manually. Now that's convenient!
However, improperly used, it can also be a drag, as it could pause it anytime you start singing along, since it will think you're chatting. That said, you can switch between low and high sensitivity, if that helps.
Want some more hands-free convenience? A feature offers you the chance to either accept or reject incoming calls by tilting your head, which is a major convenience during a motorcycle ride, as reaching out your hand could make you lose balance and crash. Keep in mind, though, it does not always work as intended, and in some cases I moved my head so forcefully to get it to listen, I nearly dislocated my neck.
Simultaneous connections are enabled, so there's no need to reconnect your phone and laptop each time. Both Google Assistant and Alexa are supported, and a double tap on your right ear bud will send you back to the latest Spotify tune you had on. You can choose to give preference to a stable connection or premium sound quality.
So what's the bottom line?
Spending $335 on headphones is no gimme, and companies like Jabra offer higher-than-average quality for half the price, but this one is aimed squarely at top-tier clientele, who will not let money stand between them and the finest headphones technology has to offer.
And if all you're looking for is a reliable connection for phone calls and adequate sound quality for a gym workout, there are much cheaper options out there who will get the job done just fine.
If you're an Android user who's looking for something a bit more affordable, a great option would be the Bose QuietComfort 2. If you have an iPhone, the 2nd gen AirPods is an automatic choice.
But seriously, Sony - If you wish to leverage your marketing prowess to maximum effect, you really have to start working on your branding. AirPods and QuietComfort are easily memorable, but it's practically impossible to remember WF-1000xm5 without getting a headache.