This is the 20th year in which Swedish fashion giant H&M has collaborated with luxury brands to make high fashion accessible to the general public.
What began in 2004 with designer Karl Lagerfeld has continued with fashion brands such as Marni, Versace, Maison Margiela, and others, is reaching its peak these days with the fashion brand Mugler, which portrayed strong, sexy, and daring women to the fashion industry.
The new collaboration campaign is led by past muses of the brand such as Jerry Hall, Shygirl, and Arca.
Together they recorded their own version of the 1990s hit "Music Sounds Better With You" by Stardust in celebration of Thierry Mugler's connection with music, which peaked with his iconic video for George Michael's "Too Funky", for which he designed the costume.
The collaboration was supposed to combine the vision of the founder, Manfred Thierry Mugler, and H&M's artistic director Ann-Sofie Johansson to celebrate the Mugler brand's 50th anniversary.
Mugler however unexpectedly passed away in January 2022. In an exclusive interview with Ynet, Ann-Sofie Johansson and Casey Cadwallader, Mugler's artistic director for the past five years, reveal that they had held meetings with the late designer two years ago to discuss the collaboration.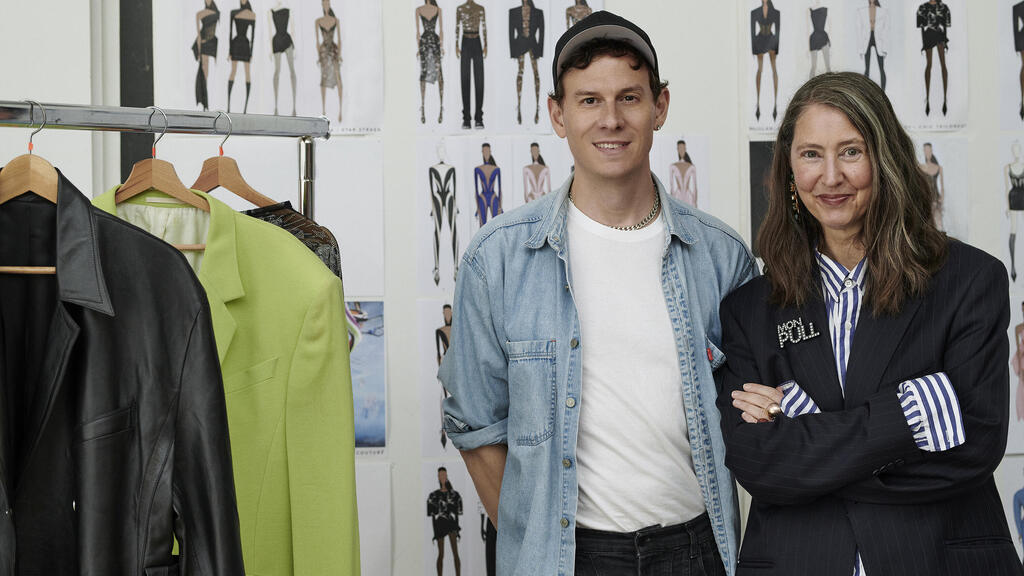 "We started off talking to Mr. Mugler himself. I was thrilled and honored to meet him as he was always a hero of mine. We always hoped to include, within this collaboration, a blend of the old Mugler and the new Mugler," Johnson says.
"Obviously, we were all shocked and devastated by his passing, and truly sad not to be able to bring his vision to life as he'd been so enthusiastic about the collaboration."
However, Mugler's death didn't dissuade him. Cadwallader agreed to continue, resulting in a collection of clothing and accessories for women and men inspired by the past, for the future.
"Casey was keen to pursue things, and in the end, the collection is everything we could have dreamed of and more," Johnson continues.
"Casey has done such an amazing job at offering a totally modern, exciting collection, while also using small parts of the range to pay tribute to the history of the house, and to Thierry Mugler's legacy and designs, such by including special reissued archive pieces within the collection, like the amazing 80s and 90s dresses for women."
"All the archive pieces show the richness of the house, but also my own journey with Mugler – the starting points and references that have inspired the house today," adds Cadwallader.
"I spent time thinking about what people would really covet, and what would really encapsulate the heritage of the brand. I knew, for example, that I wanted the 80s black velvet dress, because the original vintage version has had its own new modern life recently, having been worn by so many young icons, whether in shows or on the red carpet.
"I love the skirt suit also, because it's punk but also feminine, and it encapsulates the dualities of Mugler – how it could be very considered and cerebral and couture, and then also, on another side, quite dirty and daring."
Cadwallader, 43, an American now living in Paris, studied architecture at Cornell University until his practicum with fashion designer Marc Jacobs changed his plans. For two decades, he worked in design roles at Narciso Rodriguez, Louis Vuitton, and Acne Studios before being appointed as Mugler's creative director in December 2017.
Since 2019, the brand has been owned by the L'Oreal cosmetics conglomerate. Cadwallader is the third artistic director in a decade tasked with revitalizing the legendary brand, whose star faded after Mugler's departure from it in 2002. He was preceded by stylist Nicola Formichetti and designer David Koma.
Cadwallader's success has been credited to his close-fitting and sexy cut clothing and collaborations with stars such as Cardi B, Dua Lipa, Kylie Jenner, and Kim Kardashian, who have worn the brand's past designs and contemporary designs.
Mugler's renewed presence in the fashion world has introduced it to a new and young audience that has not yet been exposed to the heritage of the fashion house and the innovation that its founder instilled in its early years.
The collaboration is a win-win for both sides: the Swedish brand benefits from the extensive promotion of the fashion house, while Mugler gains a new generation of young customers who are discovering it for the first time.
This diversity was also highlighted at the campaign's launch party held Wednesday in New York, to which many arrived. It included event producer Susanne Bartsch and fashion icon Amanda Lepore, who have previously met Mugler, alongside cross-generational stars such as Pamela Anderson and Lourdes Leon, Madonna's daughter. Israel's Nibar Madar also attended.
When asked if the long list of stars wearing the brand has anything to do with the collaboration with H&M, Johansson said that "Mugler just felt totally right for now. It's a house that has been on our wish list for a while, as all of us at H&M have been really impressed with what Casey has created with his reinvigoration of the house.
"We have also been fascinated by the current global enthusiasm for 80s and 90s icons, and the way young people are looking to the past for inspiration. The house's founder Thierry Mugler is obviously a big part of that. He is key to the flamboyance and excitement of that period – he set the agenda, just as Casey is doing now."
"Casey has such a respect for the legacy of the brand, and for all that Mr. Mugler stood for – inclusivity, gender-fluidity, empowerment, body positivity and sexiness," added Johnson. "The campaign for the collection is really about celebrating all types of beauty, which is something that has always been integral to the Mugler and H&M vision.
"Mr. Mugler was so ahead of the times, when it came to diversity on his runways – he embraces different body types, and trans and non-binary figures from the start. And Casey has obviously totally continued that vision – and you see that in the broad range of ages and ethnicities in the campaign."
Long before the current discourse on diversity, during the 80s and 90s, Mugler's fashion house offered depictions of strong and diverse women on the runway, with muses such as Jerry Hall, Pat Cleveland, and Stella Ellis Amar, the Israeli model who recently spoke to Vogue about her close friendship with Mr. Mugler.
Hall, 66, is the campaign's most veteran star, and the most famous and iconic of them all, wearing a black velvet dress that some have found similar to Princess Diana's famous "revenge" dress.
Cadwallader chose a diverse cast of models and celebrities he loves for his collection, including multi-ethnic and multi-generational stars.
"It's an amazing mix of people, within the campaign. You have new musical stars who I love, such as Eartheater, Shygirl, Amaarae and Arca, and then you have the fashion icons, such as Jerry Hall and Mariacarla Boscono, who nod to the house's association with supermodels, runway theatrics and high glamour," he says.
"We also have some faces who define the fashion landscape as we know it today, such as models Anna Ewers and Imaan Hammam, and people who are really embedded in the contemporary Mugler community, such as Yilan Hua and Aweng Chuol. All together, they sum up the broadness of Mugler and the way the house speaks to a wide range of people."
Cadwallader's collection combines the fashion house's contemporary style with sexy, geometric cuts in evening dresses and fitted overalls, alongside spiral jeans and the famous Cat Suit overalls, with iconic Mugler patterns like the sharp-shouldered leather trench coat.
Cadwallader explains that he tried to create a contemporary collection using a historical timeline that combines the past, present, and future. "My own journey with the house is very tied to the archive, and using key elements from it as starting points for new ideas," he says.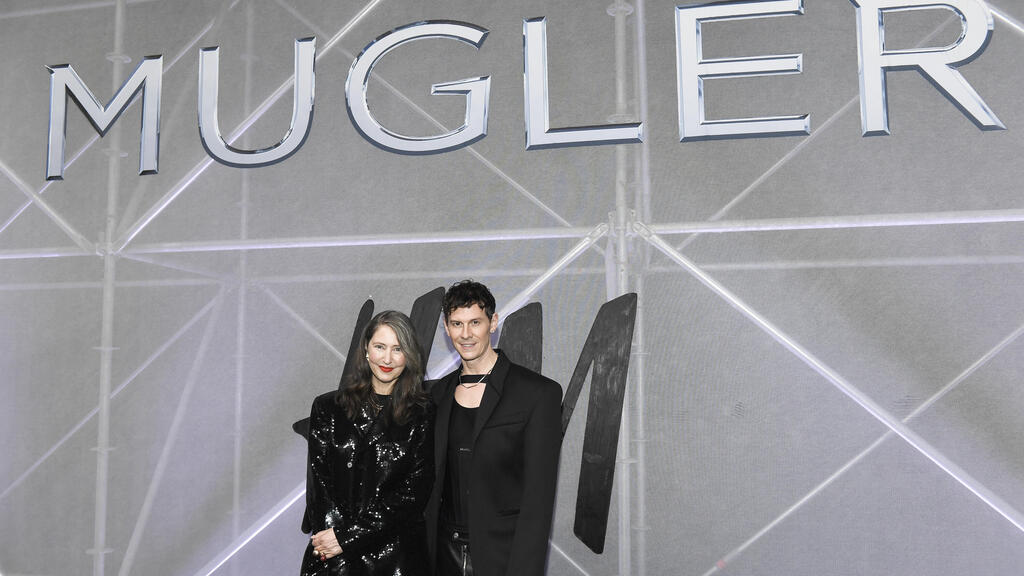 What challenges did you face when designing clothes for a more mass-produced fashion brand?
"When creating the collection, I was really inspired by the ethos of the H&M designer collaborations. I looked at past collaborations, like the one Alber Elbaz did, and I looked to the Versace and Margiela ones, which I actually bought pieces from at the time, and which, again, were really about offering people signature pieces. I drew a lot of inspiration from that idea.
"One thing we focused on with this collection was how we could take our key pieces – whether the dresses or the jeans or bodysuits – and produce them at the scale and price-point needed, and one way we did that was by carefully working out which details were essential – so maybe it's a seam that was removed, or the number of ties or knots on a dress that was edited down. It allowed us to make truly beautiful pieces, that are in no way a compromise, but that are at an affordable price point."
The final result may disappoint brand enthusiasts but delight audiences for whom the original designs may have been out of reach.
Continuing to encourage sustainability at H&M, Johansson says that 67% of the collection is made of sustainable materials, such as organic cotton, recycled nylon, and elastane textiles. Another challenge was widening the limited range of sizes at the fashion house, which usually goes up to 42 at the highest.
The new collaboration will have sizes ranging up to XXL in the United States and up to XL in Europe, and will be launched in Israel on May 11.