In the early hours of Wednesday morning, the triumphant Israeli national U-20 team, whose remarkable journey captivated the nation and etched their names in history with a bronze medal win at the 2023 World Cup, returned to Israel to an enthusiastic reception.
At Ben Gurion's VIP Fattal Terminal, friends and families eagerly awaited, including those who had steadfastly supported the players throughout the tournament in Argentina, and joined together in celebration.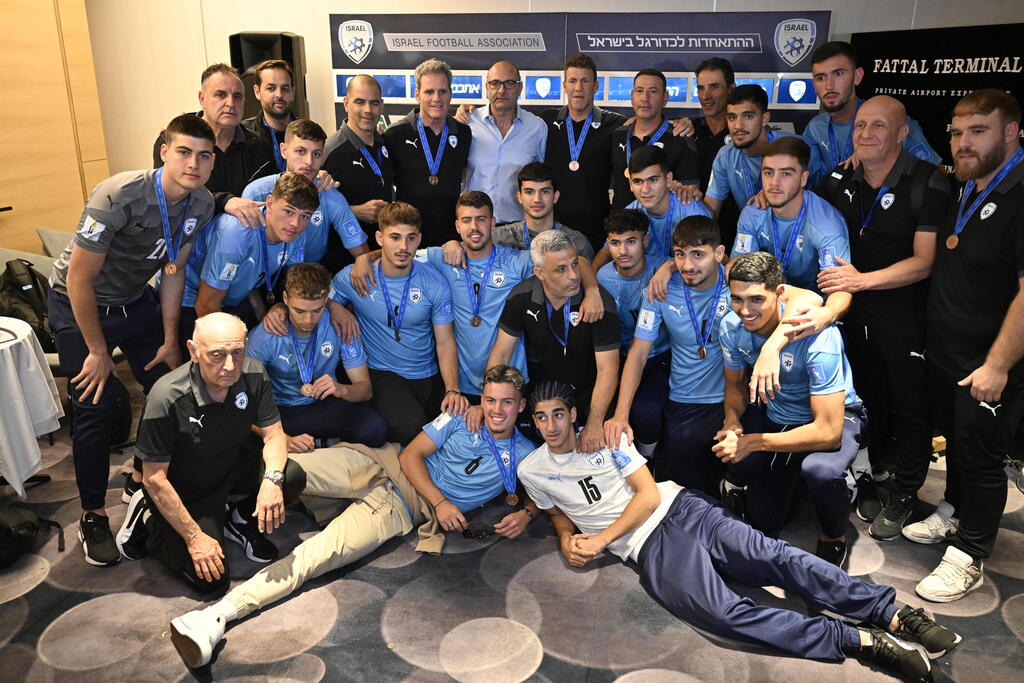 Amid the joyous atmosphere, the players proudly showcased their hard-earned medals, while Coach Ofir Haim, Captain Ili Madmon, and Association Chairman Shino Zuares delivered heartfelt speeches, expressing gratitude and pride.
With deep emotion, Ofir Haim told the crowd: "There is no one happier than me. It all began at the Euros last summer, where they claimed it was by mere chance, yet here we are, clinching the third spot in the world. To the State of Israel, thank you for your unwavering support, love, and embrace - we cherish you. I am certain that our talented players will now further integrate into their respective teams."
Following each match, the national team coach would immediately reach out to his son, Or, who is on the autism spectrum. Haim revealed: "My first priority is to rush to embrace and shower him with kisses. I have missed him so much."
Ili Madmon shared: "We embarked on a remarkable and exhilarating journey, and I hope we can continue to create extraordinary moments. A heartfelt gratitude to our families who stood by us through both challenging and joyous times that will forever be etched in our memories. Being the captain of the Israeli national team is the ultimate honor for me."
Shino Zuares, the Israel football association's chairman, said: "There were whispers about this team being extraordinary, unique, a once-in-a-lifetime phenomenon. So, I had to come to Argentina to see for myself if the rumors were true. But let me clarify, they are not supernatural beings."
"They are simply remarkable individuals. Fortunately, we will have the privilege of their presence for many years, as they continue to surpass every expectation and turn our dreams into reality. I say it loudly and clearly - Israel is European runner-up and world bronze medal winners. It's no dream. Welcome to reality."
Maccabi Haifa forward Anan Halaili, the tournament's leading goal scorer with three goals, told the crowd: "It has been an incredibly exhilarating journey. We approached each game with tremendous excitement. In this team, coexistence thrives, and there is no place for racism; love unites us all. Now, I will celebrate this achievement with my family and friends."