Two people were arrested on Tuesday evening after entering an elevator with a horse in a luxurious skyscraper in Tel Aviv.
Security cameras inside the Park TLV building in the HaArgazin neighborhood captured how a horse was led into a small elevator in the apartment complex. The video made its way into a WhatsApp group of the building's residents, causing an uproar.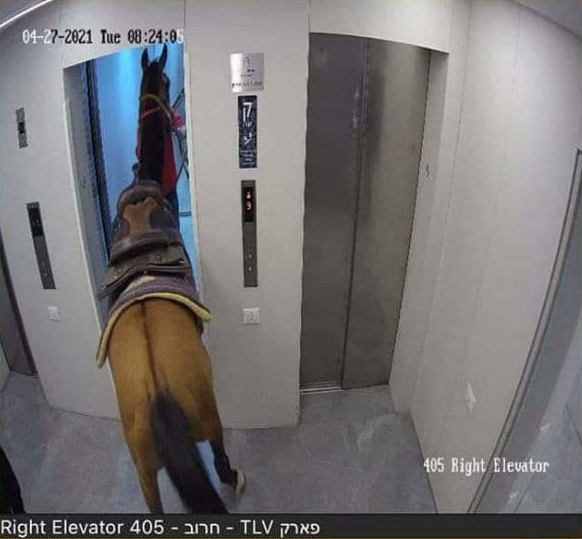 The building's tenants conducted their own investigation before calling the police. It emerged the owner of the horse came to visit his friend who lives in the building and went up to the sixth floor via the elevator with the animal.
It appears the neighborhood is located near agricultural farms and is easily accessible through a local park. Tenants believe the owner of the horse brought the animal from one of the nearby farms.
The Tel Aviv-Yafo Municipality said since the building is privately owned and they are prevented from intervening in the situation.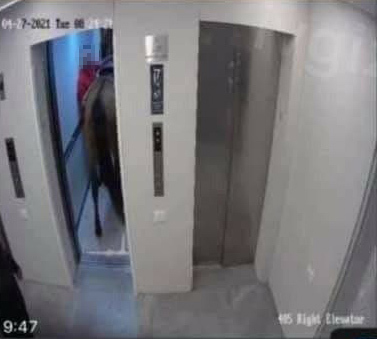 Police for their part said they've launched an investigating into the incident and already arrested two suspects after a complaint was filed by one of the tenants.
The suspects were questioned on suspicion of animal abuse. One of the suspects was released under restrictive conditions, while the other remained in jail after it emerged he had violated house arrest for other offenses. On Wednesday, he will be brought to court for a hearing.
Police said veterinary services are now involved in the incident and will examine if the horse has been abused.