A rare encounter in the Bay of Eilat: Nature and Parks Authority inspectors swam alongside a whale shark, which is about four meters long, on the north coast of Eilat as part of a marine inspection tour. The authority said that the shark seems to be in good condition.
The shark comes near the shore in the Gulf of Eilat from time to time in search of food. The Nature and Parks Authority says that in such an encounter it is recommended to allow the shark to move freely and not to touch it. It is also forbidden to hit it with a vessel.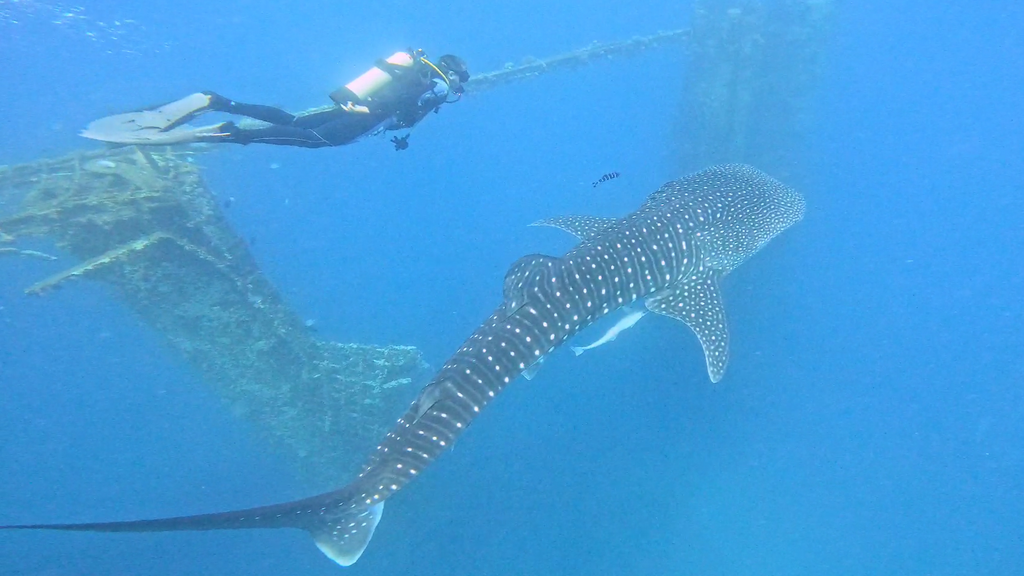 The whale shark is the largest fish in the world and is not considered dangerous to humans. Whale sharks are a protected species in Israel and are in danger of global extinction.
The whale shark was also defined in the IUCN Red Book - the International Union for the Conservation of Nature and Natural Resources - as an endangered species, meaning that it is at a significant risk of extinction from the wild.
The largest individual whale shark ever caught and accurately measured was 12.65 meters long and weighed over 21.5 tons, though here have been unsubstantiated claims of sightings of larger whales.
Despite its size, the Nature and Parks Authority said that this shark is not considered dangerous to humans, and many divers have swam alongsode it and even hung on to it while it was moving.
This species of shark is often seen in the Philippines, the beaches of Thailand, the Maldives, Western Australia, the Galapagos Islands and even the Red Sea. The whale shark is sometimes hunted as part of commercial or recreational fishing, often in places where it congregates seasonally.
The whale shark species was first identified in April 1828, after a 4.6-meter-long whale was caught Table Bay, South Africa. It was later described by a zoologist named Andrew Smith, a military doctor who was attached to British soldiers stationed in Cape Town. The researcher went on to publish a more detailed description of the same whale in 1849.
The name of the fish, "whale shark", derives from its physiology: it is a whale-sized shark and uses an eating technique similar to that of the whale - filtering the food from the water.