Before the burial, the carcass was examined by Nature and Parks Authority inspectors and samples were taken to determine the marine mammal's cause of death.
The examination revealed that the subject was a female, about 12 meters (40 feet) in length and weighing about 10 metric tons. The whale is believed to have died about a week prior.
A local fisherman spotted the floating carcass before it reached shore and notified authorities.
The Nature and Parks Authority's maritime unit, aided by a control team from a Navy base near Ashdod, monitored the progress of the stranded marine mammal to ensure it enters Israel's territorial waters for testing and research purposes.
This is the second documented instance of a dead fin whale washing up on Israeli shores. The carcass of a 10-meter-long (33 feet) whale calf was found on the beach of the Holot Nitzanim Reserve south of Tel Aviv in February 2021.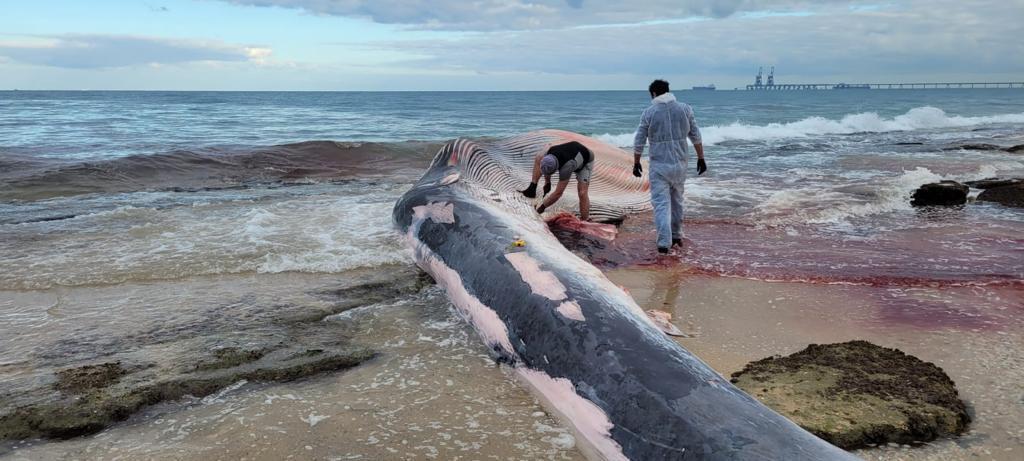 By chance, the calf's remains were planned to be dug up on Monday to be displayed at the Jerusalem Aquarium.
The fin whale is the second largest animal in the world after the blue whale. Fin whales are common in the western Mediterranean but are rarely spotted near its eastern shoreline.
Male fin whales average 19-25 meters in length, with females reaching 20-27 meters. According to estimations, a full-grown 25-meter-long adult fin whale would weigh approximately 70 metric tons.