Michael Lavi, a volunteer at the Israel Nature and Parks Authority, captured on camera a viper swallowing a whole rabbit near Haifa.
"The viper is a venomous snake found in Israel's Mediterranean coastal region. The venom glands are located in the rear part of the skull and extend toward the front, forming a triangular structure," Nature and Parks Authority ecologist Dotan Rotem explained.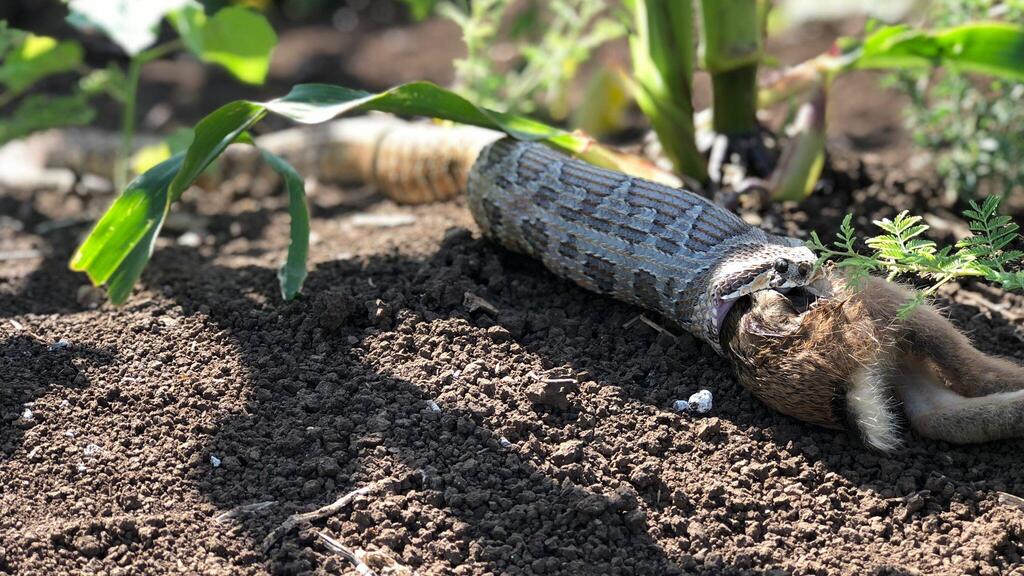 "A duct passes from the venom glands to the hinged fangs, which are automatically deployed when the viper opens its mouth. The fangs are hollow and, similar to a syringe, when the viper bites, venom is injected through the fang into the prey's tissue."
"The venom paralyzes or kills the prey (the speed depends on its size and the amount of venom injected). The venom contains various proteins, including enzymes that break down the tissues of the prey, essentially initiating the digestion process."
"Now, the viper expands its jaws, which can separate from each other to swallow larger prey. When the prey reaches the stomach, it is also digested, and indigestible remnants are naturally deposited. The viper is primarily active at night, but it can also be seen during the day. It is adept at swimming and can cross water obstacles. Its main diet consists of rodents, although, as seen in the pictures, it also preys on small rabbits."
According to Rotem, such a meal can sustain the viper for a long time: "The prey is swallowed whole, and always head-first, so the legs do not get stuck... A meal like this can be sufficient for the viper for several days or even weeks."
Rotem also spoke about how widespread the viper snake is in Israel. "The viper is found throughout the Mediterranean region and can even penetrate human territories. During the winter season, their activity decreases, but in the Israeli winter, active vipers can be seen on warm days.
The viper plays a significant role in the food chain as it regulates populations of rodents and serves as prey for birds of prey such as snake eagles and other raptors. Like all reptiles in Israel, the viper is a protected species by law, and if encountered in residential areas or yards, it is advisable to contact a certified snake catcher."