Iran is involved in the Syrian defense industry in an effort to more efficiently arm the Islamic Republic's proxies in the Levant, the Alma Research and Education Center disclosed in a study. The study also found that Hezbollah may come to obtain Syrian chemical weapons.
"We proved in the report an Iranian involvement specifically in a Syrian government agency center focused on weapons development," Sarit Zehavi, president of the Alma Research and Education Center and a former officer in the IDF Intelligence Directorate, told The Media Line.
The new study released last week revealed Iran's connection to the Syrian Scientific Studies and Research Center, known by its French abbreviation, CERS. CERS was established in 1971 to promote scientific development in Syria and now serves as the Syrian military's research and development wing. The agency is spread out across several institutes, including Institute 4000 in northwestern Syria, which is responsible for manufacturing missiles, rockets, and bombs, as well as a separate institute devoted to chemical weapons development and manufacturing.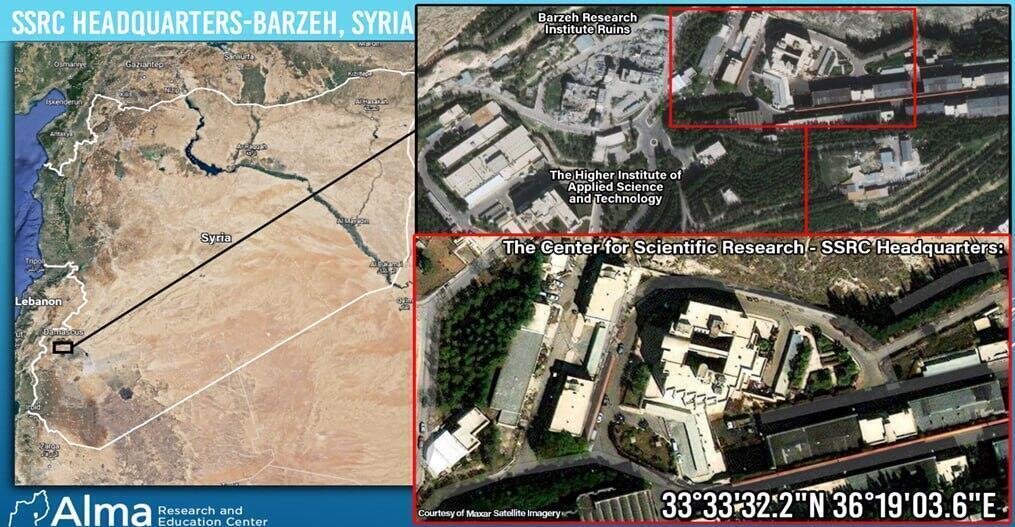 Zehavi said that the research did not show any Iranian involvement in the production of chemical weapons. Iran's main goal, the study found, "is to develop and manufacture precision missiles and rockets, cruise missiles, and unmanned aerial vehicles on Syrian soil, using the CERS Institute 4000 infrastructure," she said.
Some CERS facilities have been destroyed in airstrikes in Syria. Israel has not claimed responsibility for the attacks, but
Syrian reports blame Israel
. Zehavi described the airstrikes as likely being part of Israel's "war between the wars" campaign of covertly destroying emerging threats in enemy countries.
Zehavi explained that Iran's policy of distributing weapons to its proxies in the region serves two main purposes. "One is to create platforms of influence in these countries – Syria, Lebanon, Iraq, etc. – and the second is to create a multifront situation against Israel," she said.
Iran faces the logistical challenge of smuggling weapons into various countries to achieve these goals. Sometimes the weapons are smuggled by air through civilian flights to Aleppo, Damascus, and Beirut. Mostly they are smuggled by trucks driving more than 1,000 miles from Iran into Syria, Zehavi said.
"To transfer the production and the weapons development into Syria means shortening this corridor, which means that Iran will not have to bring everything from Iran but the production will be in Syria for it to be distributed to its proxies in Syria and Lebanon," she explained.
Silvia Boltuc, managing director of SpecialEurasia, a geopolitical intelligence and risk assessment agency, told The Media Line that manufacturing weapons in Syria also allows Iran to safeguard Hezbollah's access to weapons. "In case of an attack on Iran, these infrastructures will continue to work independently," and the arms supply chain to Hezbollah will be unaffected, Boltuc said
She added that Iranian infrastructure has been destroyed in recent years despite the country's best attempts at secrecy, which might motivate Iran to spread its activities out across multiple countries.
The policy may also be a response to increasing Israeli influence in the region. "As Israel has increased its presence in neighboring countries like Azerbaijan to have direct access to Iran, Tehran has been increasing its influence in Syria and Lebanon," Boltuc said.
Israel opened an embassy in Azerbaijan in March 2023, and an embassy in Turkmenistan, only 15 miles from the border with Iran, in April 2023.
Zehavi said that Syrian-produced chemical weapons may end up in Hezbollah's hands. She disputes the UN reports claiming that the Syrian government has not had chemical weapons since 2013, noting that the Syrian government used "chemical weapons against its own citizens in 2018."
There is no proof of Iranian involvement in Syria's chemical weapons industry, but Zehavi said that the close ties between Syria and Hezbollah suggest that the group may end up with Syrian chemical weapons. "Hezbollah had a key role in saving the Syrian government from the civil war, along with the Russians and the Iranians, and so the collaboration is at a very high level," she said.
Zehavi said Hezbollah would likely use chemical weapons against Israel only in an extreme situation and on the battlefield. Hezbollah's use of conventional weapons against Israel, on the other hand, is no longer in question. "We are already there, meaning that we understand that [Hezbollah] will use them in future wars, and the Iranians will use them, and other militias will use them," she said.
"This is a risk for the State of Israel. These are accurate weapons, which means that the Iron Dome needs to miss only one rocket to create a lot of damage," Zehavi said.