While racing at 160 km/h from her residence in Rosh Ha'ayin to the Kirya defense headquarters in Tel Aviv, Lt. Col. H. mobilized regular and reserve ground forces, initiating what would soon be recognized as a full-scale war. A surprising phone call from the operations pit disrupted Lt. Col. H.'s preparations for an overseas military mission. Within 23 minutes, she found herself at the heart of Hamas' war against Israel.
"While driving, I mobilized all the standby forces and battalions to move south," she recounts. "On arriving at the operations division, I swiftly transitioned from routine to emergency, pressing the button. As the situation escalated, I convened a meeting, including representation from all command posts and platoons, summoning personnel from every corps. Our task was to mobilize reserves, ensure their equipment and ammunition, and my responsibility was to designate their deployment locations."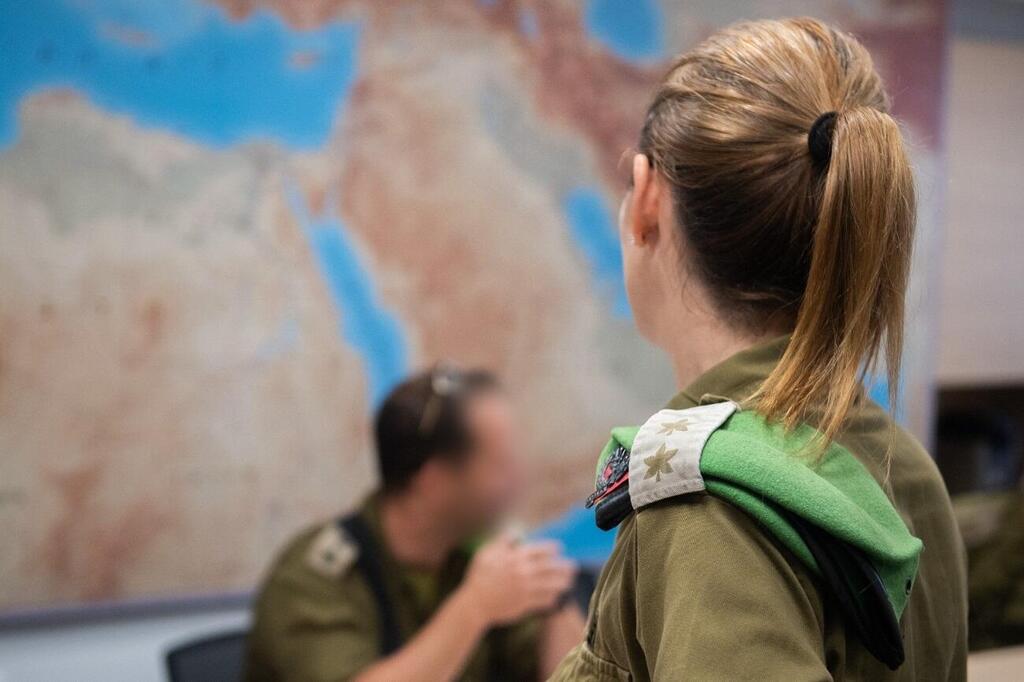 "It happened so quickly, but there was a moment when I realized the magnitude of the situation. It was on Saturday at noon, a brief moment when I stepped away to use the bathroom. As I exited, a thought struck me: 'There's absolutely no room for error.' I felt the immense weight of responsibility on my shoulders. And beyond that, there were faces behind the forces."
"I had to summon the Paratrooper Brigade, where the brigade commander is my best friend. I had to summon my husband's unit and simultaneously figure out arrangements for my five children – ages 3, 6, 12, 14 and 16 years old. In that moment, a message from my husband reassured me; he had already prepared a bag, the children were with my mother, and he was on his way out. And just like that, we were thrust into action."
Did you speak to them?
"Hardly. I barely had any time. He reassured me that they were fine. I had to disconnect – a rhythm I navigate daily, with each passing moment. I'm familiar with all the generals and brigade commanders; some of them are my friends. I also have friends whose husbands are in specific battalions, but I try not to dwell on it. My sole concern was mobilizing as many forces as possible for the area around Gaza."
When did you speak to your children?
"I could only speak to them on Monday, two days after the war started, and even then it was only with my eldest son. On Thursday, I briefly stepped out of the operations for just two minutes to video call my children. I made sure to talk to my son on his birthday, which was on Friday. One of my friends made certain to send him a cake and balloons."
Lt. Col. H. admits that sometimes her job intersects with her personally. "I had to summon my husband's unit and immediately considered my five children. At that instant, I received a message from him, confirming he was leaving, and that the children were with my mother."
Lt. Col. H. is not the only woman involved in the strategic operations. "Ultimately, this team propels the army forward, functioning as the force that sets the entire event in motion, and 95% of its members are women. These women, many of whom are mothers, newlyweds or young individuals after completing regular military service, skillfully manage it in shifts with great authority. They are remarkable individuals, warriors in their own right, even though our battleground is under fluorescents, not in the field."
What is the advantage of having a woman in this position?
"At any given moment, I handle numerous calls, determining the deployment of each department and assigning specific resources to various units. Just an hour ago, I was in my office when an elderly reserve officer observed the weight of my responsibilities. He remarked, 'I don't know how you manage it,' as I took a sip from my water bottle."
"To this, my colleague responded, 'It's straightforward – only women can juggle so many tasks simultaneously.' I find this statement indisputable. There are certain things we excel at naturally. The ongoing debate about women's capabilities in the military, their integration into specific units – these discussions seem hollow to me."
She remains deeply immersed in the event, refusing to allow herself a break. "In the early hours, between 4:30 a.m. and 5:30 a.m., when I find a moment to rest my head on the chair – that's when my thoughts catch up with me. I'm genuinely grateful for being occupied; it keeps me grounded. I focus intensely on the tasks at hand, dealing only with what is necessary in the present moment."
"I'm fortunate to have incredible children who understand my situation. They send me a 'good-night' message along with their love once a day. I'm not the kind of mother who can attend parent-teacher conferences and school events. It was particularly challenging once; I had to leave the bat mitzvah night at school, a significant Jewish ritual. I cried on the way, and my husband said to me, 'your children know you're doing something important for our country'. I hope he's right, but for now, I have to be here."
Eyes ablaze with determination
On that fateful Saturday morning, Sgt. Aviv found herself on duty as a Snapir unit soldier, along with her colleagues, stationed in the southern sector of the Ashdod naval base. They were suddenly thrust into action when continuous red alerts blared in the early hours. "We were on standby at the base when the alarms began," she recalls.
"Within minutes, we were deployed into the sea. As we set out, we spotted several hostile boats attempting to breach Israeli territorial waters and reach Zikim Beach. While the navy's conventional security measures were effective against the hostile boats, when they caught fire, we noticed terrorists trying to escape and swim toward the Israeli shore."
"We soon grasped that this event was entirely unlike any we had encountered before. One fact was evident to all of us: We were fighting to safeguard our country's citizens. Without a moment's hesitation, almost instinctively, we engaged the terrorists at sea, successfully eliminating the majority of them."
"Subsequently, we continued to repel the terrorists who reached the coastline. The safety of the people of Israel remained our primary focus throughout the entire battle. It was only on our return to the coast that we checked our phones and became aware of the simultaneous events unfolding across the country."
What are your emotions like during and after that experience?
"The feeling of fulfillment in successfully preventing such incidents is beyond words. I am thankful for the opportunity to be a part of the security forces and to serve my country, my home. I always recognized the importance of my role, but our actions during the war further emphasized it for me."
How do you perceive this war, both as a warrior and as a woman?
"The Snapir unit represents a diverse combat team where gender is not a defining factor. We all fulfill the same responsibilities and are expected to excel in our roles, regardless of our gender. However, this is not the time for conclusions. Our battle continues, our determination steadfast, as we work tirelessly to safeguard our country from potential threats."
Sgt. Aviv recounted: "As the boats caught fire, we observed terrorists attempting to swim toward Israel's shores. Instantly, and almost instinctively, we opened fire into the sea, successfully eliminating the majority of them. We then intercepted the terrorists who reached the coastline, disrupting their efforts. It was only on our return to the shore that we checked our phones and became aware of the simultaneous events unfolding across the country".
With unwavering determination in her gaze, Sgt. Tanya Rechtman, stationed at Yiftah post on the Gaza border, witnessed the initial infiltration of these hostile terrorists. "At 6:30 a.m. on Saturday, a heavy barrage began. I was at the Homefront Military Liaison (HML) with five female soldiers, and I noticed a significant number of people gathering at the fence in various locations," she recounts.
"There were terrorists with vehicles, missiles and weapons. I promptly declared a 'critical event,' indicating a raid. I coordinated the mobilization of all forces. Simultaneously, in the quarters, I oversaw 20 female soldiers and two commanders. I made sure to call and verify that they all reached secure areas."
"At first, I couldn't comprehend that they were heading our way. Because the shelter was relatively exposed, I instructed the soldiers to move to a more enclosed area and maintain silence. At the same time, I directed officers in the Homefront Military Liaison (HML) to act as observers and safeguard the openings. Much of the incident is a blur to me now; some details have faded from my memory. What stands out is the intense cold – I was shivering uncontrollably."
"Eventually, it became clear that the terrorists had breached the entrance gate of the base. Most of them were neutralized within the area of the entrance gate; a few were eliminated outside the HML. Tragically, six of our comrades lost their lives here, some during the battle near the entrance gate – true heroes. Remarkably, all my female soldiers survived after spending several hours in the shelter, and later they joined me at the HML. Wounded individuals also arrived there, and my soldiers attended to their needs."
How does one function in such a situation?
"It became instinctual. Amid the chills, tremors, and overwhelming helplessness, I reminded myself that there was no room for such emotions at that moment; there was work to be done. Simultaneously, I reassured the girls that everything was under control, that they were heroes, embracing them for support. In between making urgent phone calls, I attempted to contact the air forces, the situation remained uncertain."
"I constantly question whether I could have done more, whether I could have eliminated a few terrorists. I'm haunted by thoughts of conscience. Eventually, I came to realize that I gave my all. Our outpost wasn't overrun; it's a sheer miracle. Only now do I grasp how drastically different things could have been. I have much to be thankful for – whether it's to God, the universe, or whatever higher power you believe in."
"I shared with the girls I served with: We have an unspoken pact now, a bond of shared experiences. We've witnessed the same horrors, felt the same emotions, and we'll stand by one another even when the memories resurface, bringing waves of trauma and pain. Together, we'll navigate through it. It's something a stranger could never truly comprehend, no matter how much we try to convey it."
An improvised Homefront Military Liaison (HML)
Lt. Ariel, an officer in the Nahal unit, found herself stationed in Kerem Shalom on that fateful Saturday morning. As the barrage commenced, she and her operations sergeant team took charge, swiftly alerting both the forces and the local communities about the infiltration. In the initial confrontation with the terrorists, the Nahal patrol battalion faced devastating losses, losing its commanders in the process.
Together with a group of operations sergeants who were trapped in the outpost, they successfully repelled the infiltration of Kerem Shalom with the assistance of an improvised Homefront Military Liaison (HML) setup, which other commanders established in the residence of one of the female officers.
Kerem Shalom stood as one of the first outposts to be established and secured. Lt. Ariel orchestrated the combat operations, directing forces and employing firepower, all while under constant enemy fire and attending to the wounded at the base.
"At 5:30 a.m., on what seemed like a typical day, I arrived at the Homefront Military Liaison (HML) for a routine situational assessment, just before everything unfolded. An hour later, the sector was rattled by a barrage of artillery fire. I, along with my team of sergeants, immediately sprang into action. My tasks included reporting to the communities and the IDF security coordinator, ensuring everyone was in protected areas and that no one was missing. This marked our initial response."
"Then, within moments, we witnessed a large influx of people making their way to the fence using various means – some on foot, others on motorcycles – and the fence was breached. A 'critical event' was declared, and I took charge, coordinating with the forces on the ground."
What thoughts occupy your mind during those moments?
"We were utterly unprepared for the scale of the situation; it was beyond our comprehension. The enormity of the event caught us completely off guard, yet we swiftly responded. Tragically, our deputy battalion commander was killed, and we immediately alerted the settlements about the infiltration, instructing residents to stay indoors.
"We made frantic efforts to pinpoint the locations of the terrorists and relayed this information to the forces. Subsequently, the terrorists began infiltrating the outpost, numbering around 20. We spotted them through the entrance gate and deployed the standby squad with a higher level of strength."
"While we were keeping an eye on the Homefront Military Liaison (HML), the terrorists attempted to break in. We hurriedly toppled a cupboard, placed two weapons at the door, and pressed on. Our unit suffered heavy losses, including commanders, the military company commander and the deputy battalion commander. Despite this, we successfully regained control of the post."
"Every person in the unit performed their duties exceptionally. Amid all this, we received calls from civilian localities pleading for help, describing incredibly dire situations. It became clear to me that it was my responsibility, alongside the soldiers, to assume command – there was no one else in our position. This realization kept me focused and prevented me from losing my composure. No matter how challenging the situation became, we refused to let it divert our attention. It was undoubtedly tough and demanding, but it didn't deter me from maintaining communication and ensuring the smooth transfer of information between various parties."
Did you experience a moment when you feared for your own life?
"Yes, we heard gunshots and explosions outside the Homefront Military Liaison (HML), and we were certain that intruders would breach soon. However, my concern was not driven by fear but by our objective and the mission at hand."
"The fallen commanders had taught us, given us the tools and knowledge to continue without them, and it was through their sacrifice that we were able to reclaim control of the HML. Being part of the security system brings us great satisfaction. As a woman involved in this, it's a source of pride."
Cpt. Miri described the scene: "We surveyed the area and observed numerous corpses, along with scattered belongings of the young individuals from the music festival, resembling a battlefield. We witnessed open vehicles abandoned by people fleeing for their lives, some even hijacked with RPGs. Later, we evacuated Kibbutz Magen under intense gunfire and safely transported 160 residents out of the kibbutz. It was a moment that defined us."
Cpt. Miri, a military company commander in the rescue brigade, displayed unwavering courage as she promptly joined the troops in searching and clearing bodies from the music festival site in Kibbutz Re'im while under heavy gunfire.
"This critical event unfolded during my operational vacation with my partner, an officer in the 50 Battalion. Now Be'er Sheva is on high alert, haunted by the fear of terrorists. The reality around us resembled a war zone – horrors, missiles, interceptions, chaos and terrified people lining the roads. I found myself stopping by the curb, guiding citizens who, upon spotting an orange beret, sought direction amid the confusion," she said.
"I arrived in Be'er Sheva where numerous buses filled with people from the festival began to disembark. Through this, I faced personal concerns. My partner and I reside in Kibbutz Mefalsim, a community close to the Gaza Strip. While engaged in the fight, I received updates of terrorists in the vicinity, and the kibbutz communications indicated growing fears of intrusion. Responding swiftly, I drove my car southward to Kibbutz Zikim. I wanted to confront the situation personally, sparing the citizens from this burden. It felt like this is my moment to fulfill the pledge I had made – to safeguard the State of Israel and its people."
"Simultaneously, I receive messages from my soldiers, alerting me that terrorists have infiltrated the Zikim base, where my battalion is stationed for defense. All of this unfolds within an hour and a half of driving. Amidst the chaos, I hear rumors that our military deputy commander fought bravely but tragically lost his life. I respond firmly: 'I can't focus on that right now, guys, don't distract me,' before ending the call and resolutely pushing forward.
"While en route to Zikim, a friend informs me that he encountered terrorists, sending real-time locations. I swiftly direct forces to those coordinates. Later, I learn that his life was saved thanks to this immediate guidance I provided."
"On the second day of the conflict, I accompanied the battalion commander to Re'im and Be'eri, where our mission was to make urgent phone calls and search for signs of life. Amid intense gunfire, we combed through a devastating scene – numerous bodies, badly burned, and scattered belongings of the young men who were once in those vehicles. It was akin to a war zone."
"We witnessed abandoned vehicles that belonged to people fleeing for their lives, along with gruesome sights of decapitated heads of civilians – scenes straight out of a horror movie. All of this while gunfire echoed around us. In the midst of this chaos, we found ourselves evacuating Kibbutz Magen under a barrage of heavy fire. Despite the danger, we successfully rescued 160 residents from the kibbutz who were desperately awaiting assistance. This experience was undeniably a defining moment."
"As all of this unfolds, I come to realize that I've lost seven close friends, brave individuals who fought fiercely in Zikim. We were under attack, but in times of war, there's no room for questions; one must focus entirely on prevailing in the battle."
Can you create a divide within yourself, allowing you to navigate the mission with clarity and determination?
"Meanwhile, I set aside the grief to maintain my focus on the mission. In the middle of the battle, I composed the obituary for my deputy commander, all the while continuing to fight with determination shining in my eyes. We cannot allow ourselves to be consumed by sorrow."
Have you slept since October 7?
"No. Today I managed to grab just 30 minutes of sleep. We are on high alert, and prepared for any potential incidents. I find myself deeply involved in this series of battles, facing intense operational tension and a rush of adrenaline. Fear and apprehension have no place in my emotions. Even as I stepped out of my command room, armed and primed with a loaded weapon, my singular focus remained on safeguarding our country."
"Forty percent of my company is comprised of women, and this war has highlighted the vital role female soldiers play in the army's success and mission fulfillment. In the front command group, I am accompanied by exceptional female fighters who have stood by my side throughout the war, navigating a path threatened by RPGs (anti-tank rocket launchers). Their determination for engagement is unwavering, their sights fixed only on the endless horizon ahead.
"We also need to discuss emotional intelligence. You can see how, as a woman, you have the ability to communicate with citizens and offer reassurance, telling them that 'everything will be fine'. I truly believe that we are accomplishing something remarkable here. Women on the front lines, engaging with terrorists in high-risk areas – it's unprecedented."
"Am I standing tall? Absolutely. Have we demonstrated everything they spoke about concerning women and warfare? Without a doubt. I don't know the whereabouts of my partner, and I prefer it that way. Yet, the conviction that both of us are contributing significantly to the cause of security fills me with contentment. The people of Israel have endured unimaginable horrors throughout history, and we will overcome this ordeal as well."
A sense of responsibility
Sgt. Noa, a commander in the paramedic platoon, faced a dire situation when she was called on October 7 to provide urgent medical assistance to the commando forces at Camp Urim. The following day, she was summoned to aid the wounded in Be'eri, amid gunfire from terrorists, while the settlement was still under Hamas' control.
"When the commanding officer contacted me on Saturday morning, I understood that this was not just a few incidents in the settlements around the Gaza Strip, but something much larger," she recalls. "I organized our supplies, and the commanders arrived to pick us up in their vehicles to ensure our safe arrival."
"Upon reaching Camp Ariel Sharon, we loaded equipment onto ambulances and received instructions to proceed to Camp Urim. The enormity of the horrors we were about to witness only became clear when I arrived. There weren't enough evacuation vehicles, so I had to transport two wounded individuals in one ambulance. I had to manage the situation, submit a report if a helicopter was needed, and inform the hospital about the incoming patients," she described.
"We provided medical care to the soldiers, stemming bleeding from gunshot wounds. On the way to Soroka Hospital, it was crucial to prevent further blood loss and offer psychological support, ensuring their sense of security. After the evacuation, the ambulance was cleaned and returned to Urim.
"The following day, we reached the entrance of Be'eri, where sporadic shootings and terrorist activities were ongoing. We established nearly 10 stretcher positions with senior physicians. Our primary focus was on halting bleeding, both external and internal. We provided medical assistance to the remaining fighters in the settlement, who were actively trying to subdue the terrorists in the area. Throughout our operations, we were armed, wearing protective vests and helmets to ensure our safety."
Weren't you scared?
"My primary concern was looking after my team, medics who were facing injured individuals for the first time. I felt a heavy sense of responsibility in this challenging situation. And I wasn't the only woman; there was a medical officer from the Kfir Brigade managing the event, and I had a female medic alongside me," she said.
"Additionally, on another team, there were two female medics, a female paramedic, and another female doctor. We are capable of handling anything, despite what people might think. Sometimes, when you're in a predominantly male team, you need to assert yourself and say, 'listen to me.' However, within the IDF, this mindset is deeply ingrained. We are continually encouraged to push our limits, to set new records every day. After giving my one 100% today, there's always a new benchmark to achieve tomorrow."
Orna Barbivai, the first female major general in the IDF, who served on the front lines and later advocated for the equal integration of women in the army while in the Knesset, isn't surprised to see women in prominent roles during this war. These women are leading the battle with determination and professionalism equal to that of their male counterparts.
"As a major general in the reserves currently accompanying the Enrichment path as part of the initiative to involve major generals in local communities, I travel around the area and meet these women," she explains. "On October 7 I observed the activity of women in the Oketz units. I inquired, 'are your duties different from men's?' and they replied, 'no, if anything, we do even more.' You can witness female tank drivers, female deputy assistant chief of staff for operations, female observers and female intelligence officers – they are everywhere, working alongside reservist women who arrive and diligently carry out their duties."
"It's worth mentioning that the military was relatively slow to acknowledge the valuable contribution of women in combat roles. More than a decade ago, Gen. Yehuda Segev, serving in the Personnel Directorate, insisted that 100% of professions should be accessible to women. There should be no grounds for gender discrimination. However, we didn't provide sufficient support initially."
"Some argued that certain weights and equipment were unsuitable for women. I distinctly remember reaching out to Amiram Levin, a reserve major and former commander of the Northern Command. I recalled him as a slim man who had been a courageous commander in Sayeret Matkal. I asked him a personal question: 'may I inquire about your height and weight when you enlisted?' he replied, 'I was less than 60 kg and under 1.66 m.' I engaged in a debate with the military on this matter, insisting, 'open up! There are exceptional women who are willing and capable!'"
And in this context, reality clearly demonstrates that women are an indispensable part of the fight.
"Absolutely. Ultimately, the situation on the ground will dictate; there's no turning back from this reality."
Do you believe it will reshape civil society? Meaning, more women in influential positions, on corporate boards, and in the Knesset?
"Consider this: In our current disappointing government, where women are scarce, and those present aren't particularly inspiring, I hope that female leadership in the military becomes the headline. Let's aspire to a scenario where their exceptional abilities are mirrored in the halls of responsibility and decision-making. These women should be uplifted – let them lead the country."
30 hours and 14 terrorists killed
Inspector Sharon Cohen, team leader in the military border guard's Tzabar unit, reflects on a day and a half of continuous combat in the volatile southern regions.
On Saturday, October 7, Cohen was jolted awake by her alarm clock at 4 a.m. She quickly rose from her bed in Pardes Hanna to begin her shift in Jerusalem, reinforcing forces involved in an ongoing security mission in the Old City.
At just 23 years old, Cohen commands a team of fighters in the Tzabar unit, part of the tactical division of the military border guard. Her team specializes in handling terrorist incidents, unusual disturbances and providing assistance in combating serious crimes.
Cohen had not anticipated that the vigil, which began at 7 a.m. in the capital amid worshipers beating willows (a custom observed on Hosanna Raba, the last day of Sukkot, as a reminder of the willow mitzvah in the temple), would stretch over 30 hours. During this time, she found herself navigating the bloodiest combat zones in the south, engaging in clashes with 14 terrorists, five of whom she eliminated herself.
Even at the time of our interview, over a week after the war began, she struggles to fully comprehend the unfolding events. "I haven't processed everything that occurred yet, but as an officer, it's my responsibility to assure my fighters that everything is under control," she says calmly, "at least for as long as the war persists."
When did you arrive in the south, exactly?
"Approximately at 7:30 a.m., we received reports of terrorist infiltration, and we were immediately called in from Jerusalem. We were the initial active force on the ground – 25 fighters fully equipped. That day, I served as the deputy to Cpl. Shmuel Doman, the commander of the Tzabar unit, who led the fighting. Our first step was to contact the brigade commander in Ashkelon. The plan was to reach the Sderot police station, which had been taken over by terrorists."
However, the Tzabar fighters didn't reach their intended destination. "Right at the Negev Sderot-Shaar intersection, we heard gunfire. The area was swarming with terrorists. Commander Doman led the front squad, and I provided security with my team at the rear. After a few minutes of intense fighting, they managed to neutralize one of the terrorist's there, and then I continued to join them."
"At the Shaar HaNegev intersection, we encountered two more terrorists in hiding, whom we neutralized. We then proceeded to search all the vehicles along the roadside. The scene was grim, with numerous bodies shot and scattered on the ground. During our search, we found a soldier concealed inside a vehicle and rescued another female civilian. At that moment, two girls fled from the nearby music festival, and we safely escorted them into our vehicles."
Cohen and her team pressed on toward Sderot. "We heard a rustle in the bushes, near the railroad tracks, and spotted a terrorist armed with a Kalashnikov," she recalls. "My team and I took action, shooting and eliminating him. Moments later, another terrorist emerged from the undergrowth, having already primed a grenade. However, our commanding force neutralized the threat. Continuing toward the level crossing, two men dressed in civilian clothes emerged from the fields and signaled for us to approach them."
"We quickly discerned that they were likely terrorists. We instructed them, 'Raise your hands, it's the police.' Instead, they turned back and retreated into the fields. It was clearly a trap – they aimed to lure us in, planning to ambush and kill us,"
Why didn't you neutralize them?
"Because two armored military vehicles had just passed by, and we handed over the responsibility for the incident to them since our vehicles were not armored. However, to our dismay, we learned that the army had not taken over the incident, leading to the emergence of eight terrorists hiding in the fields two days later."
Nevertheless, the Tzabar fighters attempted to proceed toward Sderot when they spotted a man in a black shirt running along the train tracks. "Due to the suspicion that he might be a terrorist, we retreated from that area back toward the Sderot intersection.
"Later, we heard about an encounter there. We then headed back to the Shaar HaNegev intersection when suddenly, a soldier appeared on the road with a drawn weapon. He informed us that a terrorist had pursued him, and he had killed him and taken cover in the vicinity until he saw our team. After confirming his identity as a soldier, we also rescued him," Cohen said.
"At the Sderot intersection, we were suddenly met with the sound of gunfire, and we spotted the terrorist in the black shirt, armed with a Kalashnikov, attempting to flee. Our sniper, observing from a distance, neutralized him.
"We proceeded to Kibbutz Nir Am, where the terrorists had barricaded themselves in a chicken coop. At this point, our group divided. The commander and a portion of the force engaged in a battle against the terrorists, while I led my team to a rooftop to secure the area. From there, I spotted several armed men hiding in an orchard. We engaged in a fierce battle with them and managed to intercept an RPG, which fortunately missed us. I can't determine how many of the terrorists were killed, but one of my fighters was injured, she recalled.
The conflict only concluded when the IDF entered the kibbutz. "We moved forward to Be'eri. Near Kibbutz Saad, our vehicle was hit by three bullets. Miraculously, none of us were harmed. We refrained from returning fire due to the army's presence, as we feared accidentally injuring our own soldiers. Later, we encountered another group in a wide expanse. They fired at us, and upon stopping, we identified five armed terrorists and successfully neutralized all of them."
The ordeal continued. Between Be'eri and Reim, another confrontation unfolded. "It was an open area, surrounded by fields, and the terrorists approached us on a motorcycle. We responded with intense gunfire, ultimately neutralizing them."
Were they aware that you were a woman?
"I don't believe they were," Cohen replied.
In Be'eri, the Yasam special forces, who successfully handled the hostage situation in the kibbutz dining room said that it "secured the entire area, and once the army assumed control, we withdrew. Later, we returned to the vicinity of the Sderot-Shaar HaNegev intersection and assisted the Zaka personnel – a special patrol unit tasked with recovering the bodies along the road, since terrorists were still present in the area."
It wasn't until Sunday at 11:00 a.m. that the Tzabar unit fighters finally had a brief respite. "We rested for a few hours at a hotel and then returned to the Sderot intersection. The situation here was highly unusual, and there were numerous casualties. Within my unit, we currently have a soldier injured by a gunshot, and two more soldiers sustained minor injuries."
Sharon Cohen was born and raised in Pardes Hanna. Her father is employed at the Sharel pharmaceutical factory, and her mother works as an assistant in a dental clinic. In 2018, she enlisted as a soldier in the military border guard, attended an officers' course, and has been serving as a team commander in Tzabar for two years.
Her brother, Harel, also serves as a Border Police Officer, and her partner is a team leader in Yasam – the special patrol unit of the Israel Police, based in Jerusalem. Additionally, her uncle, her father's brother, was a policeman in Yasam Motorcycles and tragically lost his life during an operational mission.
How did your friends and family respond when they learned about your combat involvement?
"They were furious because I didn't answer the phone and became incredibly worried."
Looking back, weren't you scared at any point?
"When you're in the midst of such an event, with adrenaline pumping and action all around, there's no time to feel fear. You just keep moving and don't pause to contemplate."
How have you been sleeping since then?
"I have vivid dreams, and I remain on high alert. Always ready to react instantly. How do we manage? We support one another. That's what keeps us grounded".
First published: 13:50, 11.15.23