"I'm eight years Tammy's senior. I was 64 when I met her through a dating site but I put down 62 because for some reason I thought those two years were critical," 77-year-old Sarah Gross, the head of "Beshela", a community for older LGBT women, recalls fondly.
"She tricked by two years!" her partner, 69-year-old author and illustrator Tammy Bezaleli, interrupted her.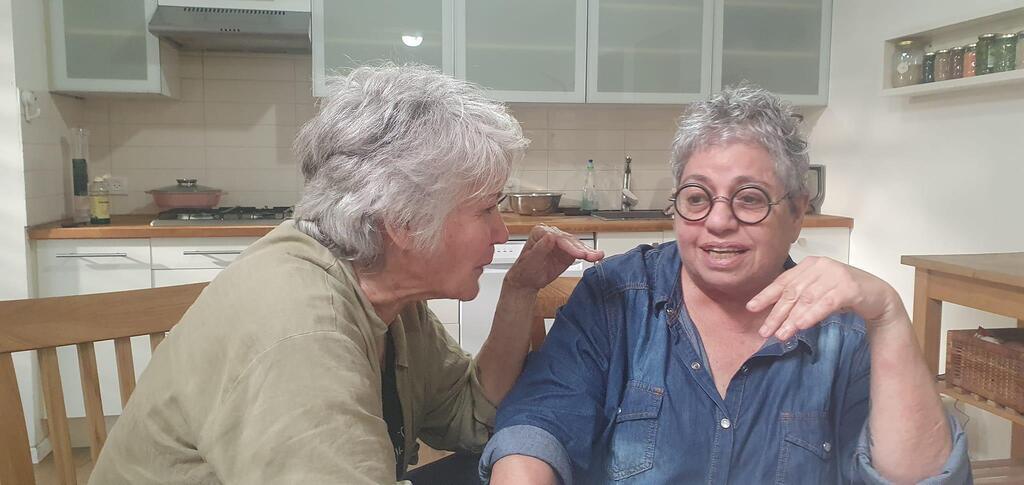 "True, but I revealed to you my real age as soon as we met," Sarah replies.
Funny. How did she react?
"She didn't fall over. Maybe she thought I'd show up with a walker but I actually came in a sports car. Sorry for being a showboat."
The Gross-Bezalelis are one of four families chosen to star in the upcoming season of docu-reality show Mathilim Miefes (Starting from Scratch) on public broadcaster Kan where contestants part with their possessions, including the clothes on their backs, for two weeks. The format is designed to put a spotlight on an individual's attachment to their possessions and their self-worth without said belongings.
Living together in Givatayim for the past 13 years, Sarah and Tammy's relationship began after both of them left long heterosexual marriages.
For Tammy, the transition was sharp and instantaneous. "I knew I was attracted to women from a young age, but it's never gone anywhere outside the realm of fantasy. I never dared to act upon this attraction. I had another fantasy, being married with kids, which was much easier to fulfill. I never thought this could be fulfilled without being married to a man. So in the end, I was married twice for 36 years overall.
"And then, at 56, I found myself married to a woman, who is the best in the world. It was the first time I followed my heart fully... first time I did something for myself."
"I too was married, for 20 years," Sarah says. "I lived in the shadows, sometimes depressed, without knowing why. When I was growing up, being lesbian was unheard of. I just did what I was expected to, but never felt complete when I was with a man. I got into relationships that were destined to fail. I guess I needed to run that gauntlet to get to know myself.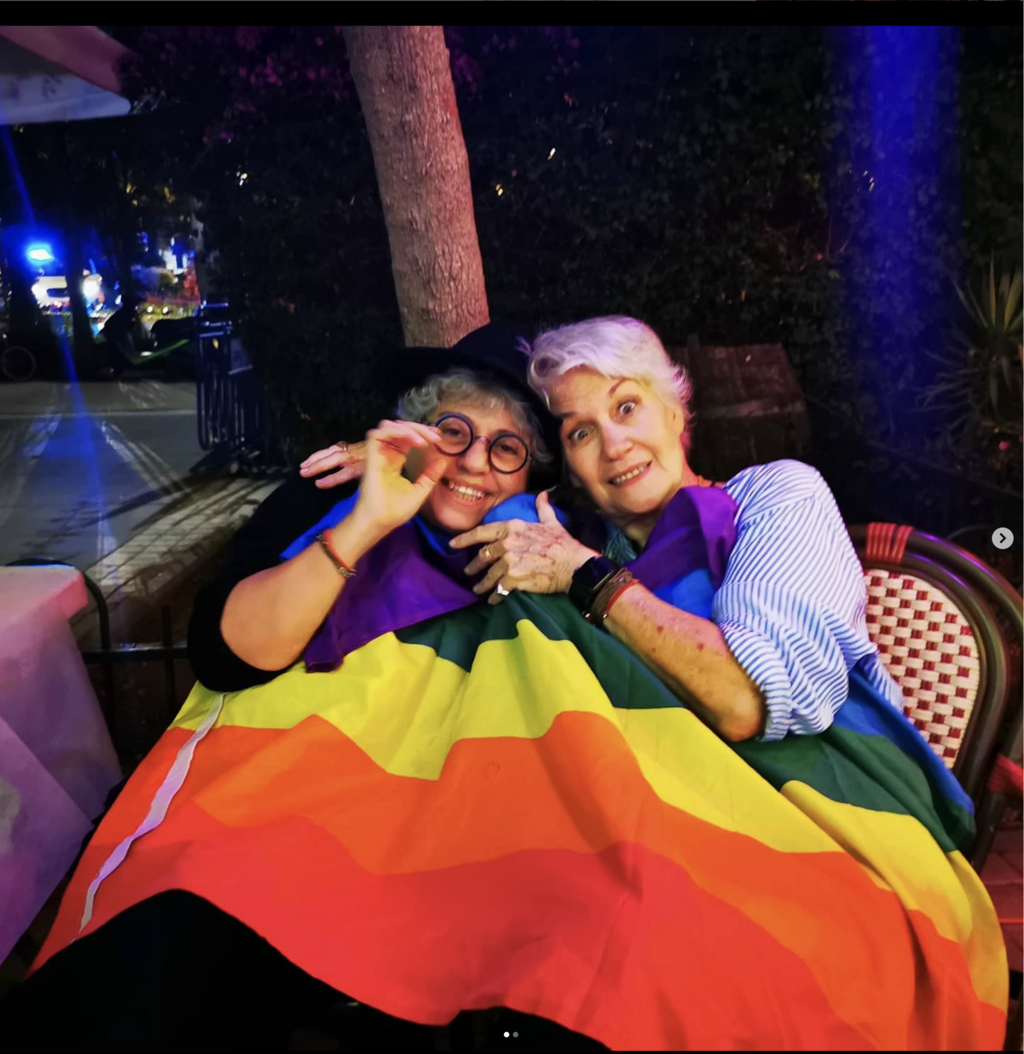 "When I was married, my husband would often demand more than I could give. He was very sexual and I didn't put out enough, or rather, not as often as he might've expected. We both didn't understand what was going on with me, until it really didn't work out. We stayed married and I had no problem continuing to live in the same house with him when each of us lived our own lives, but he did not agree because he wanted to move on, so he left."
When was your first experience with a woman?
"In my mid-40s I began studying team orientations and that's when I met this woman who sat next to me and wouldn't stop flirting with me," Sarah says. "We started hanging out and one night she showed up on my doorstep with wine and cheese and stayed for five years. That was my first real love but more relationships came after that."
"For me, Sarah is first and last," Tammy says.
How did the children and grandchildren receive your relationship?
Sarah: "I came out to my daughter at a café. She was almost in tears and told me it doesn't matter if it was a man or a woman, as long as I was happy. My son found out through a newspaper article and got pretty upset, but only at the beginning."
Tammy: "I was at peace with myself, but my surroundings were shocked because it all happened so fast."
Sarah: "Together we have six grandchildren between us, and we invited all our family and friends to our wedding. My 6-year-old grandson was the ring bearer."
Tammy: "Sarah wasn't big on weddings but I got through to her."
Sarah: "Took her four years to convince me. Relationships are about timing. When you meet someone and you're already aware of your needs it can only work out if those needs are compatible."
Tammy: "It was also important to our kids, knowing there is someone that takes care of their mother."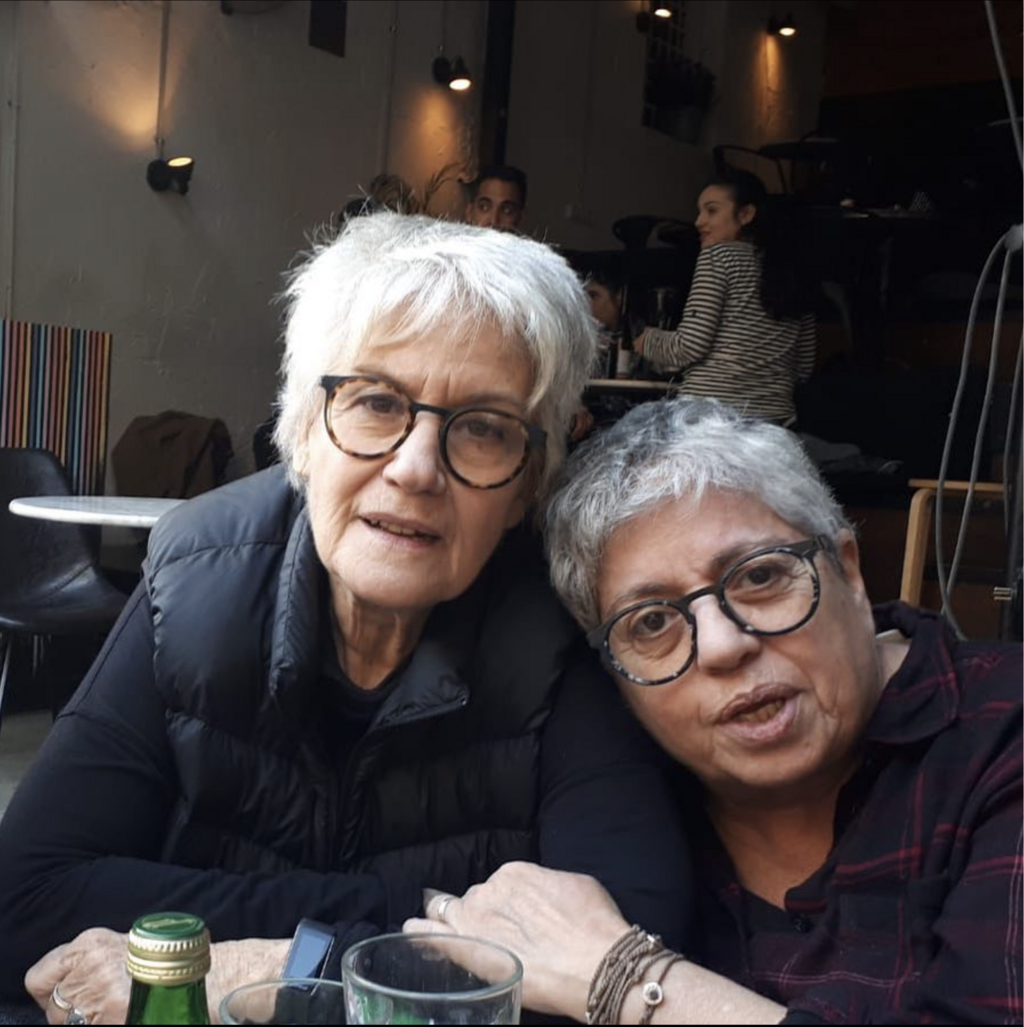 Sarah: "My children fell in love with Tammy instantly. Beforehand, we stopped having Shabbat dinners together and sort of drifted apart. When she came into my life, my kids were already parents themselves and we started hosting them again, it felt like home."
In recent years, both Sarah and Tammy have made strides in both their personal and professional life.
"I head a community for older lesbians, women who like women, ages 45 to 120," Sarah says. "There's about 200 of us with an average age of 60. We throw parties, trips, workshops, and everything is voluntary."
"I was always artistically inclined," says Tammy. "Since I met Sarah, I've written two books. The first tells my life story and the other is a fiction novel. Writing has become much easier for me since I've been with her. With my husband, it was all about family and kids. It's also a different time in my life, as I'm much older now."
What made you want to take part in a reality show?
Tammy: "Sarah is addicted to reality shows, she watches them all. I don't care for them. When they said they were looking for a gay couple for the show, she really wanted to and thought it was an opportunity that wouldn't come back, so I trusted her."
Sarah: "I didn't agree to it so I can show off my looks. You can see my wrinkles and spots, it's not too complimenting.
I wanted others to see that couples like us exist, and that it doesn't hurt anyone. We have nothing to hide. It felt like a calling because we can serve as an inspiration. The producers probably wanted us because we're a couple of old lesbians, so it's intriguing."
What did you walk away with from the show?
Tammy: "That no matter what, we have each other. That people in our lives come before anything else."
Sarah: "I found the experience therapeutic. When they take all possessions you truly understand the value of togetherness. Closeness and understanding are the most valuable assets."