Beyond the famous castles, the enchanting main square in the Old City and the renowned citadel, Prague harbors a trove of hidden gems waiting to be discovered. From medieval art to farmer's markets and high-end dining, the Czech capital has it all.
Dor Ben-Ari, a veteran tour guide and historian leading small groups through Prague's lesser-known locales, divulges the city's hidden wonders.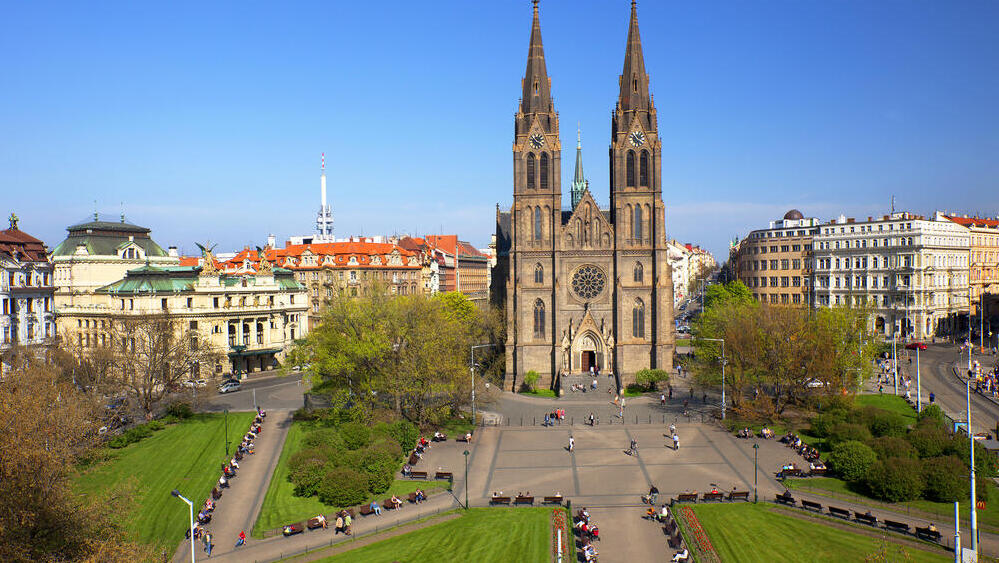 We'll kick things off with Vinohrady. Nestled right behind the central Wenceslas Square, Vinohrady exudes a residential charm adorned with Art Deco-style buildings, renowned for their colorful facades and geometric composition. This is what an eclectic mix of foreign residents and dynamic young individuals call home.
This vibrant neighborhood is renowned for its gastronomic delights, boasting a diverse array of restaurants serving dishes from all corners of the globe. It also hosts an array of cool cafes and thriving clubs cherished by the LGBT community. Additionally, Vinohrady holds a special place in the hearts of Czech beer enthusiasts, proudly standing as the center of the nation's beer culture. In the Czech Republic, a mostly secular nation, beer is a religion.
"The Czech Republic is the world's highest consumer of beer per capita, with approximately 161 liters per adult a year, according to The Economist," shares Ben-Ari. "Beer is deeply ingrained in Czech culture, akin to cola for them.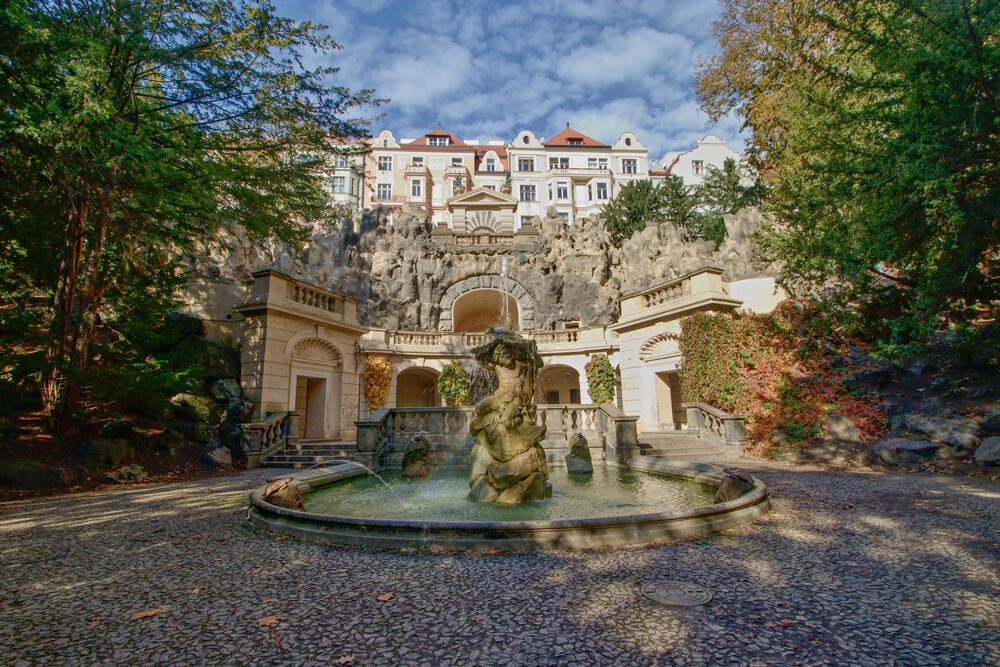 "In Prague, particularly in the Vinohrady neighborhood, there are numerous breweries to explore. My recommendation is to visit two of them: Ossegg Brewery (Address: Římská 2135/45) and Beer Geek Brewery (Address: Vinohradská 988/62). Both establishments open their doors in the early afternoon and continue to welcome guests until 22:00, offering an enticing tasting platter featuring their freshly brewed creations paired with delectable sausages and cheeses. All of this in an exceptionally enjoyable ambiance," Ben-Ari concludes.
After a nice pint or two, you can take a short walk to the northern edge of the neighborhood. There you'll find the Jirak Farmers' Market, where, as Ben-Ari affirms, you can get the finest berries in the Czech Republic. This vibrant market, nestled in Jiřího z Poděbrad Square, opens its gates from Wednesday to Friday. Beyond the sumptuous berries, visitors can relish an array of excellent local wines and Czech street food that will not break the bank.
The market's stalls rotate daily, hiding a surprise with each visit. Ben-Ari wholeheartedly recommends indulging in fresh Czech pastries.
In addition to its culinary delights, the neighborhood boasts the enchanting and expansive Grebovka public park (address: Havlíčkovy sady 1369), a cherished local gem. In the 19th century, this sprawling estate served as the grand mansion of one of the city's wealthiest individuals, and it later became the abode of a Czech aristocratic family.
Within this picturesque oasis, visitors can explore a captivating rock maze that gracefully unfolds over three levels. The park's century-old vineyard, under municipal ownership, offers a taste of the region's finest wines. From an inviting observation deck, one can relish panoramic vistas of the entire park, savoring the wines produced right on the spot.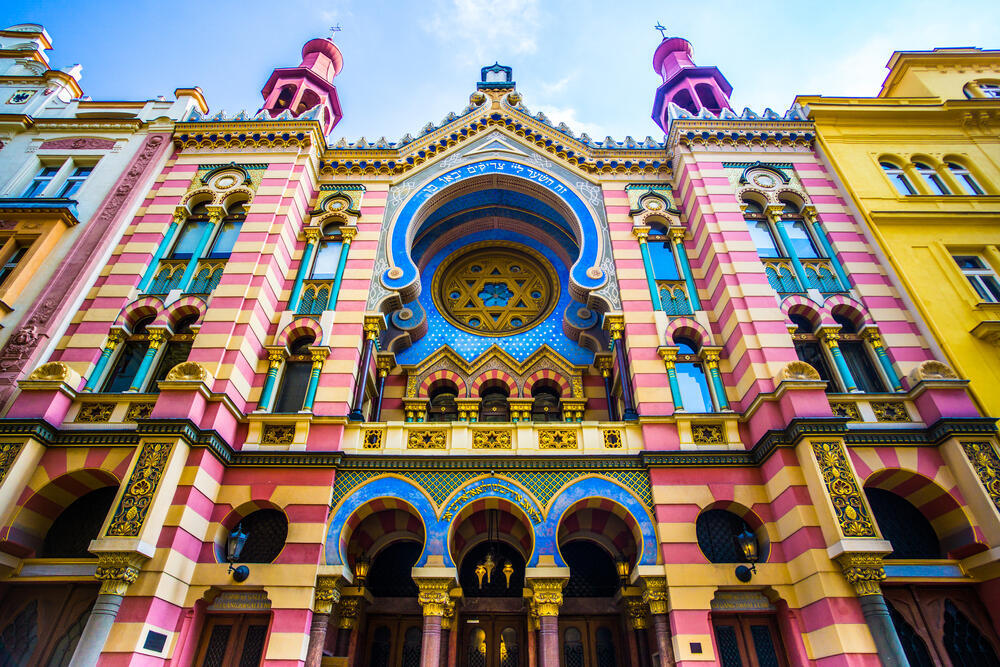 Nestled in the heart of the park stands an impressive villa adorned with a terrace that commands a breathtaking view of the surroundings. Here, amid a landscape of artificial waterfalls and towering trees, one can bask in the tranquility of nature's splendor.
Prague, a city that embraces and cherishes Jewish culture, bears testament to that effect through the prevalence of Jewish symbols found throughout its streets. The city remains a vibrant home to a thriving Jewish community, primarily centered in the captivating Jewish quarter, frequented by many from across the globe.
For those seeking to savor the Jewish essence of Prague while relishing a more tranquil ambiance away from the bustling crowds, Ben-Ari warmly recommends a visit to the Jerusalem Synagogue (address: Jeruzalémská 1310/7). Nestled in the heart of the city, on a street that shares its name, this architectural gem provides an authentic and meaningful connection to the city's Jewish heritage.
The Jerusalem Synagogue stands as a remarkable testament to Prague's cultural tapestry, as it stands as the city's first synagogue built beyond the Jewish Quarter, completed in the early 20th century. Its allure lies in its unique amalgamation of Jewish, Muslim, and Christian design elements. Beyond its captivating oriental and vibrant facade, reminiscent of the movie 'Aladdin,' lies an interior of an impressive selection of colors.
As we venture through the Jewish districts, a splendid gem awaits in close proximity to the "Jerusalem" Synagogue - the City Hall (Obecní dům, address: Náměstí Republiky 5). A testament to the modern art movement, the Art Nouveau style, this edifice is resplendent both inside and out, featuring a colorful array of decorations gracing the walls, ceilings, and even the elevator.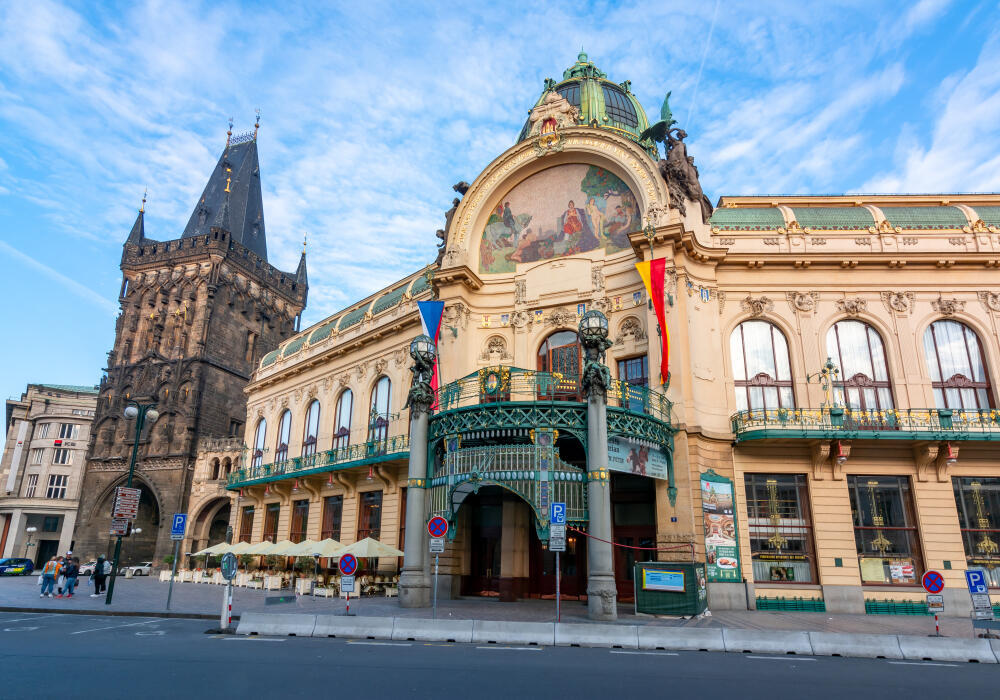 The guided tour, conducted in English, offers a delightful exploration lasting about an hour, granting access to various halls, each exuding its own unique charm. Among them stands the hall where the 18th Zionist Congress once convened, adding a touch of historical significance to this enthralling visit.
As one would expect from any esteemed location within this city, a delightful experience awaits at the magnificent cafe that has graced the locale for over a century. Its storied past includes illustrious guests, such as Ben-Gurion and Sokolov, sharing moments over a leisurely cup of coffee.
Stepping into the cafe, the atmosphere is truly remarkable, mirroring the grandeur of the entire building. A sight to behold, the space is interspersed with exquisite chandelier lamps suspended from the ceiling and intricate wood carvings that grace the ancient walls, adding a touch of timeless elegance to this establishment.
A visit to the beer cellar should not be overlooked, as it stands as a wooden enclave, thoughtfully designed with equal grandeur to the cafe situated above. As per Ben-Ari's suggestion, indulging in the beer here is a must, albeit at a slightly higher cost compared to other establishments in the city (approximately $4 per half liter). To truly savor a delectable culinary experience, it is advised to savor your appetite for another venue where flavors are both more economical and tantalizing.
The Czechs, true to their ardor for nostalgia and veneration of antiquity, hold dear the preservation of century-old venues. Consequently, it comes as no astonishment that restaurants and cafes alike find their abode within these venerable edifices. In alignment with this spirit, Ben-Ari extends three remarkable dining recommendations, where not only is the aesthetic beauty of the surroundings delightful, but the cuisine itself captivates with finesse. Here, fine fare, quality coffee, and delectable pastries converge, all offered at attainable prices, making for an enchanting culinary experience.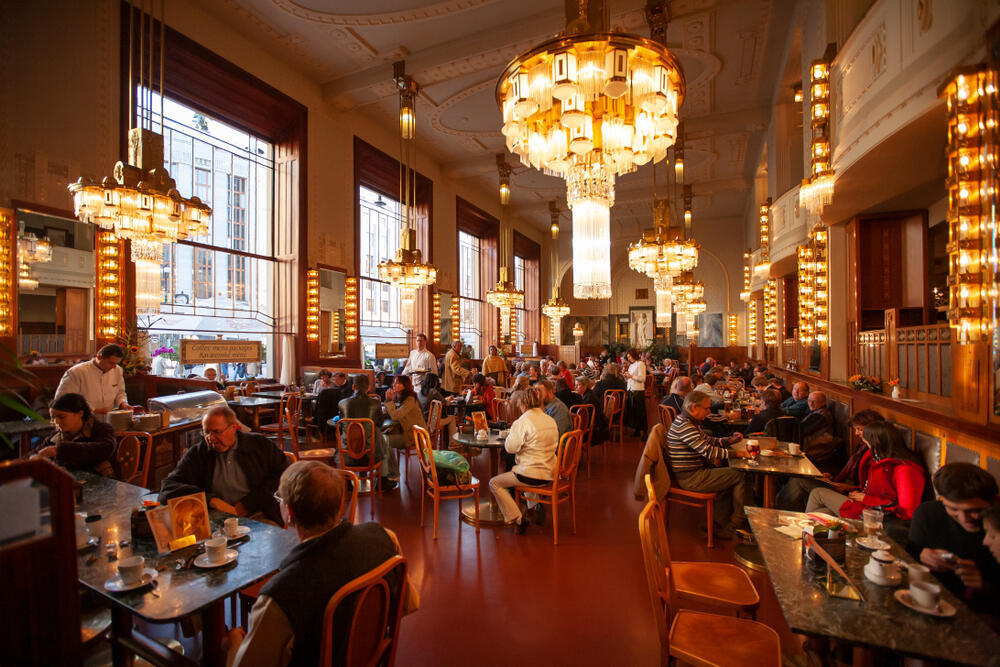 For connoisseurs of the international palate, 'Cafe Imperial' (address: Na Poříčí 1072/15) emerges as an exquisite choice. Embodying the graceful Art Nouveau style, characterized by its eloquent curved lines, the restaurant stands as a pinnacle of architectural beauty in the Czech Republic.
Beyond its captivating aesthetics, 'Cafe Imperial' entices with a delightful array of culinary delights, showcasing Czech dishes alongside international offerings. Among the recommended indulgences is the delectable beef stew known as "cevichova," aptly dubbed "sirloin with cream." This sumptuous creation, reminiscent of Hungarian goulash, indulges the palate with a creamy sauce, tender vegetables, and a delightful medley of flavors. Served with flat dumplings and complemented by cranberry jam, each bite is an exquisite symphony of tastes and textures.
Yearning to satisfy your sweet tooth? A short distance away lies the pastry shop 'Mysak' (address: Vodičkova 710/31), boasting a century-long legacy, making it an Instagram-worthy destination. Highly regarded by Ben-Ari, this delightful establishment is a haven for confectionery enthusiasts, offering a selection of delectable pastries, both sweet and savory, inspired by Czech cuisine.
Among the must-try delights is the coveted spichika, reminiscent of an elongated carambola, brimming with luscious chocolate mousse and sweet liqueur. As the winter days unfold, savoring the on-site crafted chocolate becomes an indulgence not to be missed, revealing the true essence of real chocolate, surpassing all previous perceptions of its taste.
For a refined interlude, indulging in coffee and cake at "Grand Café Orient" (address: Ovocný trh 19) is a delightful recommendation, while reserving a heartier culinary experience for one of the esteemed city restaurants. This simple yet beloved café, crafted in the Cubist Picasso style, has gracefully stood for over a century.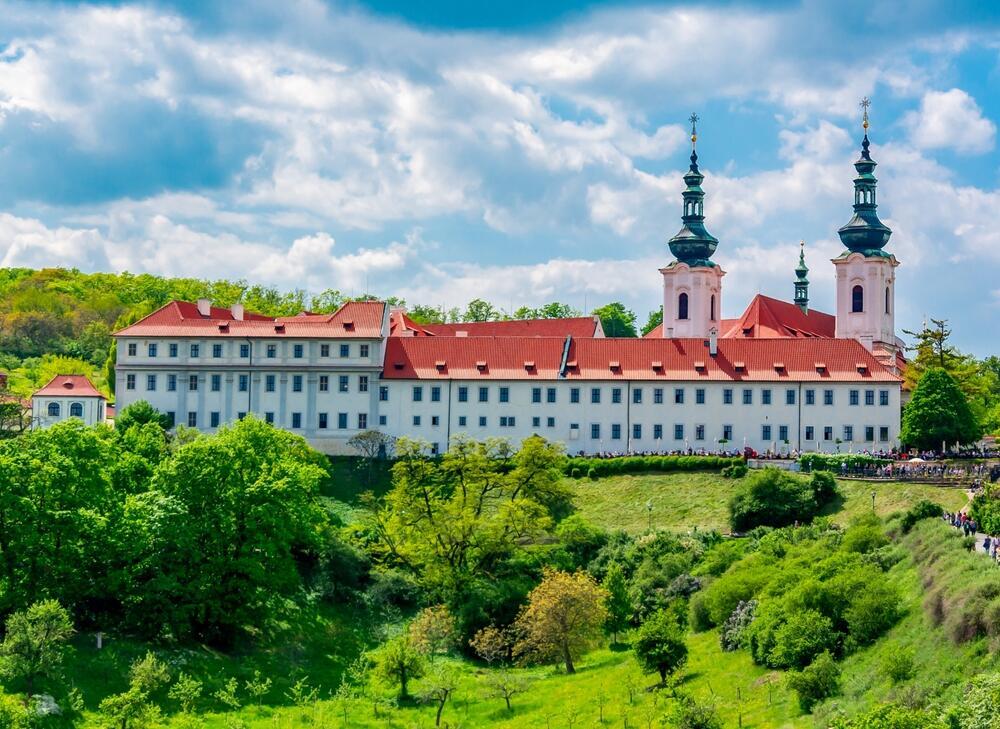 Venturing inside, a pleasant and distinctly European ambiance envelops you. The atmosphere is further elevated by a live pianist, serenading guests with soulful melodies. Gazing upward, square chandeliers gracefully suspend from the ceiling, while marble tables add a touch of sophistication. Attentive waiters, clad in traditional Czech attire, attend to your every need, culminating in a truly memorable and refined experience.
In the vicinity of the renowned Prague Castle, an iconic fortress celebrated as one of the largest in the world, lies the Strahov Monastery (address: Strahovské nádvoří 1/132). Beyond offering a sweeping panorama of the city, this hallowed site hosts an ancient library renowned as one of the world's most resplendent.
Established in the 18th century, the Strahov Library beckons visitors into a realm of captivating wonder. Adorned with magnificent decorations and adorned with murals lovingly crafted by local artists from the 18th and 19th centuries, the ambiance evokes an enchanting medieval fairy tale, capturing the imagination with every step.
Before crossing the threshold, a moment of enchantment awaits in the entrance hall featuring ethereal transparent walls, affectionately christened "The Room of Wonders." This captivating space boasts an array of archaeological treasures, intricate ship models, lifelike fauna, and other delightful surprises that evoke awe and wonder.
For those seeking a deeper immersion in the library's allure, acquiring a ticket for an intimate tour within the hallowed chambers is highly recommended. Such an experience promises to be nothing short of extraordinary, unfolding a literary journey that remains ingrained into you long after you've left.
During the captivating tour, one traverses the enigmatic "forbidden shelf," a repository of books deemed unfit for reading in accordance with Christian beliefs. Another section of the library reveals an exquisite assortment of globes from diverse corners of the world, including a fascinating Arabic and Dutch globe. Intriguingly, The Netherlands once employed cartographic sleights of hand in a bid to safeguard hidden passages, a fascinating revelation one can discern upon observing the globe's intricate details. Those crafty Dutch...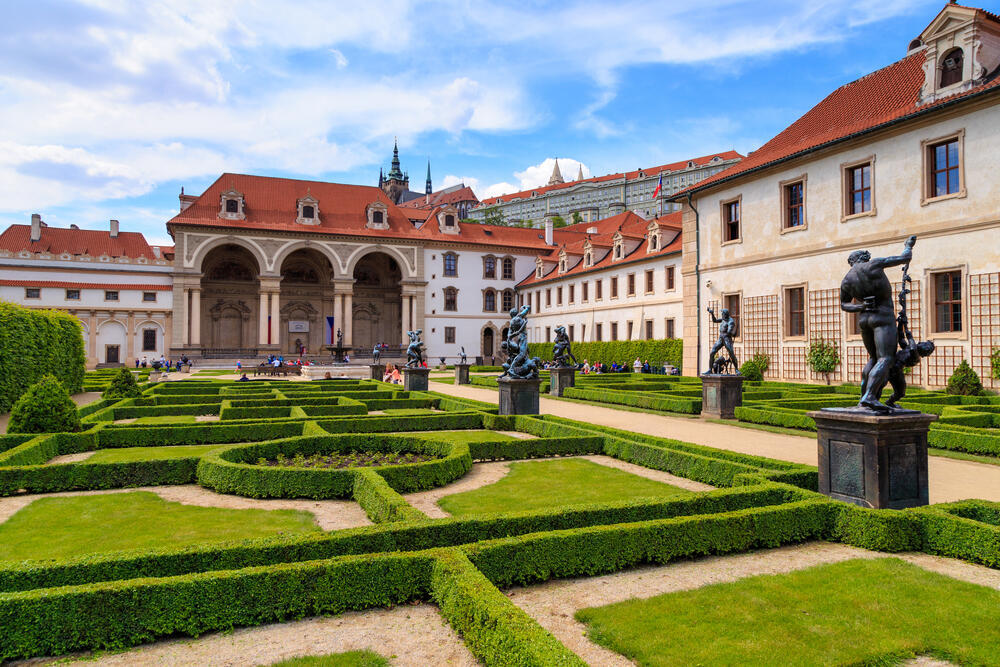 And how can one conclude any self-respecting Czech tour without savoring a delightful brew or two? Inside the Strahov Monastery, a brewery beckons, offering a delectable selection of Czech beers alongside excellent local cuisine. Although the presence of monks might remain elusive, as a respect for their contemplative seclusion prohibits entry to their living quarters, the ambiance nevertheless exudes a sense of monastic serenity and charm.
A short distance away, nestled just beneath the castle, lies a hidden jewel of remarkable allure: the Gardens below Prague Castle (address: Valdštejnská 158/14, Malá Strana), a romantic walking trail meandering through a series of enchanting courtyards concealed behind time-honored palaces. Embarking on a tour, at a modest cost of $5.5, transports one to the era of Czech nobility during the Middle Ages, immersing in a captivating realm of inspiring statuary, resplendent paintings, flourishing vineyards, and ornate fountains - all harmoniously preserved to enchant and delight.
As for the connection to King Charles, an endearing tale unfolds from the 1990s when he, a mere prince at the time, graced Prague amid its fervent reconstruction following the release from years of communist rule. The prince found himself smitten by the city's captivating historical and cultural splendors, while simultaneously pained by the somber shadows cast by years of communist neglect.
Fueled by his deep affection for the city, King Charles founded a noble fund dedicated to the restoration of Prague's cultural heritage, thus extending his benevolent hand to breathe life into this exquisite garden. In essence, he stands as the unassuming knight this city never knew it yearned for, a guardian of its cherished treasures.
By the way, we forgot to ask - Are you into Jazz music? If so, nestled along the picturesque Janáčkovo nábřeží is the "Jazz Dock" (address: Janáčkovo nábř. 3249/2, 150 00 Praha 5-Smíchov). It stands as a delightful haven, recently unveiled to attract jazz enthusiasts. Each evening, this charming club hosts a talented array of musicians and singers, hailing both from the local scene and distant lands. While the essence of jazz permeates the air, the repertoire extends to encompass various musical genres, ensuring a captivating experience for all.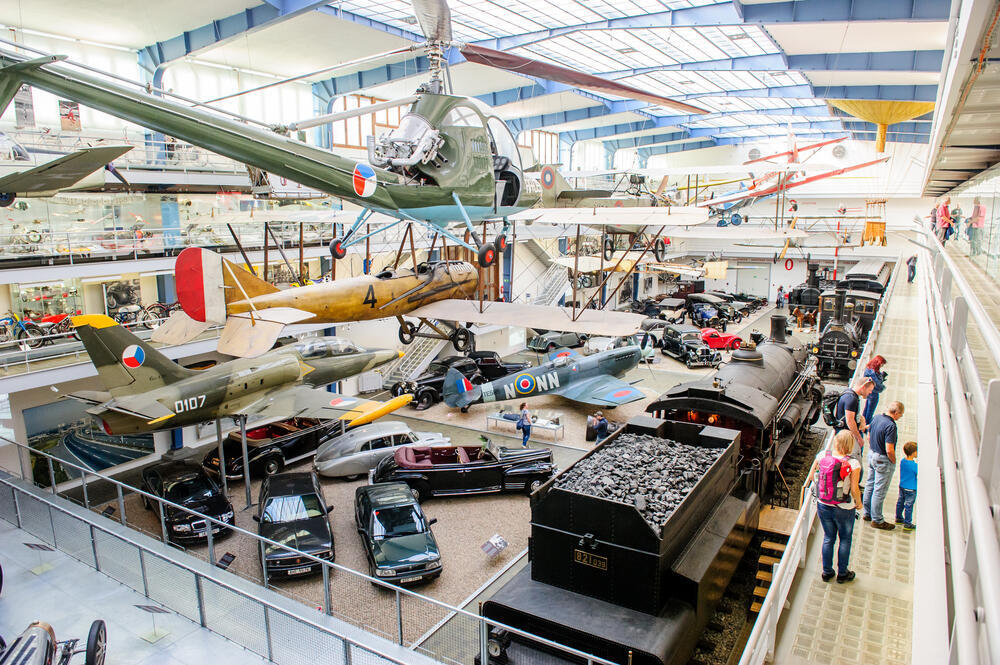 Allow yourself the pleasure of savoring the mesmerizing performances as you sip on a glass of fine wine or indulge in a local beer, accompanied by a selection of artisanal cheeses to delight the palate. For a seamless experience, it is advisable to secure a reservation in advance, ensuring your place among the rhythmic harmony and sublime melodies that grace this intimate venue.
The Technology Museum (National Technical Museum, address: Kostelní 1320/42, 170 00 Praha 7-Letná) holds a special allure, fascinating the young at heart and children alike. Comprising several captivating halls, one among them reigns as a veritable utopia for vehicle enthusiasts. Within this alluring sanctuary, an array of transportation marvels unfolds - a wide selection of airplanes, trains, ships, motorcycles, and an impressive array of historic collector cars.
In addition to this vehicular haven, the museum also hosts a hall entirely dedicated to the art of photography, another devoted to chemical activities, and further halls of various wonders. However, without a doubt, the highlight shines upon the magnificent collection of vehicles. To truly appreciate the extensive myriad of vehicles, one would find themselves engrossed for an entire hour.
Adjacent to the museum, poised across the road, a park graces a serene cliff, unveiling panoramic vistas that embrace the city's skyline. There is also a courtyard that invites you to partake in the breathtaking cityscape.
After dark, the park is gently illuminated, basking in a romantic ambiance that is simply unparalleled. Opting for a taxi ride to reach it ensures a swift and seamless journey, while strolling back on foot allows for a leisurely return, relishing the lingering magic of the night.
Bringing our journey to a delightful close, Ben-Ari invites you to enjoy Obora Hvězda Park (Address: Adamova 9), a mere quarter-hour's drive from the city center. It unfolds as a secluded forest, evoking a sense of whimsy reminiscent of a cherished tale from "The Brothers Grimm," where magic and wonder abound.
In a realm of ancient tales, a Czech king of yesteryears was inspired to craft a haven amid the forest's expanse, declaring it his summer abode. With regal vision, he commissioned a palace shaped as the Star of David, nestled gracefully in the heart of this sylvan wonderland, encircled by a protective wall. As time danced on, a charming residential neighborhood flourished around the walls, unveiling a seamless passage from the enclave into the captivating forest. Fast forward to more modern times, this idyllic space stands as an enchanting and cherished public park, drawing locals to its romantic embrace during the enchanting months of spring and summer.
While the palace stands as a vestige of history, it warmly welcomes visitors within, offering captivating tours and occasional exhibitions. During the balmy summer months, a delightful café graces the grounds, beckoning with its tempting offerings, albeit at a slightly more tourist-oriented price, imparting a quaint charm that befits the allure of this enchanting destination.