In the middle of Lake Ram near Mount Hermon in northeastern Golan Heights, a floating guesthouse called Santoram has opened for business.
"It's a crazy project," said the owner of the guesthouse, who built it himself.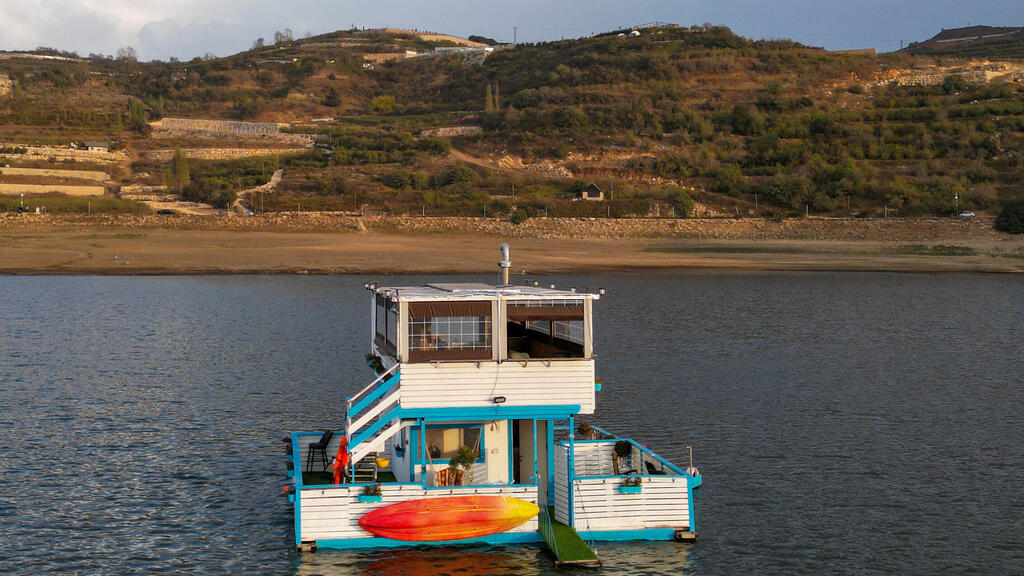 "This is not just a guesthouse on the water, but also a boat that can be started and sailed," he described. "The house rocks a bit, but the guests like it and don't get seasick."
To stay at the guesthouse, you must be 21 or older. A night would cost NIS 1,200 for a couple during the week, and NIS 1,500 on the weekend. For an additional 200 NIS, guests can enjoy a floating breakfast as well.
To reach the floating abode, guests embark on a boat ride through the lake, and are dropped off at the romantic cabin. While isolation is part of the trip's charm, the cabin is also equipped with a kayak so that the guests can explore their surroundings.
The guesthouse includes a bedroom with a TV, a mini-fridge, shower and bathroom, small open balconies with seating, and a second floor with a fire pit.
Badi, 36, calls himself a maker - a person who builds and plans projects independently. "It started out as a hobby and slowly became serious," he said. "The electricity system is solar-based, hot water is gas-based. In the winter, there are some waves because of the wind and in the summer it's much calmer."
However, if you pictured yourself going for a nice swim during your stay, think again. The water in Lake Ram is very cold during the winter, and there is sometimes even snow in this northern pastoral site.
"This is my first year, I don't know what it will be like during winter," Badi added. "When it snows, we'll take the guesthouse out to shore so that it doesn't flood."
Lake Ram does not offer any water sports for tourists, leaving the water calm and serene. However, just a short drive away, guests can find the Druze towns Mas'ada and Majdal Shams, which offer many restaurants and tourist attractions.