A stash of gold coins have been uncovered at a nature reserve in northern Israel during an archeological dig at the site, the Israel Antiquities Authority (IAA) reported on Monday.
The IAA said at least 44 gold coins were found at the Hermon Stream (Banias) Nature Reserve. Dr. Gabriella Bichovsky, a coin expert in the IAA tested the gold cache and determined some coins were from the era of Emperor Phocas (602-610 AD), while others from the time of Emperor Heraclius (610-641 AD).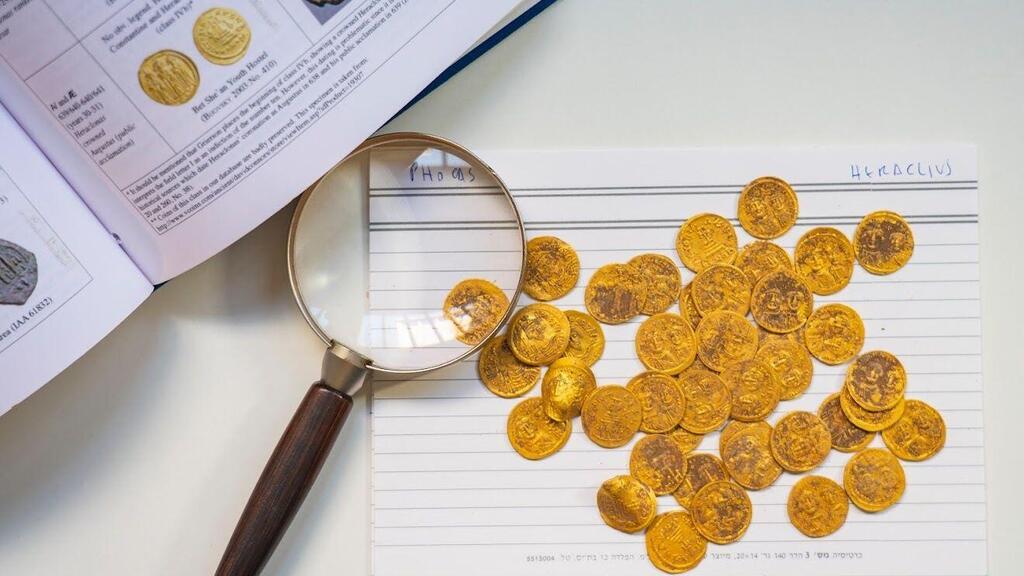 "The cache, weighing about 170 grams (6 ounces), was stashed at the base of a wall constructed of hewn stone, during the conquest of modern-day Israel by the Muslim Caliphate from the Umayyad dynasty," Dr. Yoav Lerer, head of the excavation for the Antiquities Authority, said.
"The findings paint us a picture of a moment in history, when a person hid his fortune because he was afraid of the war in that era, hoping to come back and collect it. Nowadays, we know fate wasn't very kind to him. The cache could shed light on the Banias economy in the last 40 years of Byzantine control of the city.
"Most of the coins in the stash are from the Byzantine Emperor Heraclius era," Dr. Bichovsky added.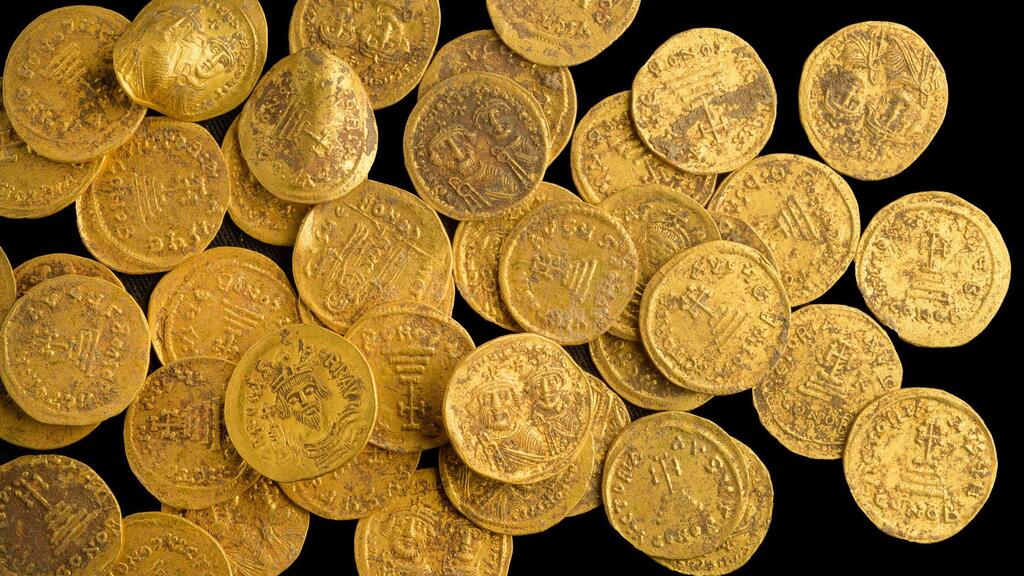 "What is particularly interesting about the coins is that at the beginning of the emperor's rule, we only saw his portrait on the coins, but very quickly, portraits of his family members were added. You can actually see the family growing through the coins - from childhood, and until they appear the same height as their father, and with long beards."
During the dig, which took place in the northwest residential district of the ancient Banias city, remains of buildings, canals and pipelines built to transport water were also uncovered - along with a furnace used to create ceramic tools, and other pottery fragments of glass, metals, and bronze coins. The findings date back to the end of the Byzantine period (early 7th century AD), and early medieval times (the 11-13th centuries AD).
Director of the IAA Eli Ascosido said the cache is a valuable archaeological find for the study of the history of the Golan Heights. "This is a treasure from the transitional period, which was one of the most important in the development of the Banias area. The IAA in coordination and cooperation with the Israel Nature and Parks Authority will act to showcase the cache to the general public."