The first time Gidon Lev encountered Holocaust denial was after becoming an unwitting TikTok star at the age of 86.
"I was totally shocked. How could this be?" he told the Jewish Telegraphic Agency about receiving dozens of comments accusing him of lying about the years in a Nazi concentration camp as a child.
"If only I was a liar," he said. "Then I would have a father, grandparents, cousins, aunts, and uncles. I would have had a childhood."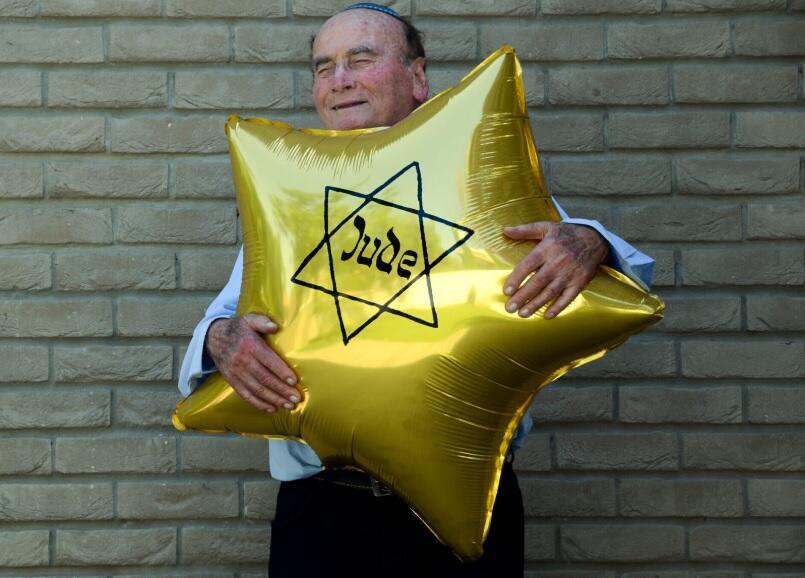 With half a million followers on the popular social media platform and 8.3 million likes, Lev says his message, of fighting hate and standing up for the oppressed, is a universal one. "The Holocaust is an example of just how cruel and horrible hate can get if you let it," he said.
Now, his story is getting another showcase — on the walls of the German Embassy in Tel Aviv. Lev is one of 25 Holocaust survivors featured in a new exhibition titled Humans of the Holocaust set to open there on Wednesday, in a display timed to Yom Hashoah.
"The significance of exhibiting on Israel's Holocaust Memorial Day at the German embassy in sovereign Israel is not lost on me," said Erez Kaganovitz, the photographer behind the Humans of the Holocaust project.
Kaganovitz, who is based in Tel Aviv, said he launched Humans of the Holocaust as an offshoot of his Humans of Tel Aviv photo project several years ago after one photograph in the series went viral. (Humans of Tel Aviv itself is inspired by the landmark Humans of New York project.) The photo portrays four forearms — those of Holocaust survivor Yosef Diament, his daughter and his grandchildren — all tattooed with the same number. Diament's family tattooed his Auschwitz inmate number as a tribute to him. Kaganovitz was shocked when commenters asked why someone would tattoo a barcode on their arm.
Around that time, Kaganovitz, the grandson of survivors who worked as a journalist and in government before turning to photography, came across a survey highlighting ignorance among young people about the Holocaust. The survey, commissioned by the Claims Conference, found that 66% of American millennials did not know that Auschwitz was a Nazi death camp.
At first, he said, the survey angered him. But then he realized that by the time he was in his late teens, and after having Holocaust education hammered into him from a young age, he didn't want to have any connection to the Holocaust either.
"I thought if I don't connect with it, why would someone from Lexington, Kentucky, want to engage with it?"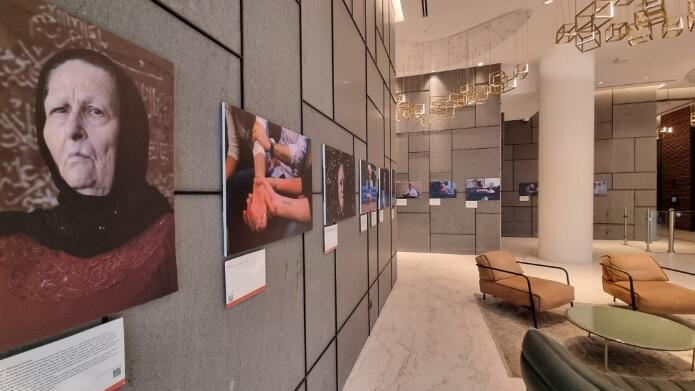 Kaganovitz has joined a growing coterie of photographers seeking to change the paradigm of "dark and gloomy" Holocaust-related material, of black-and-white stills, of unfathomable despair, of numbers too large to comprehend.
"I wanted to tell human stories with a global message, with optimism. Something that people could engage with," he said, while stressing that by doing so he is not trying to whitewash or downplay the Holocaust atrocities.
That mission resonated with the German embassy. "We need to find new ways to engage the public and especially the younger generation," German Ambassador to Israel Steffen Seibert said in a statement about the exhibition, which is billed as digital storytelling for a digital age.
The photos are intentionally arresting, aimed at piquing people's curiosity enough to stop them scrolling their feeds. One example is a portrait of Michael Sidko, the last survivor of the Babyn Yar massacre, whose head, which appears to be dismembered, is embedded in thousands of bullet casings. The image, which took six months to stage because of the complexity involved, aims to raise awareness about the 2 million people exterminated in the Soviet Union and Ukraine, the so-called "Holocaust by bullets." In the text accompanying it, a quote from Sidko reads: "The sights, sounds, and smell of gunpowder still haunt me to this day."
Another photograph features Dugo Leitner, a survivor of Auschwitz-Birkenau, clutching a yellow-gold balloon in the shape of a Jewish star with the word "Jude" on it. Leitner's expression, like the rest of the photo, is a jarring blend of whimsy and enervation.
The pose represents one of Leitner's attempts at reclaiming his story — along with his growing movement to make eating falafel an act of survival. "I am taking ownership of the symbol that turned me into a subhuman and turning it into an optimistic and smiling creation," he said.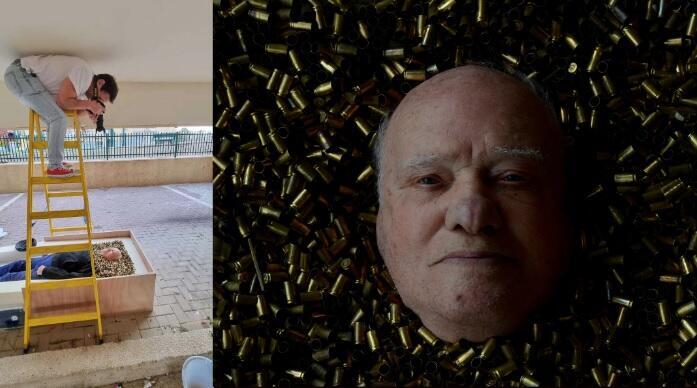 Among the images of elderly survivors, some with yarmulkes and some without, is a portrait of a woman in a black hijab with Quranic verses behind her. Leila Jabarin was born Helene Berschatzki in a concentration camp in Hungary. At 15, after fleeing with her family to Israel, she fell in love with a Muslim Arab with whom she eventually married. Jabarin, who did not share her identity with her children until they were adults, rejects particularism in her message to the world. "Hatred knows no boundaries. Once I was persecuted for being a Jew; now people are after me for being a Muslim," she told Kaganovitz.
Lev's own portrait features the TikTok star in front of a wall with the words "we were all once refugees" graffitied on it, a remnant of a raging dispute surrounding African migrants in Israel. Lev became a refugee at 3 years old when Hitler occupied the Sudetenland. He recalls the moment that he was forced to abandon his new red tricycle as marking his transformation into a "human without a country." After his release from the Theresienstadt concentration camp at age 10, Lev would become a refugee in New York and later in Toronto, Canada. In 1959, he emigrated to Israel, "the only country that would have me, not as a refugee, but as a bonafide citizen."
About 147,000 Holocaust survivors currently live in Israel, according to data released this week. Their average age is 85, and about 15,000 survivors died over the past year — a pace that is prompting innovations around the world in how the Holocaust is memorialized and taught about.
Kaganovitz is careful not to "coerce" his own knowledge about the Holocaust onto his viewers, he said. Both in their online format and at the exhibition, the photographs are accompanied by a short text to provide context and links are shared for further reading.
"I just want to bring them to the table for now. When you're fighting for attention alongside all these celebrities that get millions of views, you have to make your content interesting enough," he said. "Because if we don't, it's only a matter of time before 90% [of youth] have never heard of Auschwitz."
Content distributed by
JTA