Anti-judicial reform protest leaders have already begun preparations for Prime Minister Benjamin Netanyahu's upcoming visit to the United States. Well before his plane is set to land, they have established an extensive intelligence network to gather pieces of information about his full itinerary, including where he will stay, whom he will meet and his location at any given moment during the visit.
A detailed agenda is being circulated in local WhatsApp groups that includes protest shifts throughout the day in front of the hotel where Netanyahu will be staying, demonstrations outside each planned meeting, event and a variety of creative protests around the city, like previous efforts to project protest messages onto the United Nations headquarters in New York.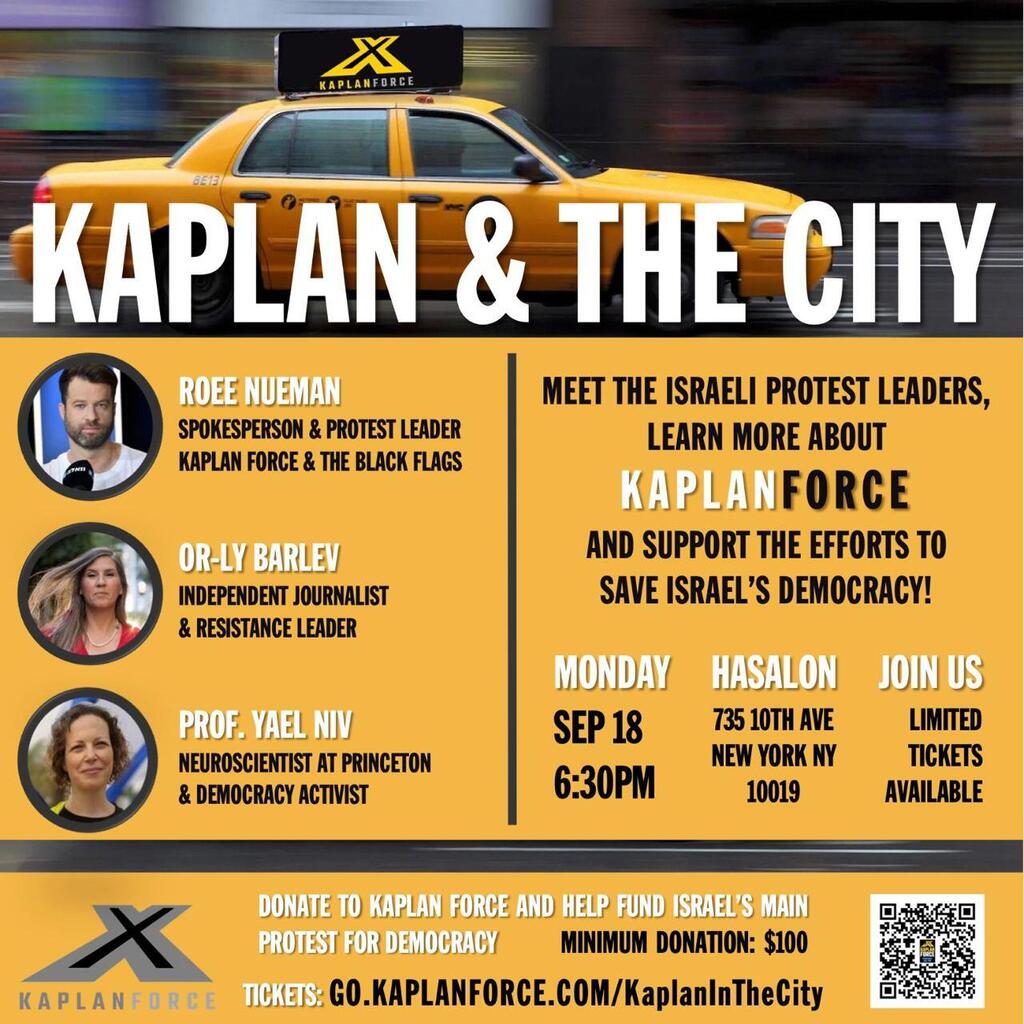 Some key protest figures will travel from Israel to New York for the event, including spokesperson Roee Neumann and independent journalist Or-Ly Barlev.
The day before Prime Minister Netanyahu's arrival, they will join Prof. Yael Niv of Princeton University for a special gathering at HaSalon, one of New York City's most upscale restaurants owned by Eyal Shani.
The event aims to connect local supporters with the Israeli protest leaders, inviting them to "meet the Israeli protest leaders, learn more about Kaplan Force and support the efforts to save Israel's democracy!"
The event's online page said "This is a fundraiser for Kaplan Force -- the sole organization producing and running the weekly protests at Kaplan, Tel Aviv, where hundreds of thousands have come out every Saturday, for 9 months, to voice their unwavering support of democracy. Kaplan is the lifeline and beacon of the protest movement. Kaplan protests cost over $100,000 per week (think producing a Taylor Swift concert every week)! Please donate generously. Israel needs you!"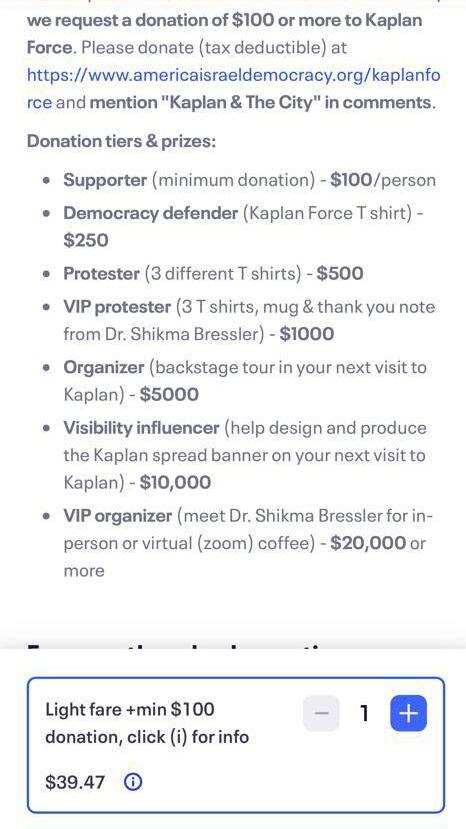 Tickets for the event are priced at about $40, plus another $100 minimum donation. Attendees will enjoy a Q&A panel with protest leaders and refreshments courtesy of the local branch of MIZNON, another culinary establishment owned by Chef Shani, who has previously expressed his support for the protests on multiple occasions.
According to the original invitation, those who choose to donate more than the required minimum will receive various perks. For example, a $250 donation earns the title of "Democracy defender" and one T-shirt. A $500 donation qualifies for the title of "Protester" and includes three T-shirts. A $1,000 donation grants the title of "VIP protester," along with three T-shirts, a mug and a thank-you letter from Shikma Bressler, one of the leaders of the protest movement.
Next tier grants the title of "Organizer" for a $5,000 donation and includes a "backstage tour in your next visit to Kaplan." For $10,000 and the title of "Visibility influencer," donors get to "help design and produce the Kaplan spread banner on your next visit to Kaplan." Meanwhile, for a donation of $20,000 or more, donors earn the title of "VIP organizer" and a meet-up for coffee with Shikma Bressler, either in person or via Zoom.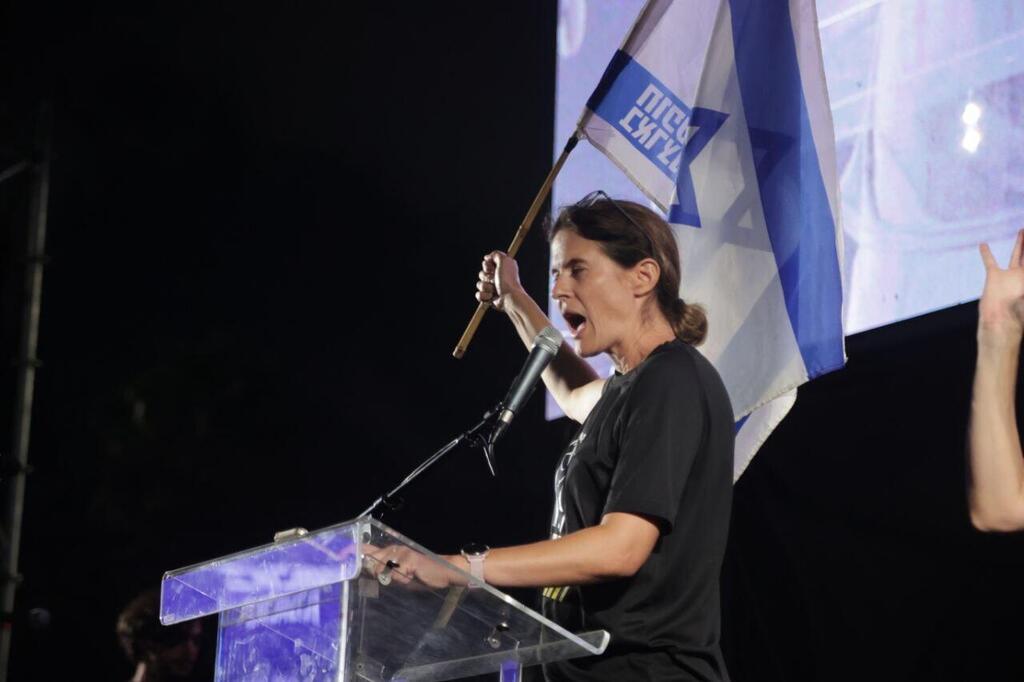 After receiving complaints from locals about the seemingly extortionate prices, organizers removed the donation tier list from the official invitation, attributing its inclusion to an "editing error."
Locals had expressed that they felt like mere "walking wallets," discouraged from contributing because of what they perceived as "emotional manipulation," especially since they couldn't participate in the protests in Israel in person. The organizers clarified that Bressler is not associated with the event, emphasizing that it is purely a local initiative designed to support the cause in Israel for those interested in listening and contributing
Kaplan Force clarified that the event was an uncoordinated private initiative, launched with good intentions. It was promptly removed from public view once they were informed. They further stated that Bressler does not engage in paid meetings, and any initiatives or perks associated with protest activities in Israel are not authentic.
The protest movement responded: "This initiative is not known to us, is not related to our campaign, and is not in accordance with our views. Prof. Shikma Bressler is not even expected to be in the United States during the holiday season and is therefore not a partner in said event."