During the first year of
Benjamin Netanyahu
's tenure as prime minister,
Memorial Day
fell on a hot day in Jerusalem. Netanyahu set himself two tasks: to deliver the prime minister's speech to the bereaved families at the ceremony at the national cemetery on Mount Herzl, and to visit his brother Yoni's grave.
The Shin Bet made arrangements accordingly: they closed off the entire area with magnetometers and conducted thorough checks on everyone who entered. The result was harsh: long lines formed in the scorching sun, and the siren sounded before people could reach the graves of their loved ones.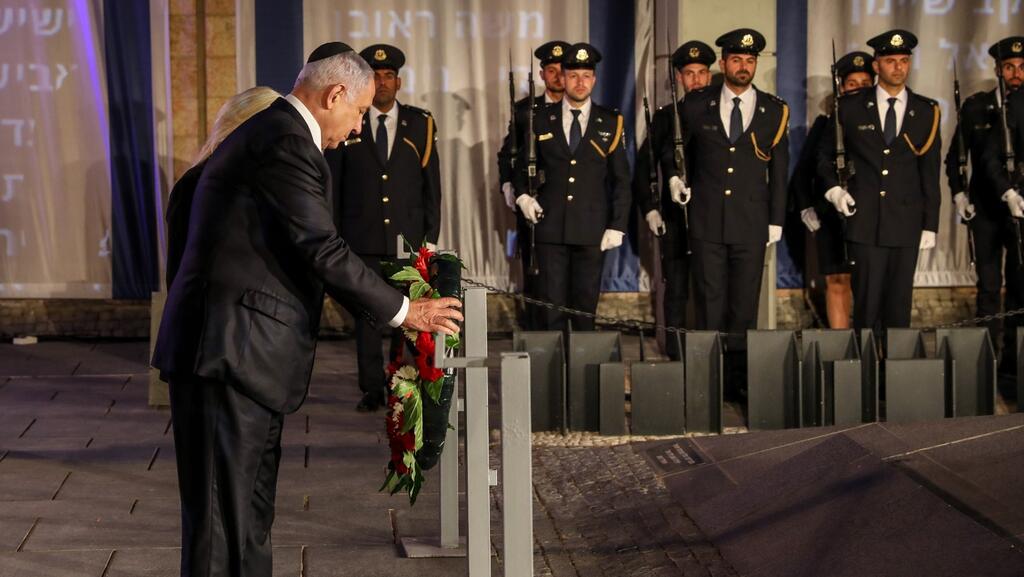 Back then, bereaved parents of soldiers who fell in the Independence War were still alive, and the security arrangements compounded unnecessary suffering to their pain.
After a few days, I spoke to Netanyahu and I described to him what I had seen during the ceremony. "What do you suggest we do?" he asked. I suggested that he separate the two tasks, and deliver the speech separately from visiting his brother's grave. He agreed.
In the following years, he made it a practice to visit his brother's grave on the evening before the siren that marked Memorial Day blared. The Shin Bet settled for securing only a part of the mountain, and the families arrived in time at their loved ones' graves.
In one of Netanyahu's other times in office, a filming crew from the Prime Minister's Office arrived at Mount Herzl at night, in secret, to film the premier and his wife, and maybe also their son, next to his brother's grave.
I didn't understand why it was important for Netanyahu to give publicity to what seemed like an intimate and private moment, but it was his wish. The influx of mourning families to the mountain the next morning thankfully was not affected.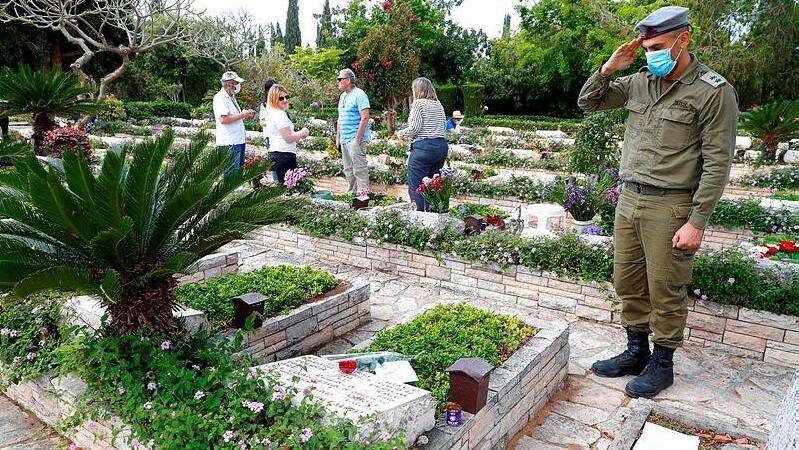 As Israel marks another Memorial Day, like every year, cemeteries nationwide will be filled with bereaved families and IDF soldiers.
Ahead of this day, the protest movement against the judicial overhaul raised questions that the Israeli public is concerned about: should the protest be allowed inside cemeteries, should politicians keep away from the ceremonies this year, and should protesters disrupt the speeches of the prime minister and other ministers?
The more radical protesters had a precedent on which to base their actions. Last year, Likud activist Moshe Miron interrupted then-prime minister Naftali Bennett while speaking during the day of mourning's opening ceremony. If Likud could do so, then the protesters believe they can too.
Defense Minister Yoav Gallant held a series of discussions in an effort to adapt the ceremony according to the present situation. However, they were canceled after Netanyahu froze further legislation on the reform as Gallant thought they were no longer necessary. The ceremonies will proceed as usual, with ministers and Knesset members attending and giving speeches.
The question is, what will the protesters do? At first glance, the protest deals with issues relevant to Memorial Day: exemption from military service to the ultra-Orthodox community versus the call for Haredim to enlist, and respecting the results of the recent elections versus a wish for a democratic Israel based on the Declaration of Independence.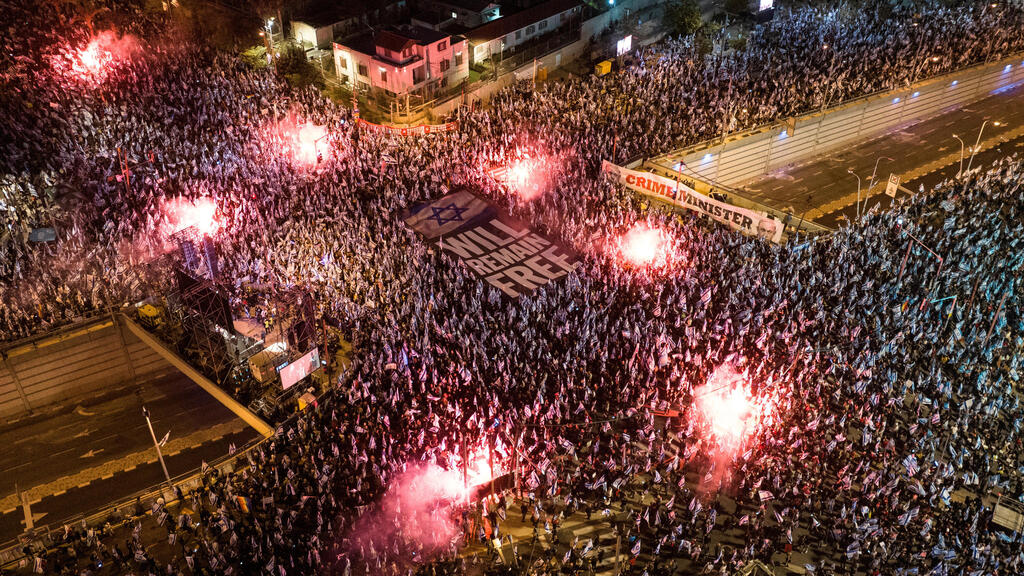 Moreover, protesters are willing to demonstrate anywhere, at any time, in any way, even in front of ministers' private homes, and in the face of horse-mounted police and water cannons on Tel Aviv highways. Among them are young people who are willing to go very far - nothing will stop them, not even a national cemetery.
Despite that, I believe that both sides should leave cemeteries out of this conflict. The protesters will only reap benefits from a 24-hour calm.
I believe that most Israelis, including those who are committed to demonstrating every Saturday, will appreciate this lull. The Independence Day events that will follow will provide the protest with ample opportunities to say what it wants to.
In the five and a half months since the elections, Netanyahu and his ministers have fallen into almost every pitfall they encountered.
They have an issue with facing reality: they see it differently from most public opinion polls, from economists, from security officials, and from Israel's allies around the world. Netanyahu focuses only on right-wing voters who left his bloc and seeks only to draw them back.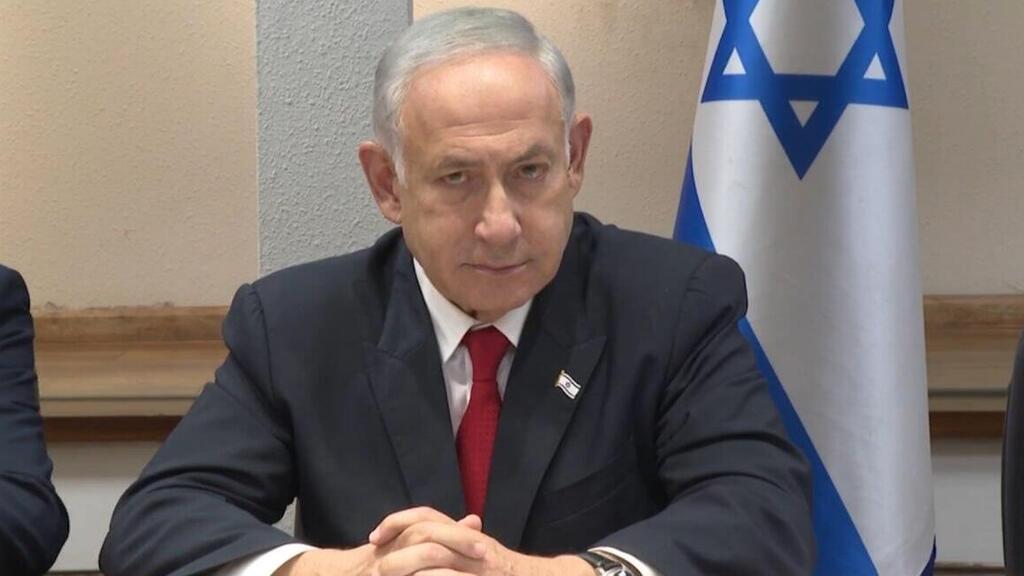 During his first term as premier, Netanyahu could've been given advice. Now, it's doubtful there's any point in doing so as he believes he knows everything.
Nevertheless, he would do well to prevent the far-right and fiery elements in his party from showing up at cemeteries. If National Security Minister Itamar Ben-Gvir and Finance Minister Bezalel Smotrich insist on speaking, let them do so away from the graves of those who fought and died for this country.
This is true for others as well: whoever decided to avoid enlisting in the military has lost the right to honor the fallen.
It would be better if, on the eve of Memorial Day, Netanyahu handed out brochures to his ministers and Knesset members telling them what to say: don't blame, argue, or boast about nonfactual achievements.
Memorial Day demands modesty first and foremost. To bow one's head, and speak in few words. It would be better if Netanyahu also followed these guidelines himself.