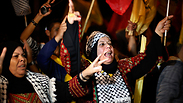 Palestinians celebrate prisoners' release in Gaza (archives)
Photo: Reuters
Prisoners set for release Monday; High Court appeals expected
Almagor association to appeal release before High Court on Monday, insisting release sends message saying 'You can kill a Jew and be released.' Security source estimates released prisoners will not resume terror activity, but mothers of terror victims express certainty that released convicts will kill again
The Israel Prison Service is preparing for the release of 26 Palestinian prisoners, scheduled for Monday night, but until the prisoners leave detention en route to their home towns, appeals can be filed with the High Court against the release.
On Monday morning, two motions are expected to be filed with the High Court by the Almagor association of families who have lost loved ones in terror attacks.
Related stories:
One of the motions is specifically against the release of five east Jerusalem residents, whose release, according to Almagor, is a violation of Prime Minister Benjamin Netanyahu's pledge that any release of Israeli citizens must undergo deliberations.
The second motion demands that permits to hold a march in the capital toward east Jerusalem be granted to families of terror victims.
According to Meir Indor, head of Almagor, said: "The Palestinian Authority managed to achieve both the release of murderers and a dramatic change in Israel's stance on Jerusalem's unity. The government is allowing the Palestinian Authority into Jerusalem through the back door… in contrast to legislation that unified Jerusalem.
"Maybe it will make happy the families of the murderers, but it is a sad day to the victims of terror in Israel," Indor said. "It is a message to murderers: You can kill a Jew and be released."
The prisoners – 17 West Bank residents, six east Jerusalem residents, and three from Gaza – are expected to leave the Ofer Prison on Monday night. Those who go back to the West Bank and east Jerusalem are to arrive in Ramallah via the Bitunia crossing and those who return to the Gaza Strip are to cross into the strip via the Erez crossing.
As in the previous two release instances, the prisoners will be monitored by the Israeli security establishment. Though several prisoners released as part of the Shalit prisoner exchange deal, so far neither of the prisoners released as part of the peace process have perpetrated terror acts.
According to a security source, "most of them are advanced in age, people who have served 30 or 25 years in prison. They were tested and examined by Israel Prison Service personnel who informed the ministerial committee of the level of risk the prisoners pose.
"We are not talking about a group of young terrorists… these are terrorists who have committed horrible crimes, but it's a different generation."
'There's nothing I can do to stop the release'
One of the prisoners expected to be released on Monday is Abu Hadir Muhammad Yassin Yassin, a member of a terrorist group that killed Yigal Shahaf, 23, in 1987 in Jerusalem's Old City.
After finding out that Abu Hadir is to be released, Yigal Shahaf's mother Ora told Ynet: "The pain has never subsided. The fact that he's released ahead of time is not easy to deal with, but who am I to tell the prime minister that it's unjust?"
Ora Shahaf, 67, a resident of Jerusalem added: "No one told me anything. I wasn't informed and no one asked for my opinion. Will anything good come of it? I doubt it."
She added: "I would like to ask the prime minister just one question – what did you achieve by releasing terrorists?" she said she was certain that her son's murderer would commit terror acts again.
The mother did not attend any protests, noting "it won't do me any good. If the prime minister would listen to those who protest or send messages to him, I'd be the first (to attend protests), but it won't do any good. There's nothing I can do to stop the release."
The mother of Eliyahu Amsalem, who was killed in 1989, is also faced with the prospect of the release of her son's murderer – Salah Khalil Ahmad Ibrahim.
Ruhama Amsalem, in her 80s, found out about the release in a conversation with Ynet. "I'm mad at the release and will not have it," she said. "I'm afraid terrorists will kill others. This is the first time I've heard about this. It's been 24 years, during which I been having a very hard time."
She added to have been very upset about the fact that no one had informed her that her son's murderer was about to be set free.
The release of 104 prisoners was a precondition for the renewal of peace talks between Israel and the Palestinian Authority, and so far 52 prisoners were released in two groups, the first group in August 2013, and the second in October 2013.
Raanan Ben-Zur, Elior Levy. Yoav Zitun contributed to this report
Receive Ynetnews updates directly to your desktop