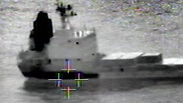 The Iranian ship
Photo: IDF Spokesperson's Office
The United States said Wednesday that its intelligence services and military worked with Israel to track the ship carrying an intercepted shipment of advanced Iranian rockets headed for Gaza. The ship was seized late Tuesday night by Israeli naval commandos, who found the M-302 rockets hidden in crates of cement.

President Barack Obama also directed the US military to work out contingencies in case it became necessary to intercept the vessel, White House spokesman Jay Carney told reporters aboard Air Force One.

Related stories

"Throughout this time our intelligence and military activities were closely coordinated with our Israeli counterparts who ultimately chose to take the lead in interdicting this shipment of illicit arms," Carney said.

"We will continue to stand up to Iran's support for destabilizing activities in the region in coordination with our partners and allies," he said.

"These illicit acts are unacceptable to the international community and in gross violation of Iran's Security Council obligations."

Israel said its forces intercepted the Syrian-made weapons, which were shipped to Iran and then onward towards Gaza by sea before being intercepted in the Red Sea between Sudan and Eritrea.

The announcement came hours after Israel said it struck two Hezbollah fighters as they tried to plant a bomb near the Syrian-Israeli frontier and just over a week after Israel reportedly bombed the Iran-backed group inside Lebanon for the first time since 2006.

Israel has long accused Iran and Syria of providing military aid to Hezbollah and to Palestinian militant groups. The Jewish state has using the weapons shipment as an example of the dangers of Western powers negotiating with Tehran over its nuclear program.

Iran said reports that it was involved in the shipment were without foundation.