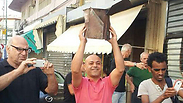 Tel Aviv residents with rocket debris. 'In Israel people are still talking about the World Cup'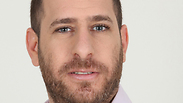 Hanoch Daum
Photo: Itzik Biran
There is something which should be said more often, something very significant and important which summarizes everything that has happened in Operation Protective Edge so far: Israel is winning.

Between all the talking in television studios and the ongoing reports about ceaseless rocket fire, we have barely paid attention to an amazing thing: We have a cruel enemy in Gaza whose only interest in life is to kill us. It wants blood. It wants to see Israel in ruins. It has been preparing for this moment for many months, gathering rocket after rocket and collecting launchers.

Toe to Toe

Analysis: It now seems that both sides are staring at a war of attrition, even as each is hoping that the other will blink first and call for a truce.

But guess what? None of what it hoped would happen is actually happening. Instead of a missile attack, Israel is in the midst of a siren attack. It's true that our routine has been affected, and that there could always be an unfortunate mishap which would claim a price, but that's not what Hamas wanted to do to us – to disrupt our daily routine and hope for a failure in the interception systems.

Hamas wanted blood. And that, ladies and gentlemen, is something it hardly got.

Hamas has been giving all it has for more than two days now, and in Israel people are still talking about the World Cup. The Iron Dome system is turning Hamas into a weird joke, which kind of looks like a brutal Rottweiler dog attacking you with a muzzle on his mouth.

It's nice that Hamas keeps bragging about firing rockets to long ranges. Does it really think that we care if the geniuses from Rafael intercept the rockets over the skies of Ashkelon or over the skies of Binyamina? Is this a war or a long jump firing competition?

For some reason, an incorrect dialogue had been created here, as if a day in which 200 rockets are fired is a difficult and bitter day of fighting for both sides. But the truth is different: With every day that goes by, we are increasingly amazed by how brilliant and life-saving our technological supremacy over Hamas is.

With every day that goes by, it becomes increasingly clear that in Operation Protective Edge there is no equal battle in which Gaza fires on Israel and Israel fires on Gaza – but rather a one-sided battle, as there is a very small, really minor difference between the Hamas fire and the IDF fire: The IDF fire reaches its destination. The IDF fire hits its target.

The battle is at its very beginning, and we are still in for adventures, but every rocket which is launched into the air and also explodes there emphasizes the truth of this battle which is not being said often enough: Hamas is fighting, but Israel is winning.