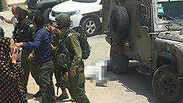 A terrorist attempted to stab an IDF female soldier Thursday afternoon near Tuqu' in the West Bank before being shot and killed by security forces at the scene. No other injuries were caused.

The incident is the fourth attempted stabbing to have taken place in the West Bank within a week and a half, putting an end to a

comparative period of quiet.

Terrorist killed

Security forces urged residents of Tekoa nearby to avoid the area in the next hour as they sealed it off to any traffic.

The terrorist was later identified as 20-year-old Mohammad Hussein al-Tanuh from Tuqu'.

Some 200 Palestinians gathered at the scene of an attempted stabbing and began throwing stones at IDF forces. The troops responded with gas.

A week-and-a-half ago, an attempted vehicular attack took place at the same spot which ended in one soldier sustained light wounds.

On Tuesday, three IDF soldiers were lightly wounded in a vehicular attack after a terrorist attempted to plow his car into a group of four stationed at the entrance of Beit Einun, a Palestinian village in Hebron north of Kiryat Arba.

Two of the victims were evacuated to Shaare Zedek Medical Center while another was treated at the scene by paramedics for slight injuries.

Israel has been on high alert for potential terror attacks in light of ongoing riots and protests against the decision to install metal detectors at the entrance to the Temple Mount in Jerusalem in response to a deadly terror attack last week.

Preparing for more eruptions of violence, the IDF said Thursday five battalions have been put on-call in the West Bank in case tensions heightened on the Temple Mount.