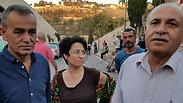 Arab MKs at the Lions' Gate
Muslim protesters clash with police outside Temple Mount complex
Arab MKs arrive at Lions' Gate to show support for protests against added security measures; 'The metal detectors must be removed,' says MK Ahmad Tibi, 'Netanyahu is the one who insists on this provocation, and he will bear the responsibility to any escalation here or in the region.'
Dozens of Muslims prayed outside the Temple Mount's gates on Tuesday evening, with some of them throwing stones and bottles at police after the end of prayers in protest of the additional security measures at the entrance to the Temple Mount.

Israel set up metal detectors and security cameras at the entrance to the Temple Mount after three Israeli Arab terrorists were able to smuggle firearms into the holy site, using them to carry out a terror attack on Friday that claimed the lives of two Israeli police officers.

Clashes on the Temple Mount on Tuesday (צילום: גיל יוחנן)

Protesters called out "we will sacrifice our lives for al-Aqsa," "we'll die as martyrs," "there will be an intifada," and "there's nothing like killing soldiers."

Israel Police and Border Police forces dispersed the rioters.

The protesters received support from Arab MKs from the Joint List—Hanin Zoabi, Jamal Zahalka, Ahmad Tibi, Osama Sa'adi and Juma Azbarga—who arrived at the Lions' Gate to attend evening prayers outside the Temple Mount complex.


"The metal detectors must be removed, they cause great unrest and in fact create a new reality that hurts the status quo," said MK Tibi, who chairs the Joint List's Al-Quds Committee.

"(Prime Minister) Netanyahu is the one who insists on this provocation, and he will bear the responsibility to any escalation here or in the region. The entire Arab world is up in arms. In addition to hurting the Palestinian people, this is hurting Jordan's special authority over the holy places," he added.

"I don't know how exactly people can tolerate such a situation, in which they pray under siege by dozens of police, Special Forces and military," said MK Zoabi. "This isn't just an occupation, it's also humiliation. We won't accept the new arrangement of electronic gates. We refuse any new security arrangement. We don't need security in our place."

Earlier Tuesday, the military wings of the different Palestinian factions in Gaza held a press conference threatening a forceful response if Israel does not remove the added security.

"The aggression against al-Aqsa will be the spark that ignites the blaze that can burn through the whole region," one Gaza militant threatened.

During the afternoon and evening on Monday, hundreds of Muslim worshipers clashed with police near the Lions' Gate. Police used stun grenades to disperse the rioters. Several protesters were injured and treated at the scene.

The protesters called out "we will sacrifice our lives for al-Aqsa" at the police officers, with one of them noting: "We won't honor the electronic gates. We will continue to fight to the death and die as martyrs here."

Hassan Shaalan, Elior Levy, Itamar Eichner and Elisha Ben Kimon contributed to this report.