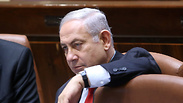 Prime Minister Benjamin Netanyahu. I'm not guilty, I'm being persecuted
Photo: Alex Kolomoisky
Netanyahu's Shakespearean tragedy
Op-ed: The fact the prime minister feels persecuted doesn't mean he isn't being persecuted. The criminal aspect in many of the allegations against him has yet to be established. The problem is the accumulation of things: With so many dark clouds in the sky, the chance for rain increases.
On Tuesday evening, as he came out of another exhausting, nerve-racking meeting with his lawyers, Prime Minister Benjamin Netanyahu probably asked himself what people normally ask when they reach such crossroads: How could this have happened to me?

I surrounded myself with the right people, national-religious, right-wing—Shlomo Filber, Ari Harow, Natan Eshel, Gil Shefer, Avichai Mandelblit and Roni Alsheikh—and now Eshel and Shefer are gone, Filber is a state's witness, Harow is a state's witness, Alsheikh refers to me as if I were a criminal and Mandelblit is filling up the detention cells with the next state's witnesses. They will cleanse their ingratitude on Shabbat, through a confessional prayer in synagogue.

I made sure to give sensitive positions to relatives. One was appointed the party and family lawyer; I made the other my secret envoy. I let them keep running their law firm at the same time. People have to earn a living. How was I supposed to know they would get blinded by money?

I considered Arnon Milchan a friend. He would occasionally ask for something; I would occasionally ask for something. Friends arrange things for one another. How was I supposed to know he would keep the receipts?

I insisted on being appointed communications minister. I could have appointed one of the ministers, but they can't be trusted. They just know how to suck up to the media. I had a well-organized plan which would have broken the television channels and websites to pieces. Dozens of channels, hundreds of websites. Shaul Elovitch was supposed to be the man of valor crossing ahead of his brothers. I said to Filber, help Bezeq, it's important. A general order, nothing specific. How was I supposed to know he would take it seriously?

I made Nir Hefetz my media advisor. Everyone said he was the right man, the man connected to everyone. Even Sara said he could be trusted, and Sara knows about people. This Hefetz goes up to Eli Kamir, Hila Gerstl's friend, and asks him: By the way, what does Gerstl think about the case against Sara? Didn't he know it would all blow up in the end and come back to hit me? And now Hefetz is a suspect. I know that spoilt brat: He smells Lysol even when there is no smell of Lysol. He'll tell the police even what he doesn't know, as long as it keeps him out of jail.

What was I thinking when I told Ari Harow to record the conversations with Arnon Mozes, and why didn't I have his cellphone thrown into the sea? There were elections, I won, I forgot. How was I supposed to know that Harow would get into legal trouble and that the police would open his cellphone?

No, I'm not guilty. I'm being persecuted. Some people envy me, some hate me and some are incited. Miki Zohar is right: It's like the Rabin murder, with one difference—I'm not guilty.
When things just go too far
The fact that Netanyahu feels persecuted doesn't mean he isn't being persecuted. It's not just the presumption of innocence that he is entitled to. The criminal aspect in many of the allegations against him has yet to be established. It's too early to say his legal defense is finished.

The problem is the accumulation of things. With so many dark clouds in the sky, the chance for rain increases. The state's witness agreement with his director-general in the Communications Ministry, Shlomo Filber, establishes a hierarchy. Up until Tuesday, Filber argued that the huge benefits he gave Elovitch, the owner of Bezeq, were his own decision, the fruit of his policy. Since he received nothing in return, there was no crime here—at the most, these were reckless decisions by a director-general who is clueless about this field.

It's unlikely that this version gave him the status of a state's witness. He was forced to changed his version: It wasn't him, it was Netanyahu, and it wasn't without a political return in the future and a return in the media right now. The flattering coverage of Netanyahu's wife on the Walla! News website were just an extra perk. Netanyahu wanted much more. What he planned to do was outrageous. But was it criminal too?

The same question stands at the basis of Case 2000 too. The horse-trading those two men engaged in, one with a law subject to the Knesset's approval and the other with his newspaper's coverage policy, stains them both. The question is whether the stain reaches the level of a criminal charge.

The submarine case exists even without Netanyahu. The prime minister will only be in trouble if it turns out he knew about the ties between the German shipyard and his lawyer, David Shimron. Netanyahu depends on Shimron's testimony.

And last but not least, Case 1000. The case is clear. It screams of fraud and breach of trust, possibly bribery too. But the topic's littleness and pettiness is insulting. If parasitism were part of the criminal law, Netanyahu and his wife would be convicted immediately. But bribery? I'm not so sure.

What all the investigations have in common is that Netanyahu has been lying in the swamp of power for too long. What began with one free newspaper—a corrupt gift from a casino mogul—grew bigger and bigger, becoming more and more rotten. As time goes by, you become less cautious and your sense of entitlement increases. The desire to destroy rivals in any way, the contempt towards the gatekeepers, the cynicism and the self-pity overpower the discretion. Until things just go too far.

Netanyahu, in a bitter and anxious speech Tuesday evening, accused the investigating system of madness, of delusions. The police aren't the only enemy that must be destroyed now—so is the State Attorney's Office. His appearance gave the battle he is waging dimensions of a Shakespearean tragedy. This isn't the end, it isn't even the beginning of the end, but there can be no other ending.