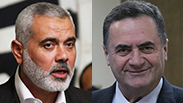 Hamas leader Ismail Haniyeh; Israeli Minister Yisrael Katz
Photos: Reuters, Ohad Zwigenberg
Katz threatens Haniyeh: Terror attacks abroad will be met with targeted killings
After Hamas leader threatened to carry out attacks against Israelis abroad to avenge assassination of Palestinian engineer in Malaysia, intelligence minister tells Haniyeh 'talk less and be more careful. Gaza is much closer than Malaysia.'
Transportation and Intelligence Minister Yisrael Katz issued a warning to the Hamas leadership on Sunday, saying that if the terror organization makes good on its threats to carry out an attack against Israelis abroad, Israel will target its senior officials.

While visiting the mourners' tent erected for Palestinian engineer Fadi Albatsh, who was assassinated in Malaysia, Hamas leader Ismail Haniyeh threatened to avenge his death, which he blamed on the Israeli Mossad.

"There will be an unsettled account between us and (the Mossad)," Haniyeh said, implying that score could be settled with terror attacks abroad.

"I suggest Haniyeh to talk less and be more careful," Katz said in an interview with Ynet on Sunday. "Gaza is much closer than Malaysia."

Katz said an attack against Israelis abroad "would be crossing a red line," threatening that it would "lead to the resumption of Israel's targeted killing policy, and Hamas officials in Gaza—with (Haniyeh) among them—are expected to be hurt badly."

"Israel knows how to locate and hurt those Hamas officials who are directing" terror attacks against Israelis abroad, the minister warned.

"Haniyeh and his friends should be careful before they talk ... because Israel's ability to hurt them will be absolute, hard and swift," Katz went on to say.

The Palestinian Islamic Jihad also threatened to avenge the assassination. "No matter how long it will take, we'll avenge the engineer's death. His blood wasn't spilled in vain," a statement from the terror group said. One of the PIJ's senior members is a relative of Albatsh.

Fadi Mohammad Albatsh, 35, was killed in a drive-by shooting on Saturday, according to Malaysian authorities.

He was walking from his highrise apartment to dawn prayers at a local mosque in the Kuala Lumpur suburb of Gombak when he was shot by two gunmen riding a motorcycle, officials added.

At the crime scene, police markers indicated 14 bullets had been sprayed at the victim, some of them hitting a wall. An iron grill hit by a bullet was dented.

Hamas said Albatsh, a research scientist specializing in energy issues, was one of its members.

Malaysian Home Minister Ahmad Zahid Hamidi was quoted by the state-run Bernama news agency as saying Albatsh was "an electrical engineer and an expert at making rockets."

Kuala Lumpur police chief Mazlan Lazim said Sunday the investigation was ongoing. "We are investigating all angles. I have to investigate very carefully and deeply. This is an international issue," he said.

He added that an autopsy was being carried out at a hospital after which the body would be released to the family.

Malaysian police chief Mohamad Fuzi Bin Harun said on Sunday that no arrests had been made.
'He was no saint'
Hamidi said the suspects in the killing, who fled the scene, were believed to be Europeans with links to a foreign intelligence agency, state news agency Bernama reported.
He added that Batsh was active in pro-Palestinian non-governmental organisations, describing him as an expert in electrical engineering and rocket-building.
He could have been seen as "a liability for a country that is an enemy of Palestine," Zahid was quoted as saying by Bernama.
Albatsh's uncle Jamal Albatsh, speaking to Reuters in the Gaza Strip, said he believed Mossad was behind the killing because "Israel knows Palestine will be liberated by scientists".
Minister Katz shrugged off these allegations. "Israel doesn't comment on incidents of this kind. But based on what's been reported so far about the profession of the man who was assassinated, and based on the cries of despair from the heads of Hamas in Gaza, it turns out he wasn't such a great saint, and the citizens of Israel have no reason to shed a tear over him being gone," he told Ynet.
He added that "Hamas is part of the Iranian axis of evil in the area, and many elements in this region—not just Israel—have an interest in hurting its capabilities."
Defense Minister Avigdor Lieberman also brushed off the allegations on Sunday, telling Israel Radio, "We heard about it on the news. The terrorist organizations blame every assassination on Israel—we're used to that."
"The man was no saint, and he didn't deal with improving infrastructure in Gaza—he was involved in improving rockets' accuracy," Lieberman added. "We constantly see a settling of accounts between various factions in the terrorist organizations, and I suppose that is what happened in this case."
AFP and Reuters contributed to this story.