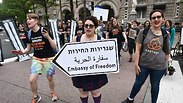 Washington protest against embassy move
Photo: Reuters
Singing Washington protesters denounce US embassy move
Dozens of Jewish demonstrators blocked Pennsylvania Ave. to denounce US Embassy move to Jerusalem and protest the killing of Palestinians on the Gaza border; IfNotNow protesters chant 'Stop the violence' calling for 'Embassy of Freedom' instead of 'Embassy of Occupation.'
Dozens of chanting, singing Jewish demonstrators blocked a major Washington thoroughfare on Monday to denounce President Donald Trump's order moving the US Embassy to Jerusalem and Israel's killing of Palestinian protesters on the Gaza border.

Chanting "Stop the violence," about 100 protesters from the IfNotNow movement blocked Pennsylvania Avenue, which links the White House and the white-domed Capitol, for about two hours in front of the Trump International Hotel.

"The shelter of peace must extend to Palestinians as well," Sarah Brammer-Shlay, a 26-year-old rabbinical student from Philadelphia and a protest organizer, told the demonstrators.

Protesters, many wearing skullcaps and black T-shirts stating that "the Jewish future demands Palestinian freedom," sang "We will build this world with love." They also carried mock building parts and directional signs for an "Embassy of Freedom" to replace what they called the "Embassy of Occupation" in Jerusalem.

Speakers repeatedly updated the crowd on the death toll from the Gaza border, where over 50 Palestinians among the tens of thousands protesting were killed by Israeli troops.

The opening of the embassy fulfills a pledge by Trump, a Republican who has recognized the holy city as the Israeli capital despite years of US policy of maintaining its embassy in Tel Aviv. Trump's move has fired Palestinian anger and drawn criticism from many foreign governments as a setback to peace efforts.

The Washington protest was the second against the Gaza violence by IfNotNow, which urges US Jewish groups to end their support of Israel's policies toward the West Bank and the Gaza Strip. Prime Minister Benjamin Netanyahu said on Monday that Israel's actions on the Gaza border fence, the site of month-long protests, were self-defense against the enclave's ruling Hamas movement.

Thirty-seven IfNotNow protesters were arrested in six cities last month, including at the offices of US Senators Dianne Feinstein of California and Ben Cardin of Maryland, the group said.

"Our question is, 'Which side are you on?'" spokesman Yonah Lieberman said by phone, adding that the group would not be lobbying Congress about the embassy move.

"We're trying to move the megapublic," Lieberman added. "We don't believe the people on Capitol Hill are the ones that will transform the Jewish community."

Lieberman and Brammer-Shlay cited a 2017 poll by the American Jewish Committee advocacy group that showed 80 percent of US Jews surveyed were against the embassy move, or favored it at a later date in conjunction with Israeli-Palestinian peace talks.