Chinese automobile manufacturer NIO is often referred to as the Chinese Tesla, due to its shared similarities with the American Company. Its business model also resembles that of Tesla, starting with a direct sales approach without middlemen, and featuring unique charging services that include a super-fast battery swapping system (less than three minutes).
NIO's short history began with the EP9, an electric supercar with four electric motors that together produced an astonishing 1,360 horsepower. Only 16 units were produced, but one of them set the electric vehicle lap record at the Nürburgring circuit with a time of 6 minutes and 45.9 seconds.
Today, NIO offers eight electric vehicle models, a more diverse range than most Chinese brands and even Western manufacturers, including Tesla. This rapid growth has turned NIO into a real competitive threat, especially after entering Europe about two years ago.
Currently, NIO is sold in Denmark, the Netherlands, Sweden, and Germany, with plans to expand to 25 markets worldwide in the next two years, including the United States. In some countries, like Israel, it is marketed through indirect import, with cars coming from Norway.
Among the model lineup, the ET5 is the most intriguing of them all. This isn't only because it's the most up-to-date offering in its lineup but also because it's seen as a direct competitor to the Tesla Model 3, which has become the best-selling electric car in the world.
The model's exterior design is impressive, with a grille-less front end and unique lighting units. Its design language is cohesive, mature, and more impressive than that of most Chinese competitors.
The rear end tapers down to create a trendy look, resembling a coupe, but despite its flush door handles and lack of side window frames, its drag coefficient isn't particularly impressive at 0.24, likely due to advanced driver-assistance sensors found or the roof's front.
The driver's space is modern, featuring a huge touch screen (12.8 inches) that controls various functions much like Tesla. However, the operation is more convenient and intuitive. Steering wheel adjustment and seat controls are done through a dedicated menu on the touch screen and physical switches on the steering wheel.
Unlike Tesla, there's a digital heads-up display (10.5 inches) of essential information for drivers, including the location of other cars and pedestrians. Additionally, the car introduces NOMI, the first integrated artificial intelligence system in a car.
The driver's seat is comfortable and supportive, but the driving position may be situated too high or cramped for taller drivers, with a relatively modest rearview mirror. The models includes a gear selector switch between the seats and a large and practical storage compartment underneath it, but the window switches operate in the opposite direction of what is customary in other car models.
As is typical in modern electric cars, there's a noticeable use of recycled and environmentally friendly materials in NIO vehicles, reducing emissions during the manufacturing process by 30%. The ET5 also features ambient lighting with 256 color combinations. It comes equipped with a premium sound system boasting 23 speakers and a large panoramic sunroof (1.28 square meters) without a blackout shade.
Compared to Tesla's Model 3, the ET5 is significantly larger in every dimension: an extra 7 cm in length (479 cm), 11 cm in width (196 cm), and 6 cm in height (150 cm). Even the wheelbase is longer by about 1.5 cm (289 cm).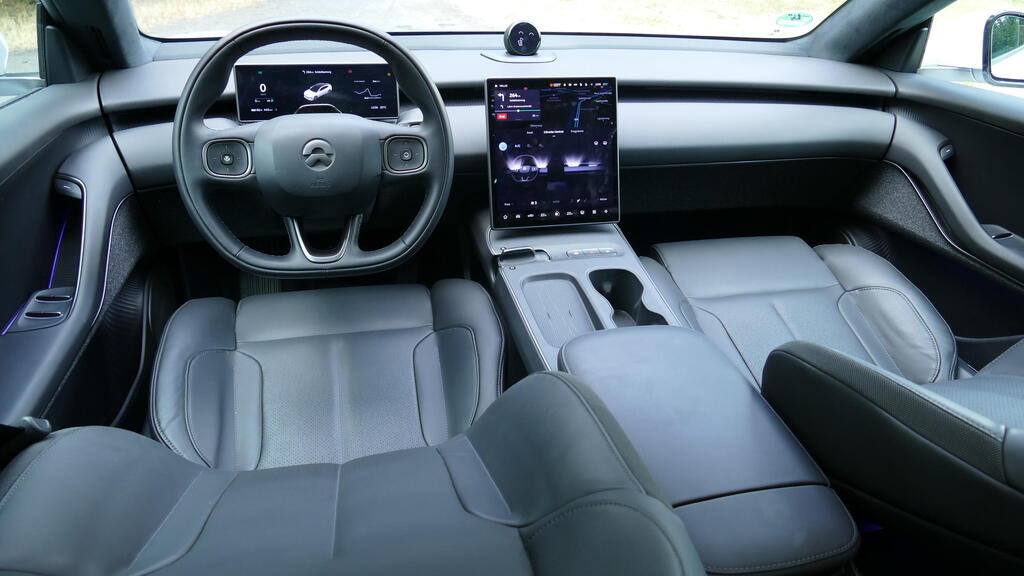 The trunk is smaller than what's commonly found in other cars, with a modest 208 liters compared to the Model 3 (386 liters), and unlike typical modern electric cars, there is no additional front trunk.
The model's safety systems are impressive as well. they include 33 sensors, including high-resolution LiDAR with a long-range, seven high-resolution cameras (8MP), four low-light-sensitive surround cameras, radar, 12 ultrasonic sensors, a driver monitoring camera, and an optional satellite navigation system.
Additionally, the model features an Inertial Measurement Unit (IMU), V2X communication (vehicle-to-everything), and advanced hardware intended to enable fully autonomous driving in the future.
The model's propulsion system combines a pair of electric motors in the front (204 horsepower) and rear (285 horsepower), with a combined output of 489 horsepower. This results in impressive performance, accelerating to 0 to 100 km/h in just 4 seconds.
The driving mode selector allows you to choose from several driving modes (Eco, Comfort, Sport, and Sport+), which also affect braking intensity. Alternatively, you can customize the model's braking and throttle strengths to fit your liking.
The ET5 offers a choice between two battery packs: 75 kWh, providing a range of around 450 km, which is about 150 km less than Hyundai LR and Tesla versions with similar-capacity batteries.
The test vehicle was equipped with a massive 100 kWh battery, boasting an impressive 590 km range between charges. Surprisingly, the charging speed is significantly slower than competitors, with a 130 kW charger taking half an hour to reach 80% for the smaller batteries and 40 minutes for the larger ones.
The model's frame features a purpose-built platform composed of steel and aluminum, with an optimal weight distribution of 50:50 front-to-rear. The suspension system combines a multi-link rear setup with double-wishbone front suspension and unique geometry. The model features specially designed Pirelli P-Zero ELECT tires designed for electric vehicles.
Despite its high curb weight (2.2 tons), the ET5's dynamic capabilities are impressive. The wheels' grip level is high, and the suspension tuning is excellent. The braking system, developed by NIO, features four-piston aluminum calipers, which help reduce unsprung weight by 25%.
In contrast, the model's steering ratio is rather long (2.75 rotations from end to end), and in the test car, the steering wheel lets out strange friction noises.
In an urban environment, the model's handling was somewhat lacking because of its relatively stiff suspension, which assists in dynamic performance, but impairs the ability to absorb light bumps, and also due to the low-profile tires (245/40) that aren't ideal for this purpose. At high speeds, noticeable wind noise could be heard from inside the car.
NIO is a different brand from other Chinese and Western companies, offering originality and technological advancement. This is reflected from the outset, starting with a subscription model for monthly usage instead of purchasing the vehicle outright, specific charging stations, and an integrated operating system.
When it comes to competing with others in the market, NIO has advantages in the form of high-quality passenger areas, superior performance, and excellent dynamic capability. However, it also has a modest range, urban driving capabilities that require improvement, and unimpressive charging speed.
But what might pose the greatest challenge for NIO is its price. In Germany, for example, the base version costs about 10% more than a Tesla or Hyundai.