Ten years ago, Chef Liran Gruda closed the cookie factory he had opened in northern Israel with Chef Nir Zuk, with whom he had previously worked for several years at his restaurants in Jaffa.
Together, they produced cookies, marshmallows and granola. At that time, Chef Zuk had several restaurants in Jaffa including Cordelia, Noa, Olei Zion and Jaffa Bar. With Gruda, he also established the Napoleon patisserie in Old Jaffa, and from there they moved on to the talked-about cookie factory.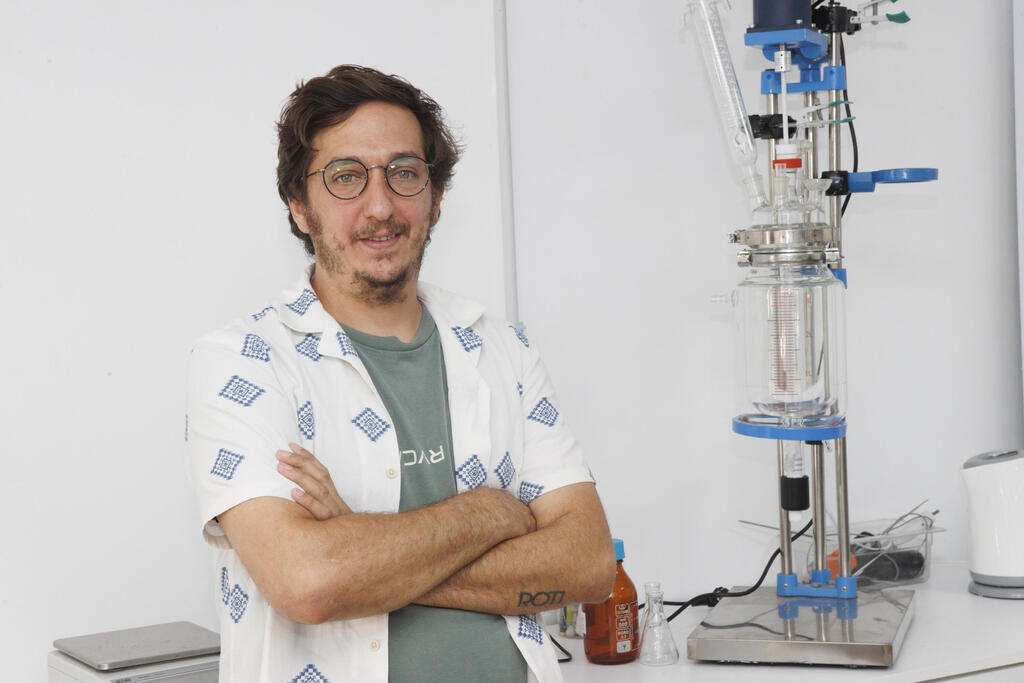 "We made cookies and made mistakes along the way," Gruda admits today, having since become an entrepreneur and a name in the food industry. Their cookie factory, which started with much optimism, closed after just one year.
"We lost some money, and that's it. I didn't know what it was like to lose because when you have nothing, you have nothing to lose. But we learned from the mistakes, paid off the debts and that's it. I gradually paid back all the money."
But the cookie factory's failure wasn't the only problem for Gruda, 40, who now lives in Haifa with his wife and their two children. He was born in Acre and entered the kitchen for the first time at the age of 13. After the army, he worked at Segev Restaurant in Herzliya; he established the first Mina Tomii Restaurant in Ibn Gvirol Street in Tel Aviv with Chef Shahaf Shabtai (from the Conditorei patisserie); he did internships abroad, including one with Chef Moshik Roth at his restaurant in Amsterdam.
The blow came when RDB Restaurant in Tel Aviv, run by Chef Ronen Dovrat Bloch, was closed. "The restaurant's closure left me in debt; I had no money for food and wanted to leave the industry. We were chefs, not millionaires, and the closure broke us," he recalls.
Then in 2008, he came to Nir Zuk. Along the way, he also established the Beccafico restaurant in Neve Tzedek, Tel Aviv (and continues to consult for it), and was the culinary consultant for the TV show Chef Games (after participating in the first season as a contestant himself and reaching the finals).
The food industry is wrong
Since the cookie factory adventure, Gruda has been consulting as a chef for the food industry. It's important to understand that working as a chef in a restaurant or café is completely different from working in the food industry and factories. Nowadays, food manufacturers increasingly seek chefs' advice in factories, whether it's help with flavor development or general chef opinions.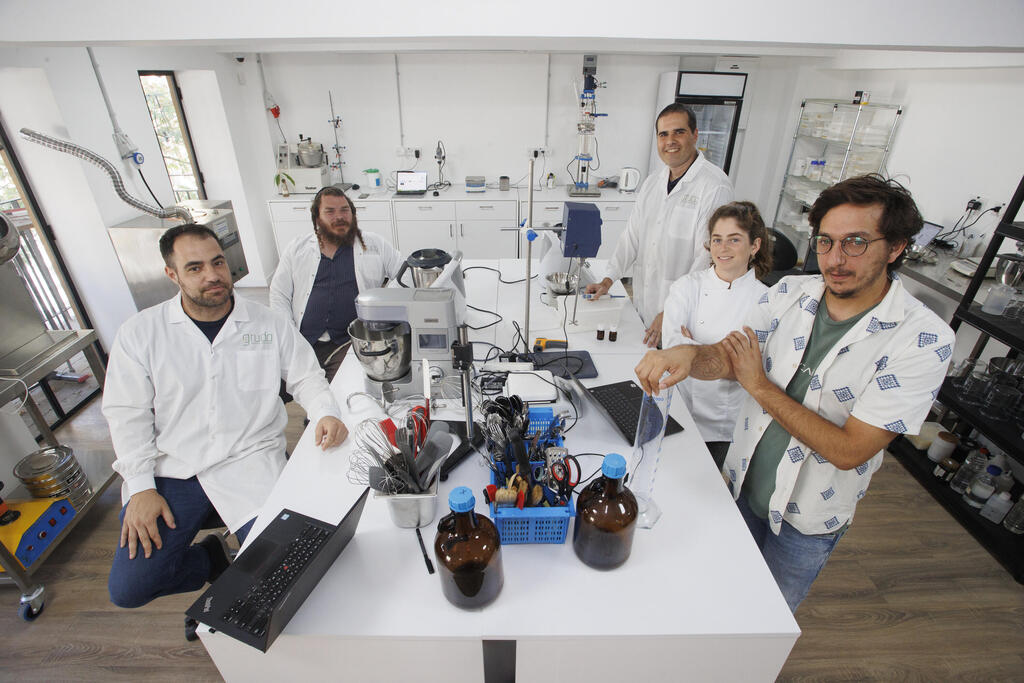 "The food industry is entirely different from cooking," he explains, "It's not just about adding this or that spice and that's it. What you do in the kitchen and what you do in the industry are light-years apart."
But this consulting that he began for food factories has rolled him into his current career and also into big money. "I felt that the food industry was wrong," he explains, "because they talk a lot about innovation, but the products on the shelf don't taste good. So, six years ago, I decided to open a small lab. I took a stainless steel table in a small kitchen in Haifa and announced to the world that 'I am Liran Gruda, consultant to the food industry'. I didn't think much about what I was doing."
"At first, it was hard for me to get clients. I advised on flavors but wanted to develop products for a large factory. There were food technologists who told me that this was the work of biochemists and food technologists, but my mind didn't see it that way, and it's all I wanted to do. It took a few months until I secured my first client. I had a business advisor who asked me to reach out and introduce myself to five big manufacturers that I wanted to work with. Six years later, I am the largest development company in the country and one of the biggest in the Middle East."
Gruda began consulting for both small and large manufacturers, set up labs in the Haifa area, and became a massive food development company. Today, he employs two biochemists, five food technologists, and three chefs— and that's just in Israel.
How exactly does this whole story of food development for the industry work?
"If a company wants to develop a product, say, cereal based on gluten-free fibers and without protein, they send us a brief, we receive it and develop the product for them," he says.
"We have a department that deals with texture and another that deals with flavor. This is what I want to do until the day I die. I built this work style, and I work and develop products with the team. I had a background in molecular gastronomy, I got into crazy projects and researched the whole field. I built a work method in the company that, in my opinion, makes all the difference—when we get a project, we don't look at it through the lens of science.
"I'm not a scientist, and my eyes are those of a chef. In science, there is one way to a solution, and I found that there are many ways to a solution, and today we work according to this methodology that I built."
Could you elaborate?
"For example, if it's common to produce cereal in a certain way, then because I come from the culinary field, there are no rules there. In science, there are rules and there is only one way—in cooking, a chef has multiple ways, he is not obligated to anything. I think that's what made the company what it is."
You also have a breakthrough in the field of alternative protein, isn't this field already saturated?
"I mentor companies and see everyone's mistakes and work methods. Two years ago, I realized there was a big interest in alternative protein, and I had an idea to develop a new plant-based protein. Until then, there were products with 'dirty labels' (a nutritional marking on the product label that includes unhealthy ingredients like food coloring and texture additives, for example).
"I realized that if we make a clean, green label, we have a huge business. So, I established a company called Mila, brought in a partner, and the company raised about $2 million, and Strauss came in as investors in the business. The investment fund Milk and Honey (not to be confused with the Israeli whiskey brand) and the European Union are also investing.
"I managed to create a 'clean label,' and we are currently the only ones in the world, although many are working on it. The product is based on various proteins such as soy or pea. Today we are selling this to meat companies."
Gruda's company grew, and this year he sold 48% of his shares to a French company, owned by Yoav Peretz, an Israeli-French real estate man, who also owns companies like Philippe Conticini (a French patisserie chain considered advanced and innovative compared to classic patisserie). Peretz also has plant-based meat factories in Manchester and a chocolate factory in London.
Can we call this an exit?
"Yes. The value of the deal is about NIS 10 million."
So now you're a millionaire?
"I can't answer that. Look at my shoes; I just noticed they're torn. My wife pointed it out to me this morning. Look, I didn't finish school, but I own one of the coolest and most interesting start-ups in the country. I own the largest food development company in Israel, I lecture at the Technion and other universities on food development, and these days I am setting up a lab in Paris and next year in the Netherlands."
How did all this happen?
"Maybe because I think differently. I always had a goal. I'm not a wonderkid, but I push—or at least try to push—forward. I knew from the start that I was establishing a company that would be big and bring in a lot of money. I knew I could provide solutions to the industry, and I knew we would grow and succeed. A year ago, we started working on a computerized system based on artificial intelligence that will save a lot of time in product development. This system will assist technologists and save 50% of the time."
When you see other chefs working hard in their restaurants, what do you think about it?
"I admire their perseverance. I've never been afraid of hard work; I still work hard today just as I did when I was a chef, but there wasn't much money in it back then. I never dreamed of getting rich from restaurants, but I did want to be rewarded for the hours of work I put in and the effort I invested.
My heart goes out to chefs in the country; it's a tough field globally as well. But I can tell you for sure that the food in Israel surpasses the food anywhere else in the world. We definitely have a different level of culinary expertise and a wider range of flavors than anywhere else in the world. It's just sad that we still don't have a Michelin star."
Why is our food so appreciated around the world?
"Because our food is bold and there is something different about the Israeli chef. French cuisine, for example, is very traditional, so when someone like Asaf Granit comes along with an aggressive twist, people love it. The same goes for Eyal Shani; you should see the insane line at his pita place in Paris. I travel a lot around the world, so I see it all."
You also had tough times as a chef.
"We were living in Tel Aviv and felt everything was becoming expensive. We were young parents with two small kids at the time, and I felt that as a chef, it was difficult to pay for two kindergartens and maintain an apartment. We couldn't make ends meet. Meanwhile, my father was diagnosed with cancer, so we decided to move to Haifa. I'm originally from Acre, so I felt like I had arrived in paradise; there's something about this city."
So, are you practically a businessman today?
"No, I'm an entrepreneur, but I will always remain a chef. A businessman knows how to do business, and I don't. There are people better at that than me. I rely on the legal department at my company, I make many mistakes, I get into bad deals along the way, and I invest in small ventures where I know I won't see a return on my investment. Not every choice I make is good, but I have a strong team and I get help from those around me."
Do you think you'll ever open a restaurant?
"I always thought that I'd open a restaurant when I retire. It seems less likely now, but you never know what will happen. Right now, I'm living my dream and I'm not looking to make additional millions and sit at home. I still want to continue doing what I'm doing; it's the best. I once had a teacher who used to say, 'Liran, nothing will ever come of you.' In 12th grade, I wouldn't even go to school. If my teacher knew what I'm doing today, she'd be shocked."