It has become an annual tradition in this space to highlight six or seven sweet places where we can indulge in cooling (oft-time) extravagances (see
last year's installment
).
Several of our entries are certified kosher, although virtually all serve food that most consider kosher; the premises cannot earn rabbinical certification only because they are open on Shabbat. As is our wont, entries are not ranked, but rather listed in alphabetical order.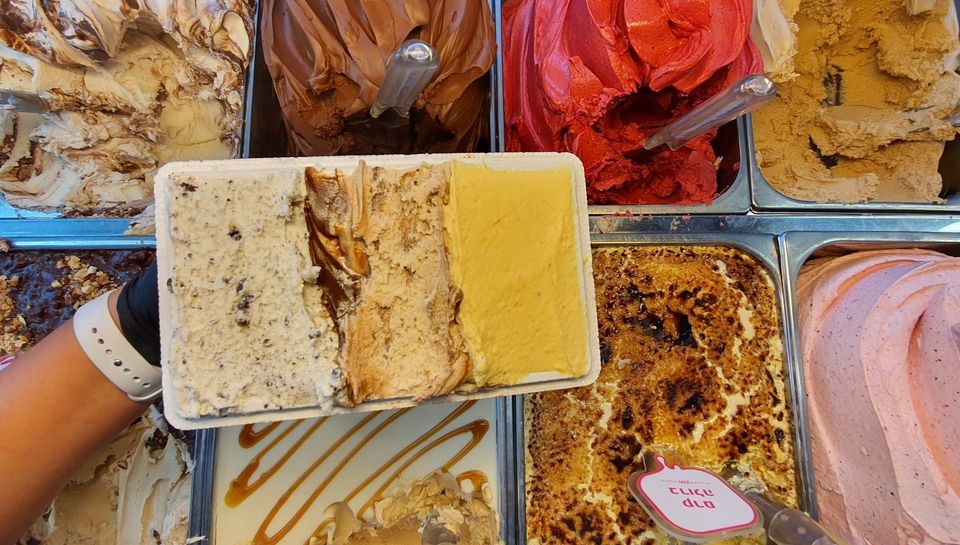 Aglida Italian ice cream is our northernmost representative on this list, located in Ramat Yishai in the central Galilee.
It is also exceptional in one other sense: the only dedicated gelato only emporium that is not part of a chain, no matter how small. Nor are the owners currently interested in expanding or franchising.
They are certainly busy enough: at the time we visited, the line was out the door.
With such exotic and creative flavors as bamba (yes, the peanut butter snack), pretzel -- as well as relatively new classics, such as lotus cheesecake and salted caramel -- there are flavors to please the entire family.
Aglida. Tzaftzafa St., Industrial Zone, Ramat Yishai. Tel. 04-871-7179
This bakery-cum-café is the only eatery in our list making its second appearance, after its debut last summer.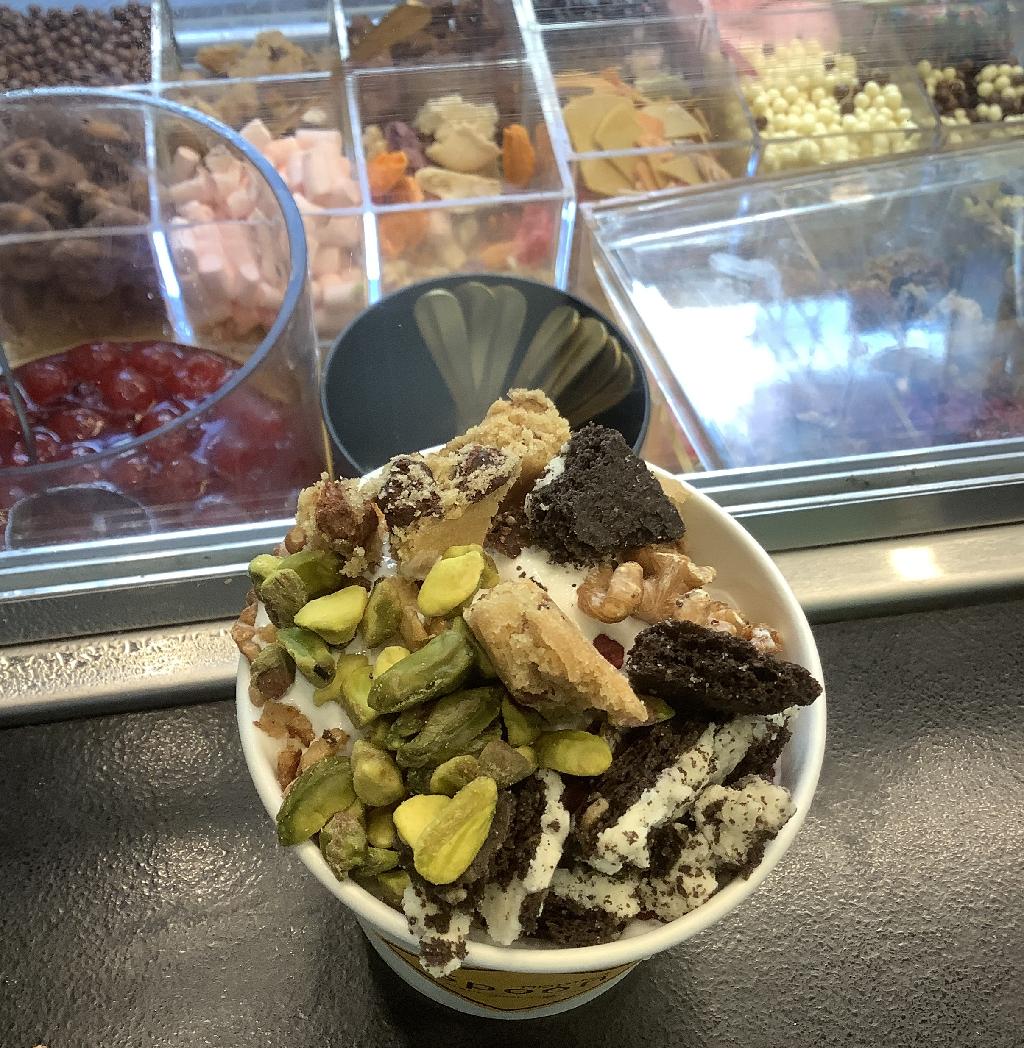 There are two reasons it merits an encore: first and foremost is its exclusive focus on gluten-free foods, at a time when awareness of celiac disease and gluten sensitivity is constantly growing.
Secondly, its summer sweet treats this year are quite different from the ice cream sandwiches of last summer.
The Bli Kemah summer pop-up 2020, which runs until the end of September, features Spoons -- a shake made on the basis of soft-serve French vanilla ice cream, mixed with an impossibly wide choice of both familiar and exotic toppings, from Oreo cookies to pellets of raspberry butter, and from homemade granola to wholesome nuts.
This "sundae" is then blended together in a machine that liquifies it, while the plastic spoon that is the mixing instrument is then detached from the motor and becomes the utensil with which you eat your shake until it melts to the point where you can drink it.
Bli Kemah. Kosher. Habarzel St, 32, Ramat Hahayal, Tel Aviv. Tel. (03) 744-8666.
This spinoff of Fresh Kitchen -- part of the growing chain of Cafe Cafe restaurants -- also introduces a new concept: what they call an "open kitchen," which is actually a menu comprising a wider than usual variety of dishes, centered around different physical areas of food preparation.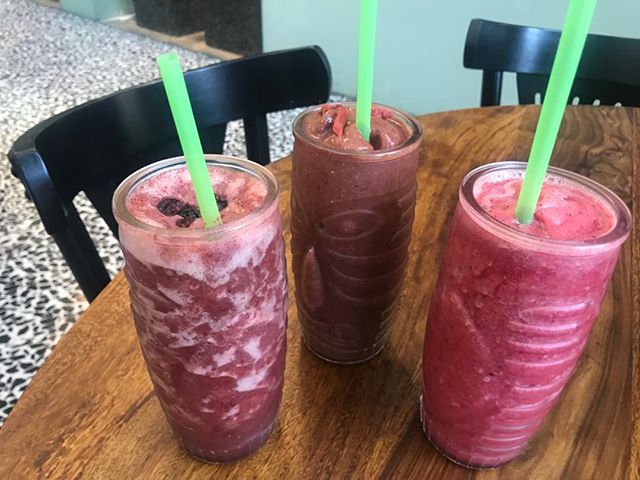 It includes items from a taboun, dishes from a regular kitchen, desserts and drinks from its espresso bar.
Fresh the Market offers breakfast, lunch, dinner and snacks, as well as kids' meals.
Since my visit was focused on cooling summer treats, I was drawn to the extensive selection of shakes and smoothies.
There are even separate menus for shakes and smoothies -- the former itemizing five (with more planned) calorie-laden milkshakes containing ice cream, while the latter lists seven smoothies, each one defined by a characteristic healthful property — viz., anti aging, memory sharpener, etc.
I can particularly recommend the Super Shake, blending açaí berry sorbet, dates, banana, chia and flax seeds, goji berries and cranberry juice, as well as Gramma's -- beet, dates red apple and fresh-squeezed orange juice.
Fresh the Market. Kosher. G Mall, Weizman St. 207, Kfar Saba (one of four branches covering western Israel, from Haifa in the North to Kiryat Gat in the South). Tel. (09) 965-7717.
This chain of dozens of ice cream shops scattered throughout the country has been pleasing customers since 2002.
It stays popular and relevant not only by virtue of its many convenient locations and delicious gelato, but also by innovating with annual summer collections of new flavors.
This summer's featured flavors include Raspberry crunch with chocolate chips, Chunky lemon, Crazy pineapple and Banana with slivers of chocolate.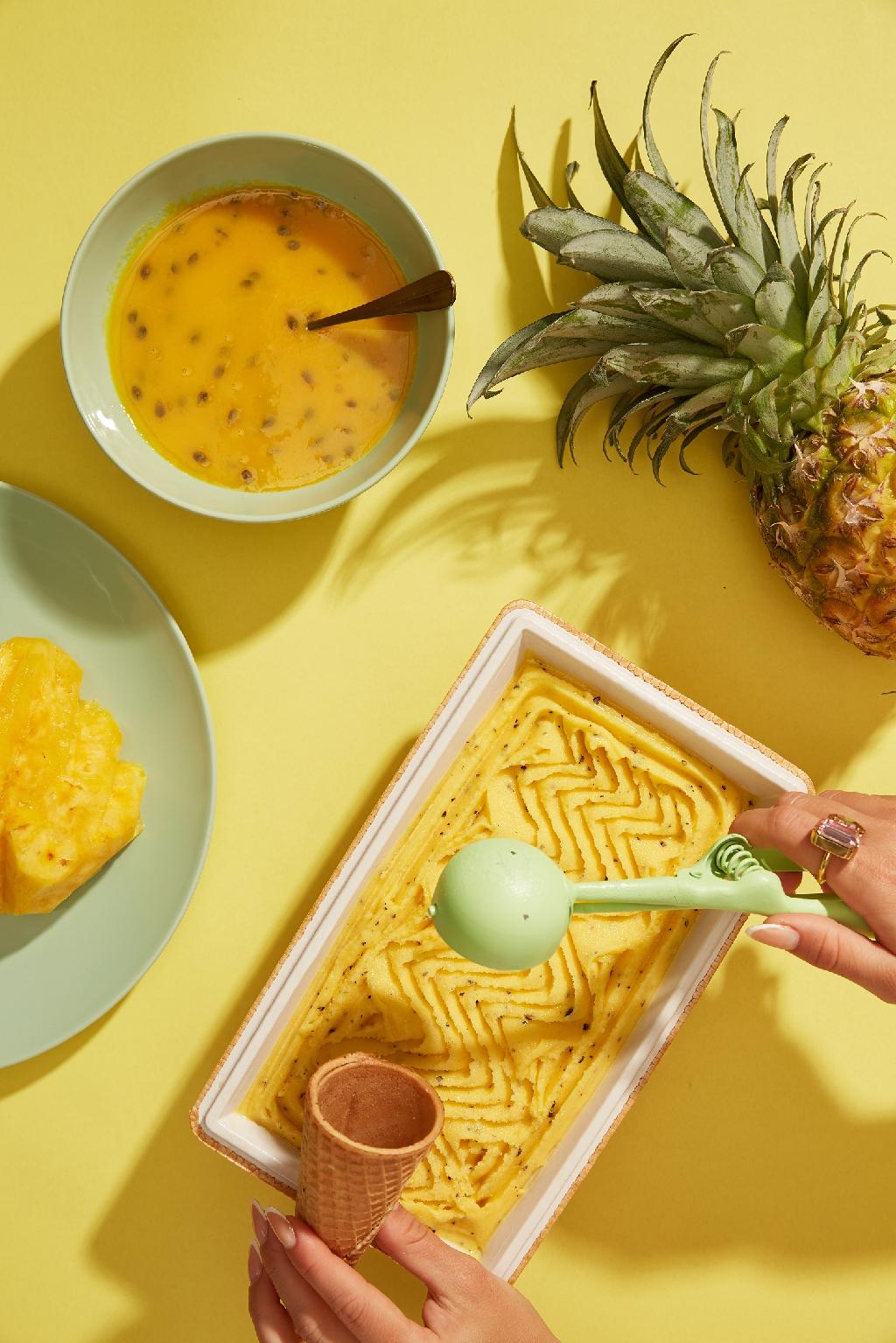 These join an all-star regular lineup that also encompasses vegan options, and perennial favorites like Black Forest.
In addition, in celebration of the upcoming new year, Golda has launched a special holiday gift package, combining ice cream, pralines and a greeting card.
The chain's signature pralines include the Royal (bittersweet chocolate ganache with touches of caramel) amd the white chocolate praline with raspberry cream.
All of Golda's products -- the regular menu, the summer collection and the Rosh Hashanah holiday parcels -- are available not only for pick-up in stores but also as deliveries throughout the country (from 15 September).
La Goffre Ice Cream and Waffles
This is another nationwide chain, operated by franchisees in locations frequently situated in shopping/strip malls. The name is based on the French word "la gaufre," referring to the internationally famous Belgian waffle.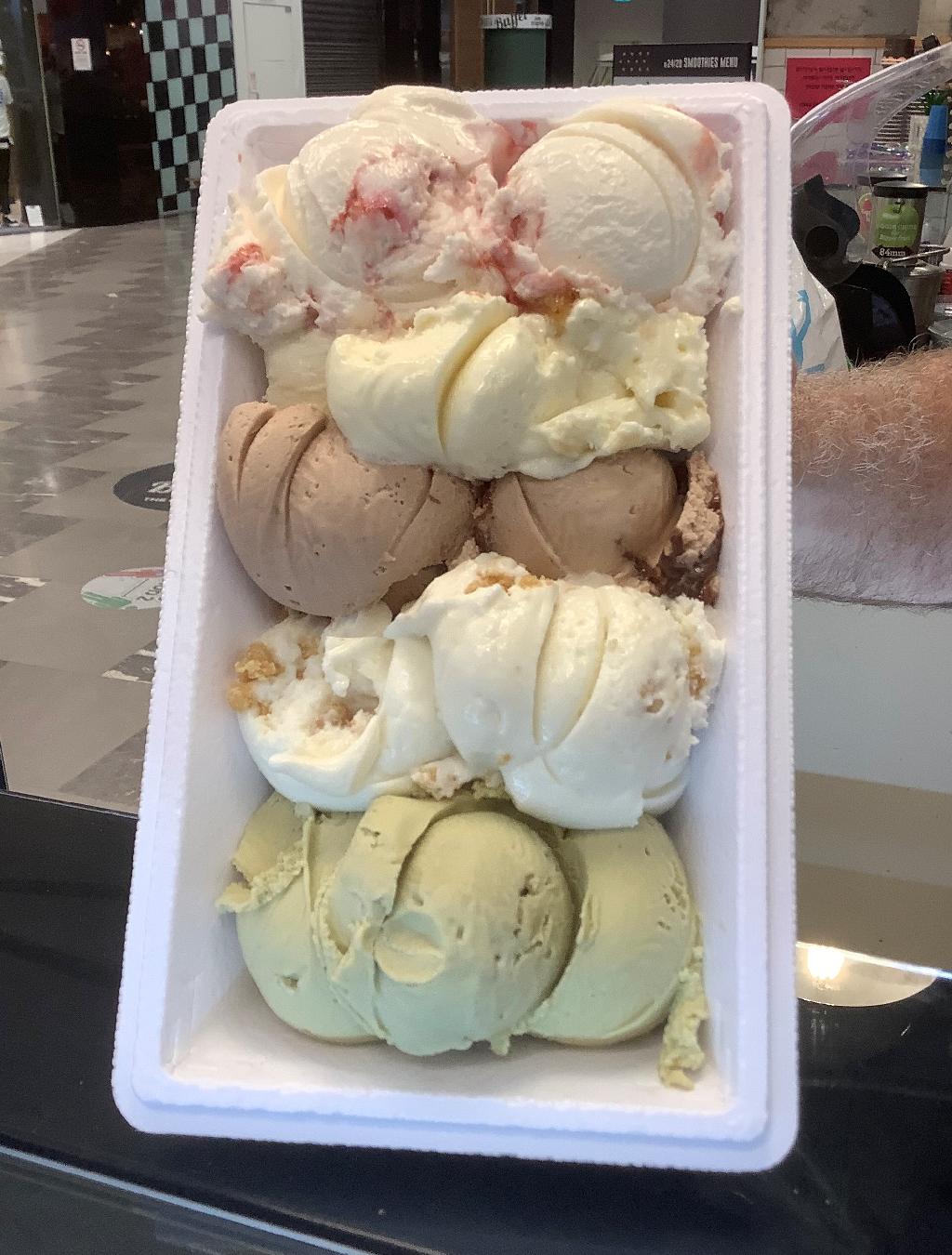 Accordingly, La Goffre highlights premium ice cream, served especially in waffle cones or on hot Belgian waffles (a la mode).
Of course, both the gelato-style ice cream and soft-serve frozen yogurt may also be ordered plain, folded into crepes, or enjoyed in shakes mixed with morsels of fruit.
The gelato flavors I enjoyed were Cheesecake crumble, Strawberries and cream, Ferrero Rocher and Sicilian pistachio.
My refreshing shake, based on vanilla frozen yogurt, was enhanced with a variety of frozen (from fresh-cut) tropical fruits.
(Note: During the current pandemic, some menu items may not be available and opening hours may be shortened.)
La Goffre. [representative branch:] Oshiland Mall, Atir Yeda St. 1, Kfar Saba. Tel. (050) 333-1700.
This is another premium gelato chain -- consisting of nearly 20 branches, mostly in the center of the country and Jerusalem -- that can often be found in big malls.
Vaniglia prides itself on sourcing the best quality raw materials and ingredients for its ice creams and sorbets -- including vegan options made with soy, almond or rice milks, as well as its Blisco brand of sugar-free ice creams.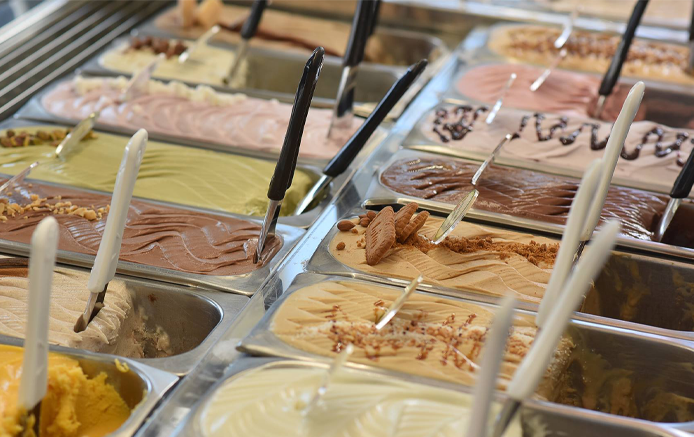 Vaniglia's website
features photos of its many tempting flavors: 23 gelatos, six sorbets, three vegan and two sugar-free (Madagascar vanilla and Valrhona chocolate).
Clicking on each mouthwatering thumbnail photo will yield a description of the name and ingredients (in Hebrew).
The flavors I enjoyed were the Cookies 'n Cream, Banana 'n brownies, Salted carmel with cashew pralines and rice crispies, and the Buenas Noches, with toasted hazelnuts and ribbons of dulce de leche.
My thick, tasty milkshake of choice was the mascarpone cream with red berries.