Ataa Jaber, a former player for the Maccabi Haifa soccer who served as the captain of the Israeli national youth team, currently plays for Azerbaijan's Neftchi Baku and began playing for the Palestine national team in June. In an interview with Arab News, the 28-year-old midfielder explained the factors that led him to switch nationalities.
In Israel, he said, " they feed a narrative to (Arab) players that sport should not mix with politics, that you represent your community, that you will have a voice, and that you don't need to sing the (Israeli) national anthem. After what happened in Sheikh Jarrah, I realized that it was impossible to separate politics from sport and even if I wanted to represent '48 Arabs, there were better ways of doing it."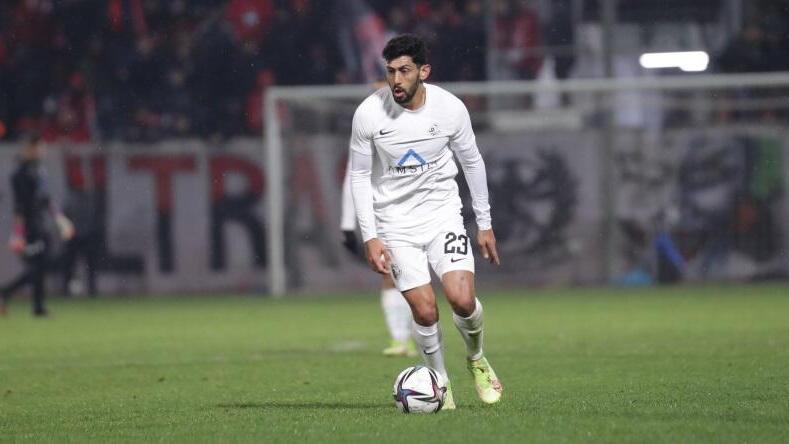 Rami Hamadi, the goalkeeper of the Palestine national team who left the local league in 2020 because of the coronavirus and joined Israel's Bnei Sakhnin team, had a big part in Jaber's decision to join the Palestine national team.
"Things changed for me when I met Rami Hamadi while playing for Sakhnin. I then found out that there was a league in the West Bank and a Palestinian national team that we can represent. I didn't know that was even a possibility because I didn't have a passport," Jaber said.
The pursuit of a passport issued by the Palestinian Authority - a prerequisite for any player who wants to play for the Palestine national team - was a process that lasted almost two years.
"I made the decision to represent the Palestinian national team for many reasons. First because I am Palestinian, second because I have the ability, and third to deliver a message to players inside the Green Line that this choice is available to them," Jaber said.
Indeed, winger Alaa Al-Deen Hassan of Bnei Sakhnin and defender Amid Mahajna of Hapoel Umm El-Fahm were included in the Palestine national team's squad for the friendly matches held this month against Oman and Vietnam. Palestine, ranked 96th in the FIFA rankings, will participate in the 2024 Asian Championship, which will be held from January 12, 2024 to February 10, 2024. It will play in Group 3 along with the United Arab Emirates, Iran and Hong Kong.