About a month ago, Italian gossip columns were abuzz with the question: "Has Federico Rossi found love again?" Federico Rossi is an Italian pop star, formerly one half of the duo Benji & Fede, akin to Italy's Justin Bieber.
"People came up with rumors I'm dating Federico, but we're just good friends," clarified Israeli model Orian Ichaki, pushing back against rumors that likely originated from the Italian modeling agency Select, which represents her and also counts Bar Refaeli among its clients. "My Instagram blew up with comments; it's been crazy. A new girlfriend? There's nothing between us. He was interested, I wasn't. We're just good friends."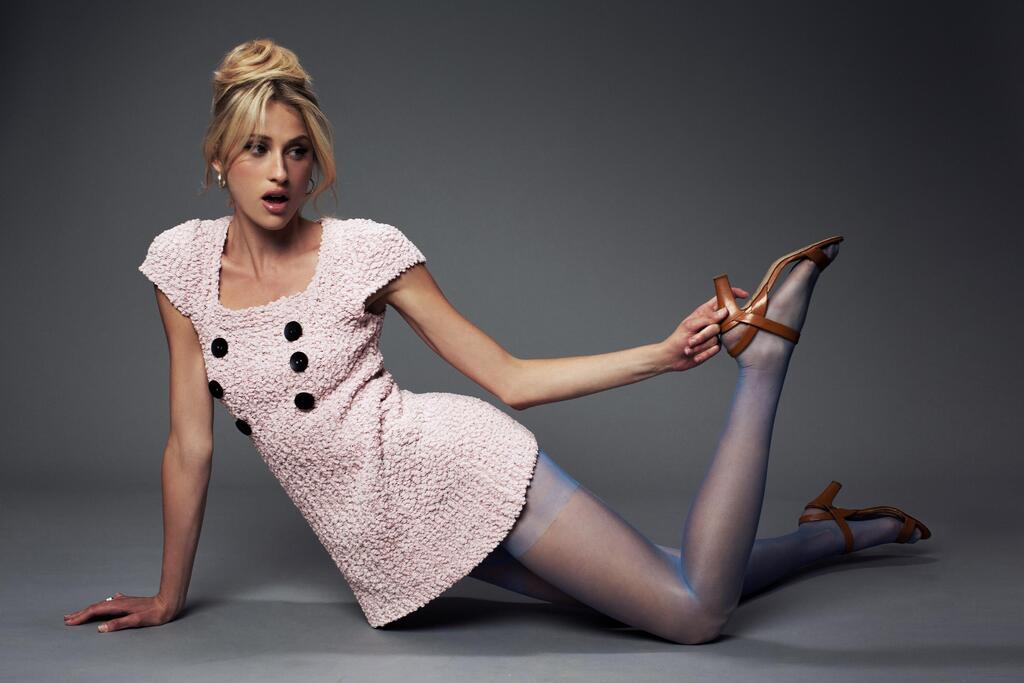 Oriyan Yitzhaki is like a summery breath of fresh air. Standing at 5'9", she exudes playful blonde energy, with facial features reminiscent of Paris Hilton's. She oscillates emotionally between wanting fame, casually dropping international names, and a more reserved side that dreams of starting a family with a kibbutznik far from the glitzy world. The phrase "God forbid" often slips from her lips. She's been trying to carve a niche for herself in the modeling world for eight years, a career that until now has been simmering on a low flame.
Save for any force majeure, Ichaki, 24, is set to take Italy by storm in the coming months with a new TV show appearance and a campaign for fashion brand Guess.
Much like Moran Atias before her – who made a similar splash 20 years ago and eventually returned home to Israel and back to the Hebrew language – Ichaki, who hasn't made much of a name for herself in Israel, is trying to do so through Italian television and the gossip columns there. Clearly, it's working for her.
Modeling is in her genes. Her mother is Revital Mor, a numerologist and healer, who was discovered by Betty Rockaway while waitressing at a café at age 14. In 1988, she finished second in the Miss Israel beauty pageant and secured second place in the Miss Asia Pacific International competition held in Hong Kong.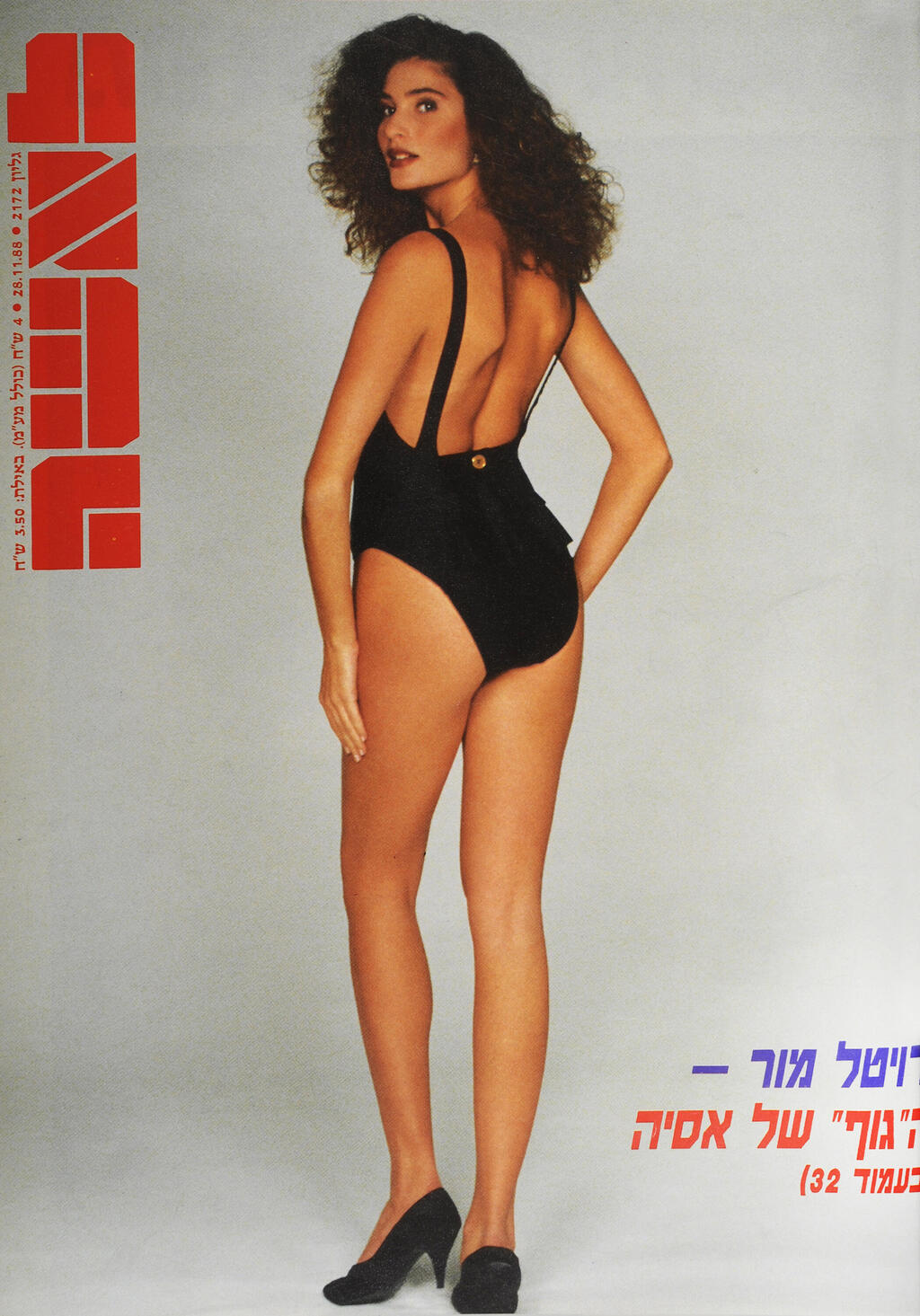 Her father is businessman Guy Ichaki. She was born and raised in Herzliya, where she resides when not in Italy, where she has intermittently lived and worked for the past two years.
As a young girl, she sang and danced, and by her own account, she never pursued modeling professionally. Together with her younger brother, Ran, they co-own a jewelry brand bearing their name.
"I remember playing with my mom's crown that's kept at my grandmother's place as a child," she recalls. "I didn't quite grasp its significance, but it was occasionally mentioned at home. I didn't grow up in the shadow of modeling because my mom stopped modeling when she became pregnant with me.
I think we came to modeling from different places: my mom brought home a livelihood, while I never wanted to model as a young girl. At 16, I met Moti Reif with my mom at a Beauty City event, and he suggested I try modeling. He introduced me to Ofer Rafaeli from MC2 agency, and for the past three years, I've been signed with Elinor Shahar."
Over the past six years, you've seen her in commercials for retail companies and fashion brands like Gotex, Adika, Golbary and others. Never in the forefront, always in the sidekick role.
After a full military service in a commanding role in the IDF's Discharge Department at Tel Hashomer, she moved to Milan with her then-boyfriend, Ben Messika, with whom she was in a relationship for four years. Messika is the son of French jeweler Andre Messika and fashion designer Dana Stinea Mssika, the younger brother of Ilan Messika, who until recently dated model
Eden Fines
. The two women have since become close friends, double trouble.
Six months after arriving in Milan with Messika Jr., the two split. During one of the summer vacations, she met the Italian rapper Manuel Zappadu, a judge on the show X Factor Italy" better known by his stage name, Hell Raton.
"We were good friends for a while, and later it evolved into an intense relationship that lasted half a year, during which we moved in together," she recounts about Zappadu, who is nine years her senior. "Love swept me off my feet, and he came to Israel to visit my family. But that also ended."
Well, truth be told, I have no idea who he is.
"To be honest, I didn't know who he was either until people started giving us looks on the street. There was a time when they started talking about me in Italy, but I prefer to keep my privacy. I don't like all the hullabaloo around me."
And after you two broke up, did you go back to Herzliya?
I also experienced an antisemitic incident in the Piazza del Duomo. I was strolling around and a guy approached me, trying his luck. I felt a bad vibe from him; he was really bothering me, trying to touch me."
What language do you speak with people on the street?
"I usually don't speak, but I replied to him in Hebrew thinking that would deter him. He probably recognized from the Hebrew that I'm Jewish and started yelling at me, 'Go f*** yourself, stinking Jew.' From there, I quickly left. I won't lie, I feel antisemitism in Europe. Whenever I mention I'm from Israel, I receive fake smiles. I'm sure behind my back there's antisemitism."
Is it antisemitism or anti-Israel sentiment?
"Antisemitism, because the comments are always about Jews, about money, less about Israel. I could be at a party and say I'm from Israel and get a sour face. But I try to change the perception, to talk about Israel as a good place, to explain to them how we render medical care to terrorists after an attack. I do good public relations for Israel."
Do you feel you've been rejected from jobs because you're Israeli?
"I had a photoshoot canceled by a designer from an Arab country after he found out I'm from Israel. He probably feared for his brand's reputation, but I completely understand his perspective."
During her stay in Italy, she modeled and walked in shows for the underwear brand Calzedonia and its subsidiary Tezenis (which are also expected to arrive in Israel this year).
According to her, this is also what led the fashion brand Guess to cast her for their new global campaign, which was shot a few weeks ago in Switzerland. Ichaki stars in the brand's sportswear line campaign alongside a coterie of models.
In one of the photos published from a brand event at Lake Como in Italy, she is seen hugging the company's founder, Paul Marciano, whom several models, including former Guess face, model Kate Upton, accused of sexual harassment. About five years ago, Upton revealed that when she was 18, she was assaulted by him during a photoshoot for the brand.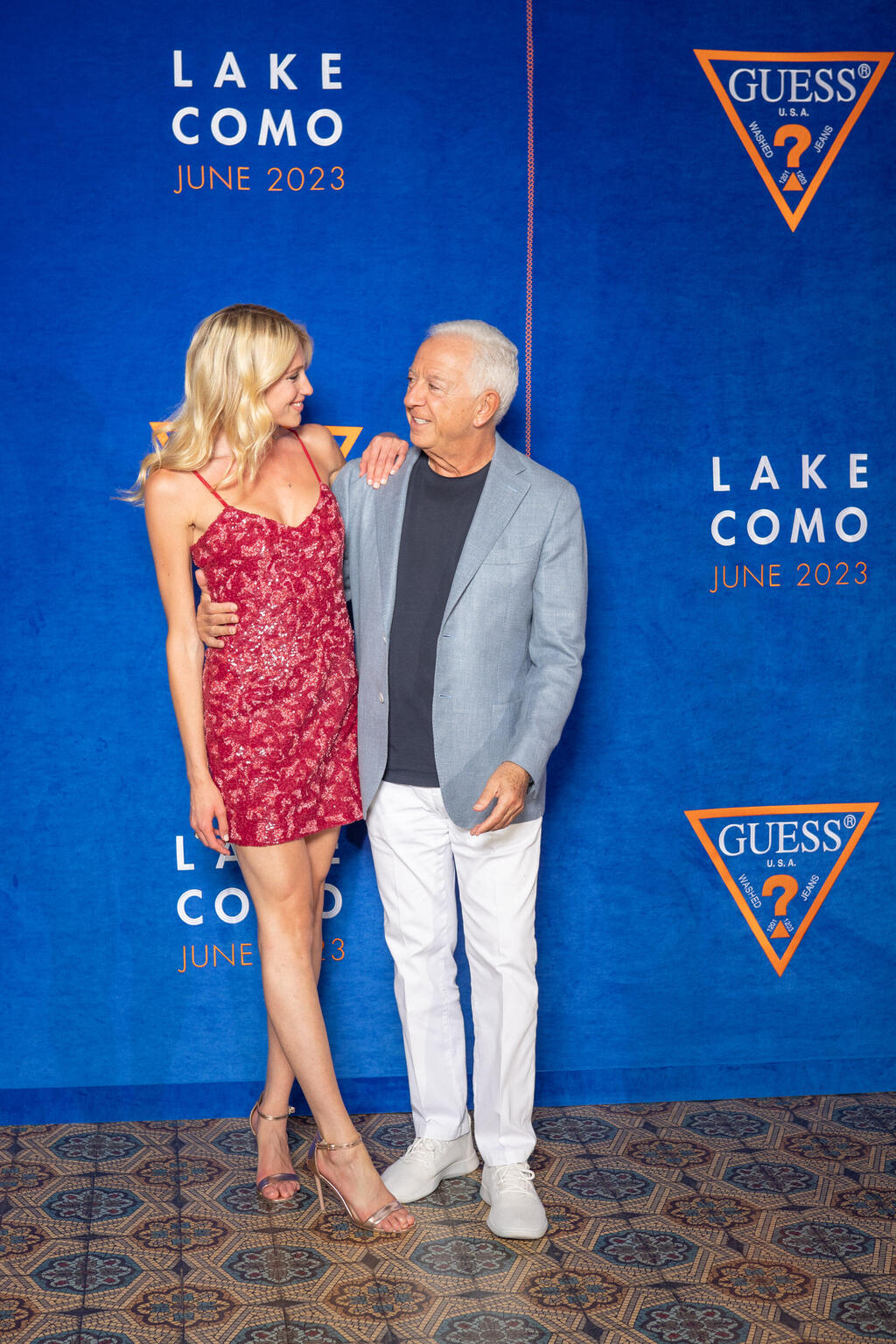 "I started working with Guess before I heard about this story," Ichaki responds. "I've been with Paul at events and parties, and I've never felt even a hint of harassment from him. He's Jewish, speaks Hebrew and lived on a kibbutz when he was young."
"I think there isn't a single model who hasn't experienced harassment in her life. When I was younger, a cute photographer asked to shoot me shirtless, and I always said no. I don't go there. But there are always people on set who might make an inappropriate touch, or when I was 16, I was offered money to go to a party with Leonardo DiCaprio. My mother told me when I entered the industry: the moment someone bothers you or starts commenting on your weight – I'll pull you out in a heartbeat."
But she didn't leave. And she never had to deal with eating disorders, despite demands from agents to lose weight. "There were agents and clients who told me I had an 'athletic' look," she says, hinting at critiques about her weight.
"There were times when I gained a bit in weight and measurements, but today my agents tell me to gain weight because my hip measurement is 86 centimeters (34"). I love it when a woman has breasts and a butt, which I've never had. I've never suffered from eating disorders, but there are days you don't like how you look because of a comment from an agent."
"Eden (Fines) talks a lot about this issue, and it's great that she does. 90% of my friends suffer from some kind of eating disorder: extreme bulimia or starvation. I always tell girls who aren't models, 'Eat, enjoy it.' Personally, I can eat whatever I want; I have a good metabolism."
You're also only 24.
"Yes, I don't want to think about what will happen in three years, heaven forbid."
What will happen?
"My body will change, mark my words. I won't be able to eat doughnuts like I used to."
It's unclear what drives Ichaki to become famous, especially in Italian. Despite this, she's stated that she never wanted to be a model and her goal is to become a TV host in Italy. Over the years, she's turned down offers to participate in reality shows.
"There's a significant cost to fame," she says. "I see the price Eden pays and how she deals with the spotlight. I wanted to be known for my work alone, and now it's happening. I didn't want to gain fame through a reality show or a famous partner locally, which unfortunately is often what boosts a model's career here. The only reality show I'd consider doing is The Amazing Race with Eden, just for the laughs – I'd jump off buildings, and she'd eat snakes. Maybe in the future; we'll see how things flow. There's a price to fame, and that's what I'm wary of."
What are you afraid of?
"I don't like attention. I prefer to stay behind the scenes."
You're in the wrong profession.
"I know."
Why do it then?
"Because I love challenges, and once I decide I want to do something, I aim to succeed. To be honest, Israel feels too small for me, and Italy feels like a second home. My career is developing well there. The Italians love me because I'm wild, and they're a bit crazy. I'm hyperactive, love to bring joy, and offer a breath of fresh air. In one of the episodes I'm on, the host introduces me as 'my crazy Israeli', and I'm now recognized as that."
But you know that fame is fake.
"Absolutely, it's all vanity, nonsense, garbage. Fame isn't real. And I'll tell you: My dream is to be with a kibbutznik, not a famous man. That's the dream, and in the end, that's what will happen. Ultimately, I love the quiet and simple life, but it's part of the profession."