The Spring 2024 Menswear Fashion Week in Paris was one of the most fruitful ones in the event's history, with a long lineup of fashion shows that continued to cement men's collections as one of the intriguing and evolving scenes in modern fashion.
Dozens of collections showed a constant design philosophy that began at the Pitti Uomo's Spring 2024 Menswear Fair in Italy, held two weeks ago, and continued at Milan's Men's Fashion Week.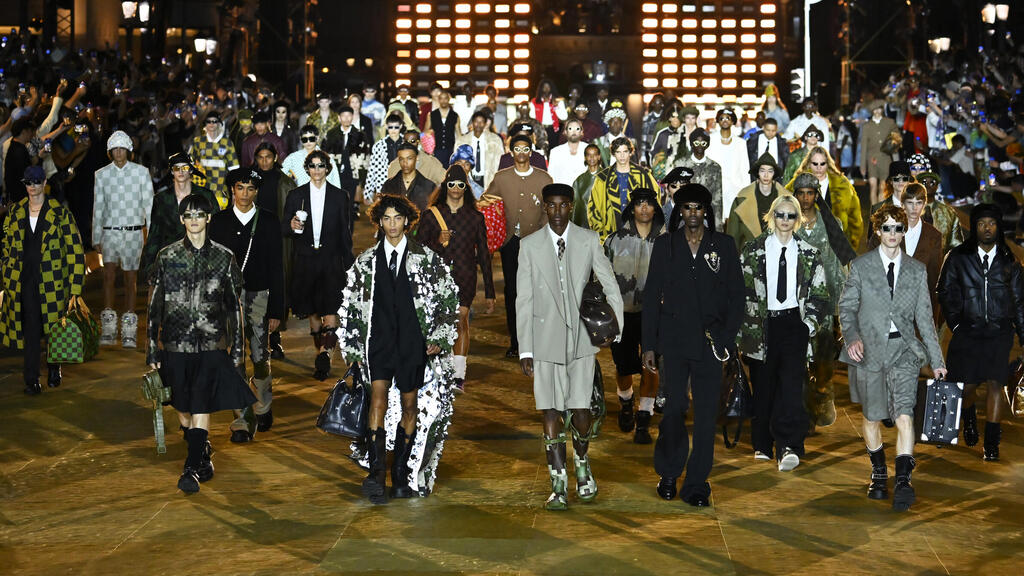 The boundaries that have blurred in recent years between men's and women's fashion met a brief halt with collections that sought to reintroduce masculine archetypes in tailoring, and workwear. Here are some of the highlights from the eventful week.
Pharrell Williams' debut at Louis Vuitton
Pharrell Williams' debut show as Louis Vuitton's menswear line director will go down not as a fashionable showcasing, but as one rife with plenty of resources and an extravagant list of celebrities.
Beyoncé and Jay-Z, Rihanna and A$AP Rocky, Zendaya, Kim Kardashian, Lenny Kravitz, Jared Leto, Naomi Campbell, the Willow brothers, Jaden Smith, Kylie Roland, Maluma, and others stood in the front row alongside a runway that was set up on one of Paris' oldest bridges.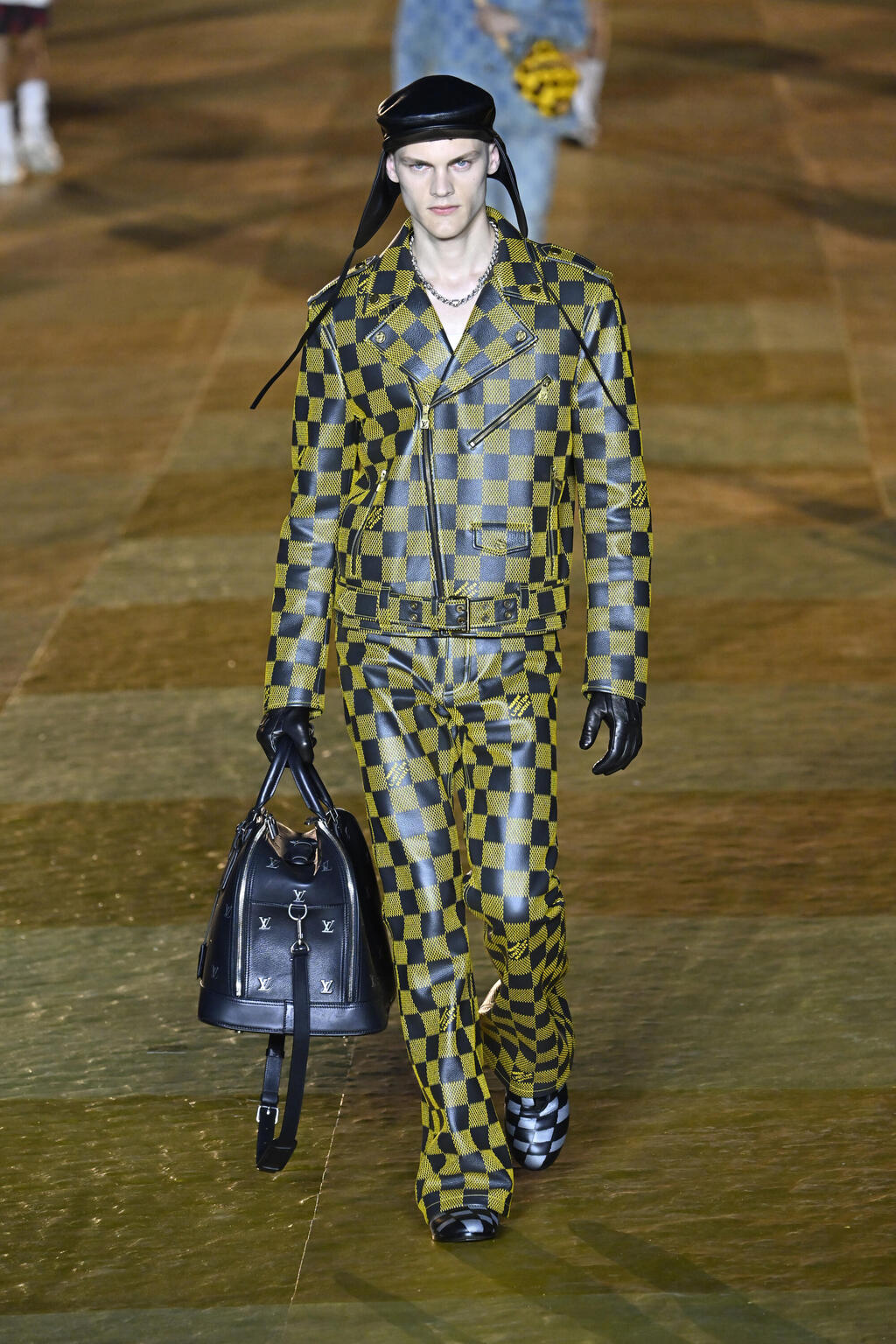 Williams, a renowned producer and hip-hop musician, has always held an interest in fashion, and was involved in numerous collaborations in the industry. However, the previous time a well-known figure was appointed as a designer— in the infamous partnership between Lindsay Lohan and Ungaro in 2009—the collaboration ended in disappointment for both sides.
Will Williams' fate be the same? It's too early to tell, but aside from certain motifs, there was nothing groundbreaking in the collection, which consisted of clothes from well-known fashion houses, nods to the hip-hop world, and masculine archetypes that were present in other shows.
British designer Wales Bonner brought Paris the anticipation of the upcoming Olympic Games to be held in the city next year with her dazzling "Marathon" collection, cleverly combining sporty elements with tailored garments created in collaboration with the renowned jewelers Anderson & Sheppard.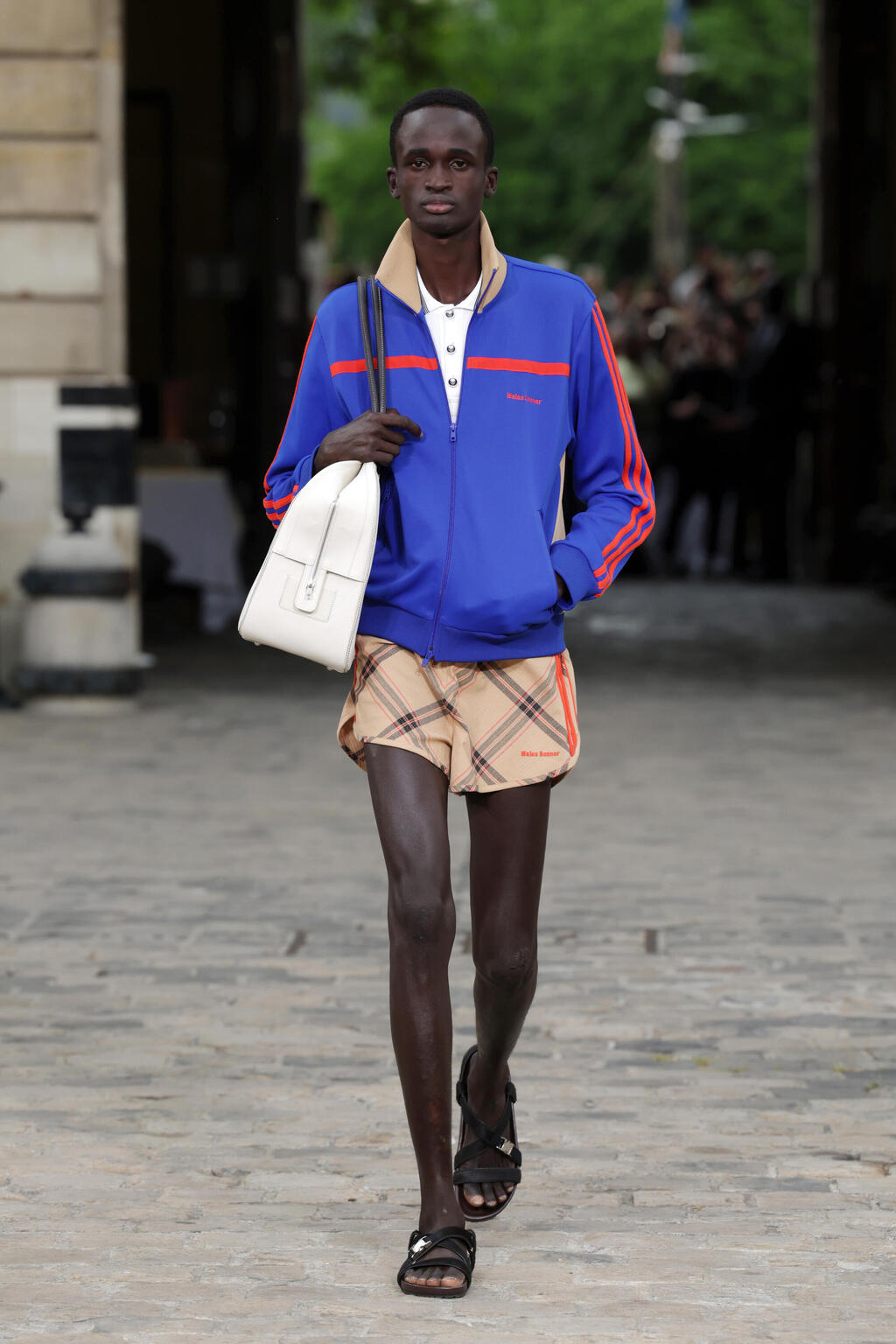 Two of today's most prominent athletes, Ethiopian world champions Yomif Kejelcha and Tamirat Tola, who set a new marathon record of 2:05:35 hours last year and won the gold, walked the runway.
Hello masculine archetypes
The presence of masculine archetypes and workwear in the menswear fashion shows in Milan was also present in Paris, with the renewed appearance of ties, workwear, denim pants, and vests associated with fishermen and cowboys.
After a few years where masculine and non-binary discourse sought to blur the boundaries between masculine and feminine fashion, Paris' fashion industry wants to separate and emphasize those boundaries.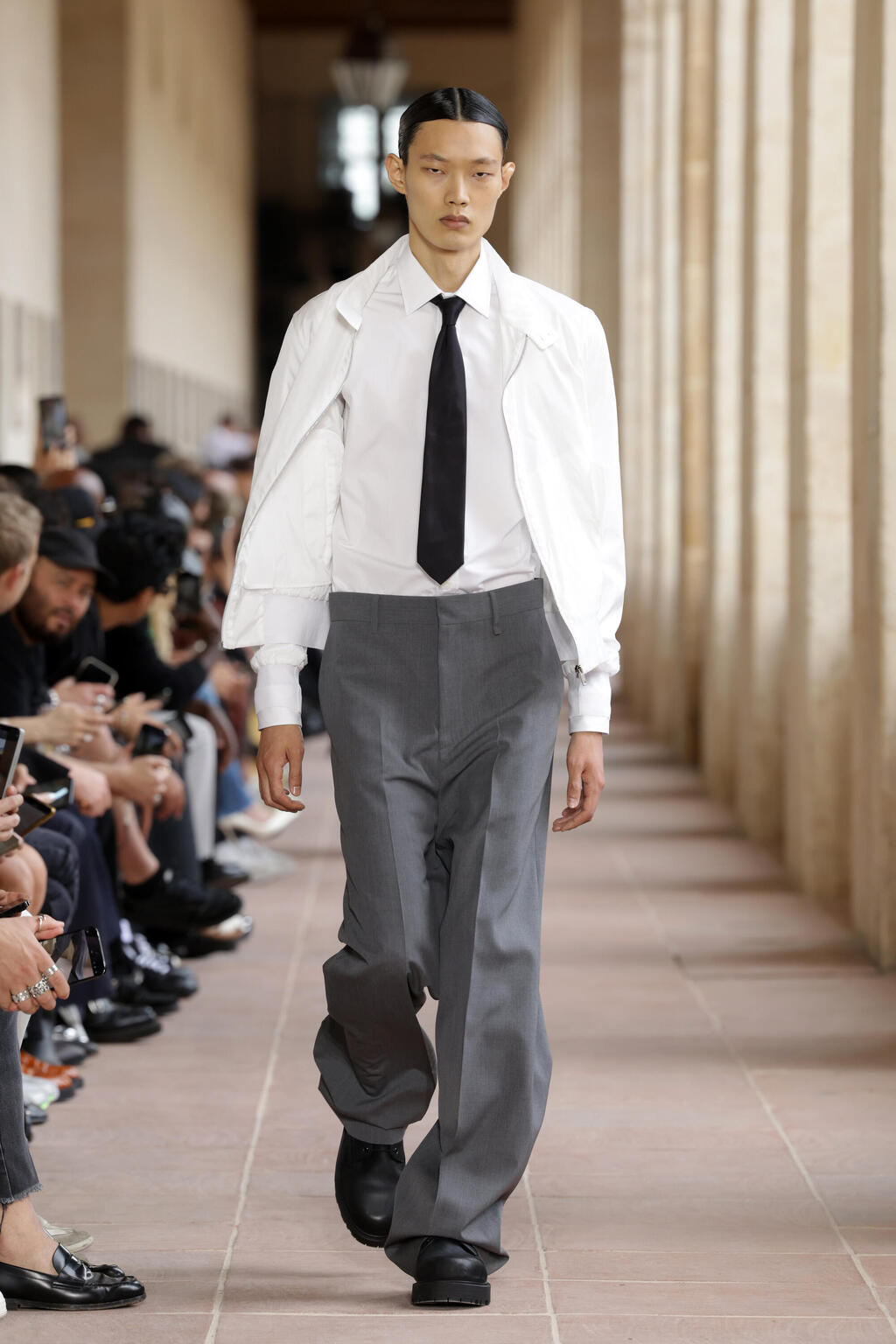 This isn't an idealistic statement, but rather done as an attempt to set rigidity to clothing lines. These attempts were also highlighted by unique workwear on the runway, such as overalls from brands like Etudes and KENZO, or a white overall worn by the artist Ludovic Nkoth.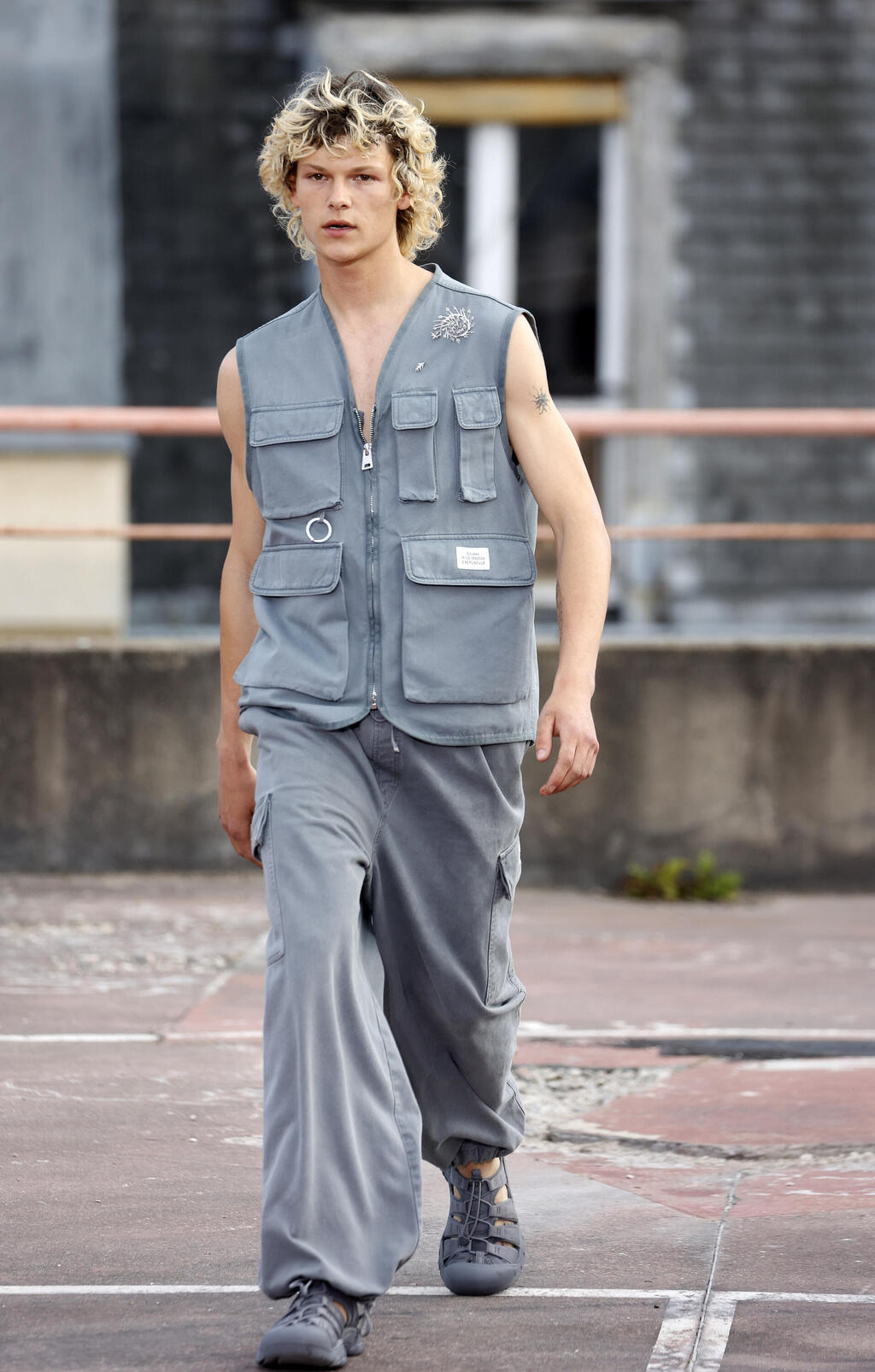 Other examples included the presence of fisherman vests, which had various interpretations, such as an oversized look by Israeli designer Hed Mayner, a minimalist design by Etudes, and one with enticing neon colors by Givenchy.
The event looked like an unofficial hip-hop festival, with performances on the runway and in the front row with several prominent names. Pharrell Williams, a musician himself, managed to gather an impressive list of celebrities with the two power couples of the music world - Beyoncé and Jay-Z, Rihanna and ASAP Rocky.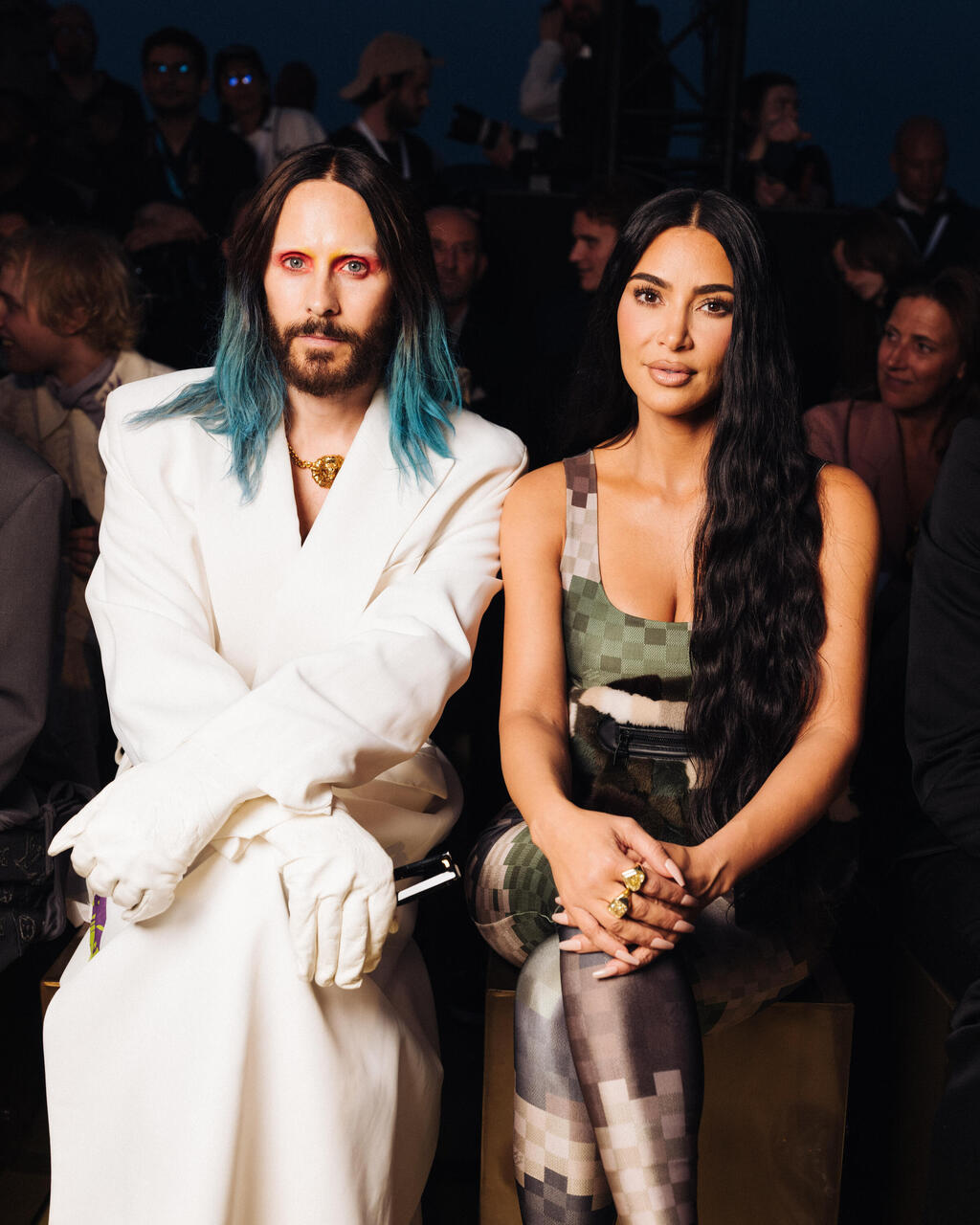 The musician Offset performed in the Li-Ning fashion brand show, and was also seen in KEZNO, Dior, and Louis Vuitton shows.
Louis Vuitton's highcut trend
Fashion designer Jonathan Anderson never ceases to surprise with his creation of new fashion statements. After his stunning show at Milan's Fashion Week, he once again took Paris by storm with an artistic collection full of ideas and questions about masculine aesthetics.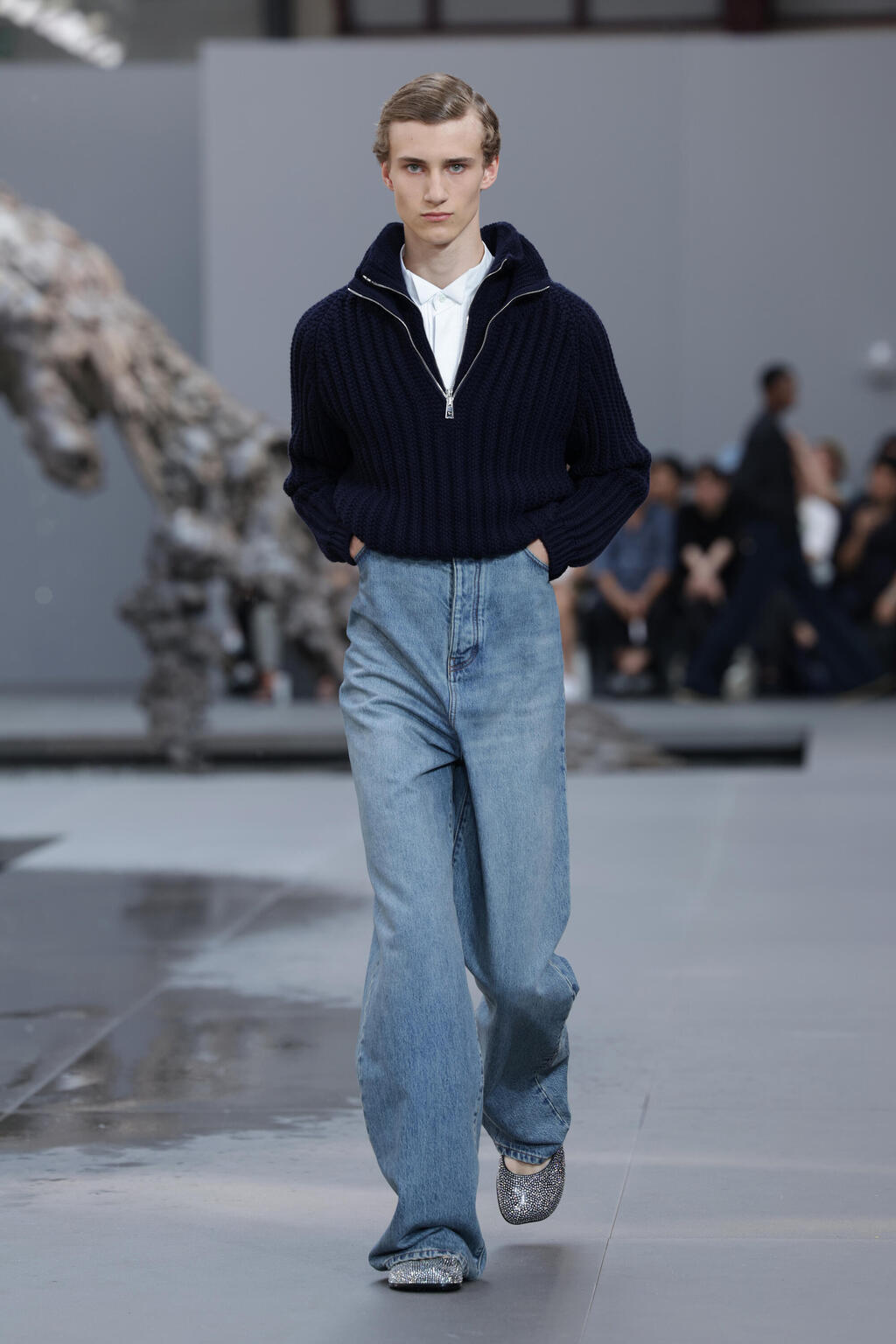 At the core of the collection was the waistline – becoming higher and narrower. Anderson achieved this by cutting the body's silhouette, using cropped jackets and a series of high-waisted wide-leg trousers.
Walter Van Beirendonck's Halloween
The parade of skeletons that marked Walter Van Beirendonck's fashion show brought life to the Belgian designer's new collection, as the models were wrapped in nylon bags painted with white skeletons, resembling bodies heading for the grave.
For a moment, it felt like All Saints' Night or the "Day of the Dead" procession in Mexico. In an interview with the fashion website Hypebeast, the designer explained that his collection was inspired by the story of the lost city of Dawleetoo in Mexico, where British explorer Alfred Isaac Middleton disappeared during his visit there in the late 19th century.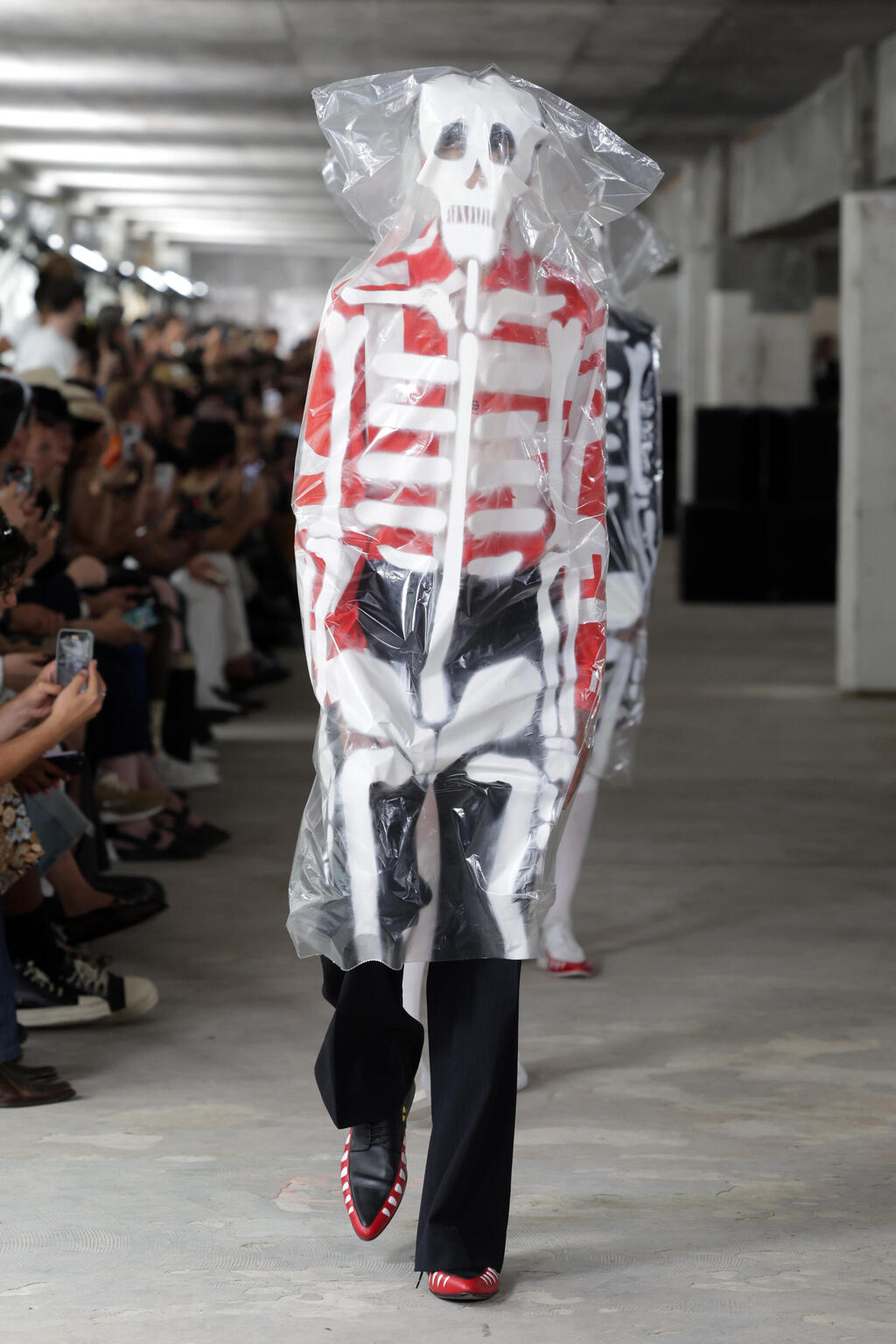 Since little is known about the territory in which Middleton disappeared, Van Berendonk's research included generating artificial intelligence images to imagine what the area might have looked like. The result: a collection that sought to explore one simple question, what's real and what's surreal?
Egonlab's breaking the dress code
Feminine silhouettes, exposed male bodies, provocative fur collars, corsets, and low-rise trousers took center stage in the collection by Egonlab designers Florentin Glémarec and Kevin Nompeix.
The two created a powerful and sensual collection that, despite featuring many feminine elements, showcased strong and masculine aesthetics. "We consider fashion an art in its own right, so we wanted to take a step toward a new artistic and cultural level," Nompeix explained in an interview with Vogue.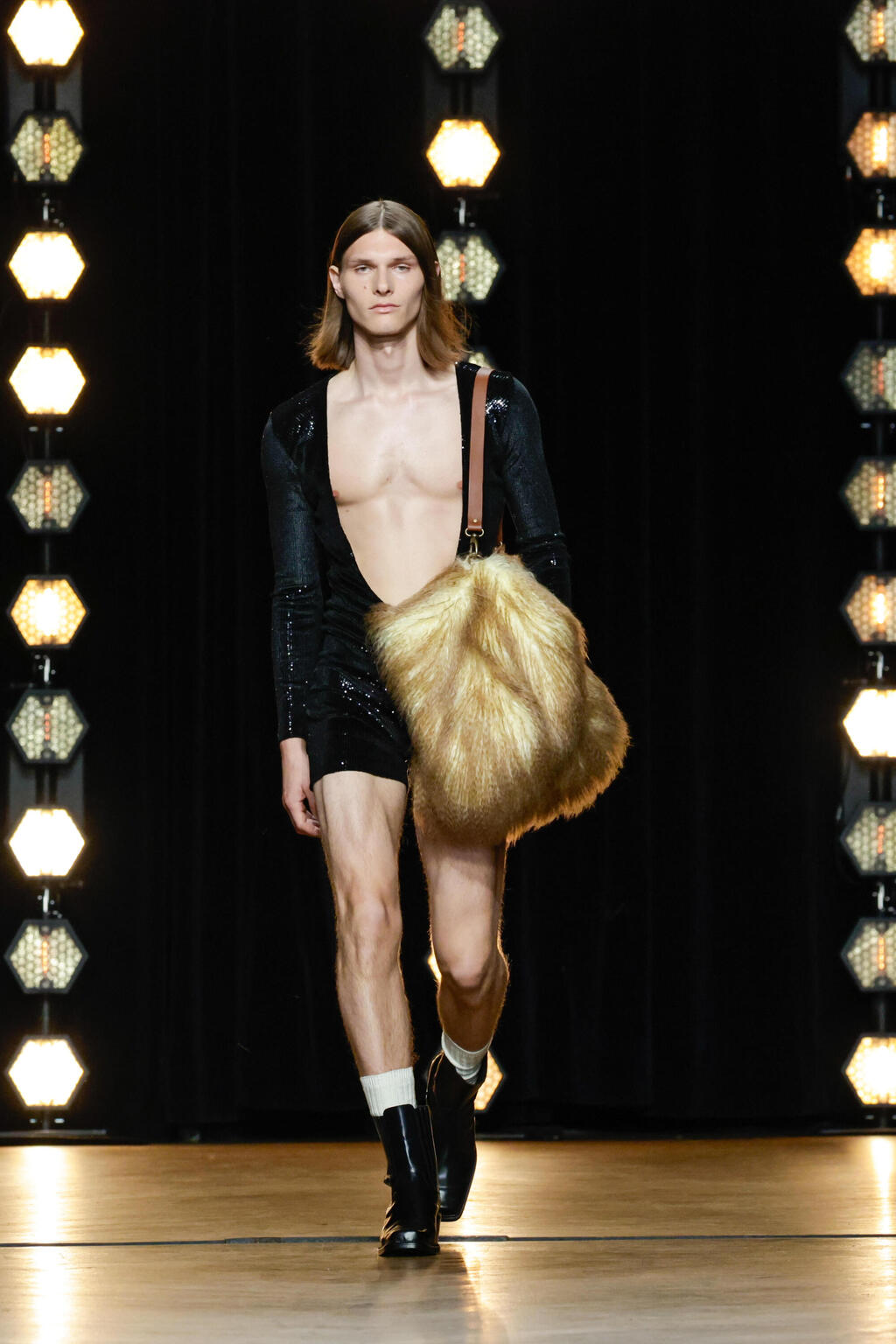 "We really wanted to deliver a show for our community, which has supported us enormously, and to bring a bit of freshness to a world that's a little gray right now, we've always thought of our clothes as tools of expression and that's also about nudity, and breaking the codes of dress, but without being vulgar," he added.
Kim Jones celebrates five years in fashion
Designer Kim Jones took advantage of the Paris event to celebrate five years in his role as Dior's menswear designer, in one of the impressive shows of the week. Models rose to the runway from the floor like in a theater, making the show one of the most viral on social media.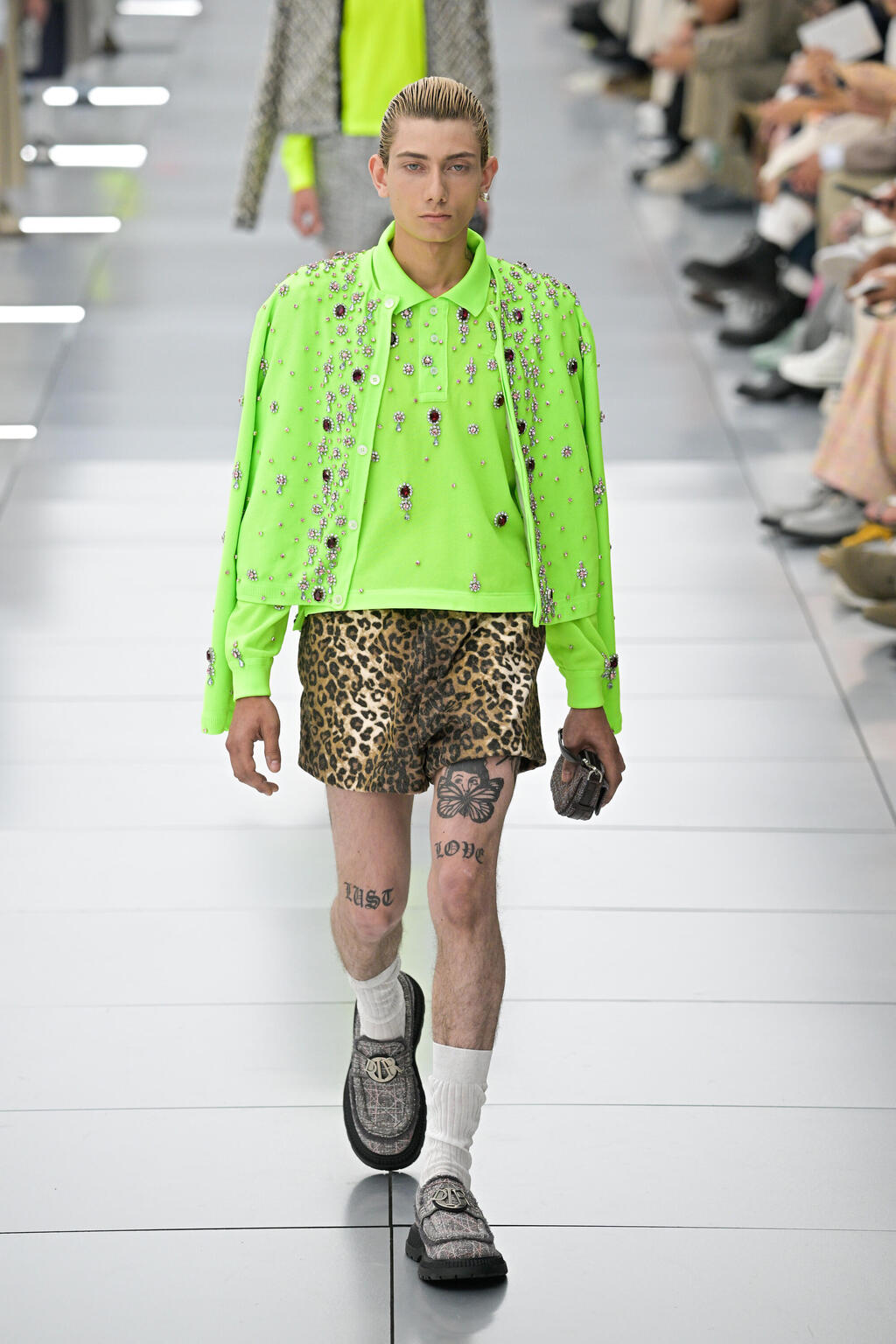 The Cannage geometric pattern stood out during the presentation, which has been associated with Dior since 1947 and even bears the name of a perfume from the fashion house.
It appeared on colorful cardigans paired with trouser suits that ended at the ankle line, exposing tweed fabric shoes, long tweed coats with wide collars, and slim-fitting vests that fit the body.
The event also had many moments that highlighted Israel's fashion industry. Fashion designer Hed Mayner continued to explore the male silhouette in a beautiful collection featuring models dressed in military overalls and open cotton shirts with high collars.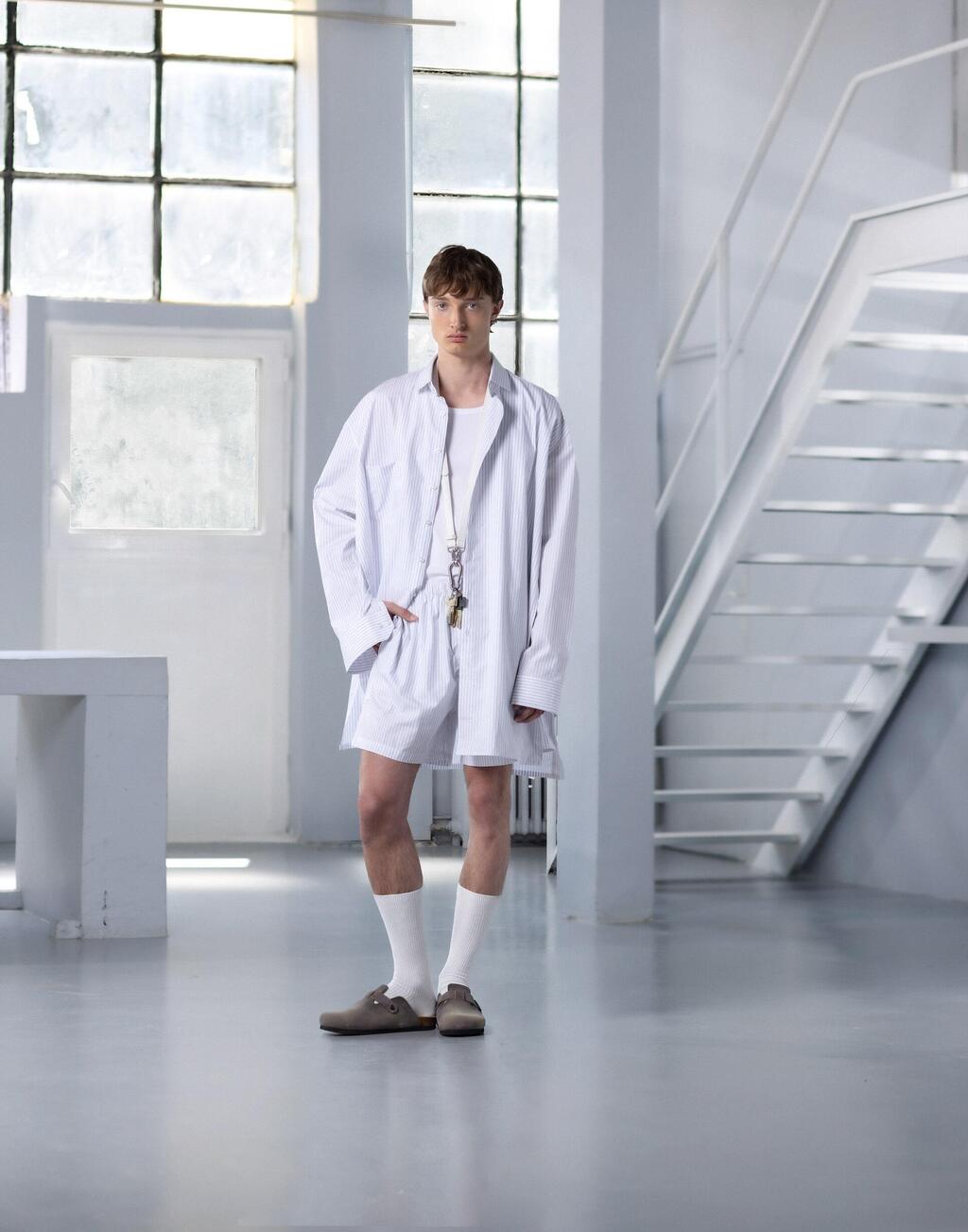 Also in Paris, designer Or Yair Biton of HIGHLIGHT STUDIO, who's been making his mark on the international fashion scene in recent years, presented a cohesive collection during the week's events, with the models taking stride in shoes by Israeli company Teva Naot.