The clip of the rowdy fan, whose Twitter page shows him to be Dubai-based
Harry Hatton
, has been going viral. Hatton was seen cutting off an Israeli reporter who asked his opinion on England's victory over Senegal. "More importantly, Free Palestine!" he shouted during the interview with the Israeli broadcaster Kan 11.
The Dubai-based fan proudly retweeted the videos of the incident, and many social media accounts applauded him for speaking up on the issue. Comments included: "This video made my day" and "Grant Palestine victory over their enemies."
In a continuum of his provocations, Hatton followed up by liking a tweet posted by sports journalist "@Qatari" which sneers at Germany World Cup team covering their mouths.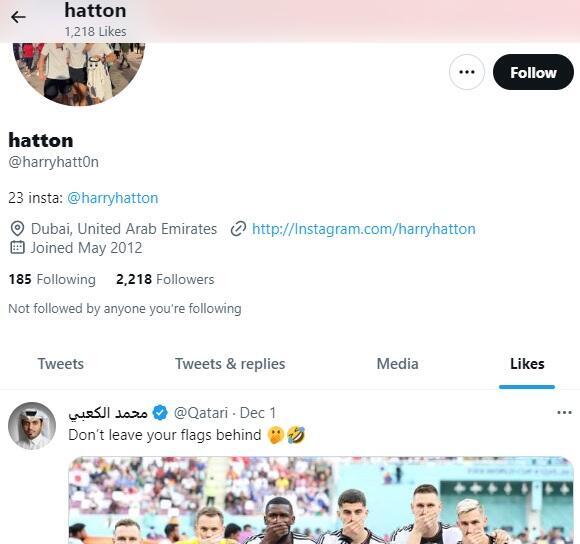 The gesture was a sign of protest against FIFA's refusal to allow rainbow-themed armbands in support of LGBTQ community, which is widely suppressed in Qatar.
Reposting the photo of the German team, @Qatari - who is Mohammed Al-Kaabi, mockingly wrote "Don't leave your flags behind."
Several European teams had planned on wearing rainbow armbands as part of an anti-discriminatory social justice campaign, meant to raise awareness on the criminalization of homosexuality in the Gulf state.
"It wasn't about making a political statement — human rights are nonnegotiable," Germany's outspoken team said in a statement posted on its official Twitter account. "That should be taken for granted, but it still isn't the case. That's why this message is so important to us. Denying us the armband is the same as denying us a voice."